Holden loved every minute of his almost-seven years of life. Now, his family and friends are raising money for childhood cancer research to help other kids like him. His mom, Miriam, tells his story.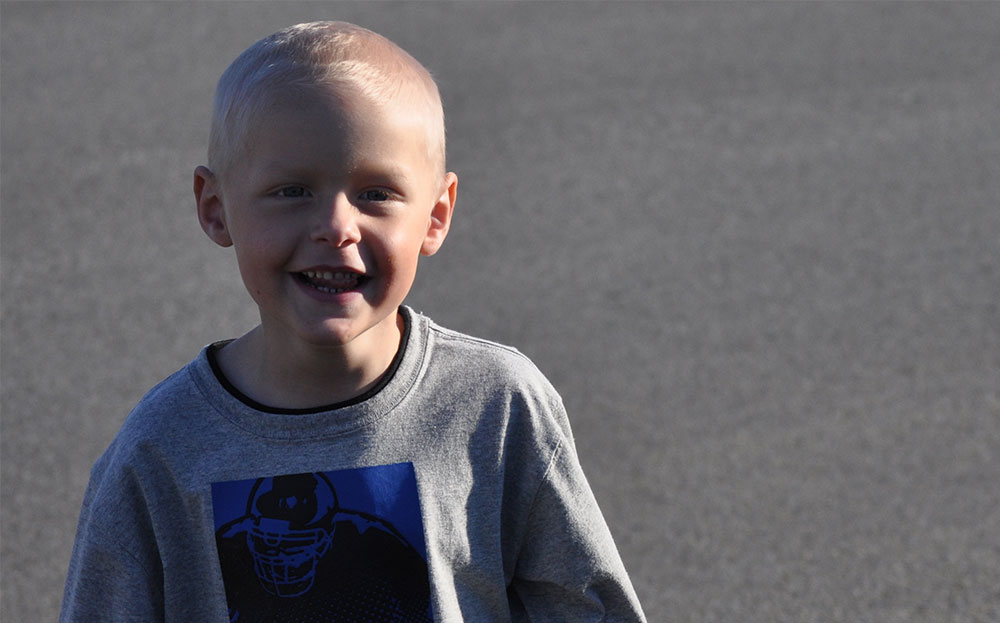 Holden was 3 when he was diagnosed with Wilms tumor, a type of childhood cancer.
In September 2010 Holden got a sudden severe stomachache that progressed from "stomach bug" to "constipation" to what we later learned was a large
Wilms tumor
on his left kidney.
At first the oncologists told us, "If your child has to get a cancer, this is the best one," though I would never put the words "best" and "cancer" in the same thought as my son. Pathology results later showed Holden had stage IV Wilms tumor with "diffuse anaplasia," or "unfavorable histology." The thumbnail sketch is that it is an all-or-nothing battle, and there is not a second chance if you don't win with your first offense.
Holden had immediate surgery to remove his kidney, radiation, and 30 weeks of treatment. He knocked it out of the park. His oncologist told us, "Holden just set the bar." We believed him.
However, after one year and 75 days of being cancer free, a CT scan revealed a 6-centimeter tumor on Holden's remaining kidney.
He beat it the first time, despite every short straw: cancer, stage IV, worst pathology. But now we learned it was metachronous — bilateral tumors that lacked the grace to present themselves on both kidneys at once the first time, which meant he had to redo the entire course of treatment. With only one kidney, and hoping to save a piece of that kidney.
Now it was so much worse.
We dove into chemotherapy, hoping to shrink the tumor enough to make it operable and salvage a portion of his kidney, but we could not. Holden again fought his way through treatment — more radiation and chemotherapy. And he happily went to the last two weeks of kindergarten.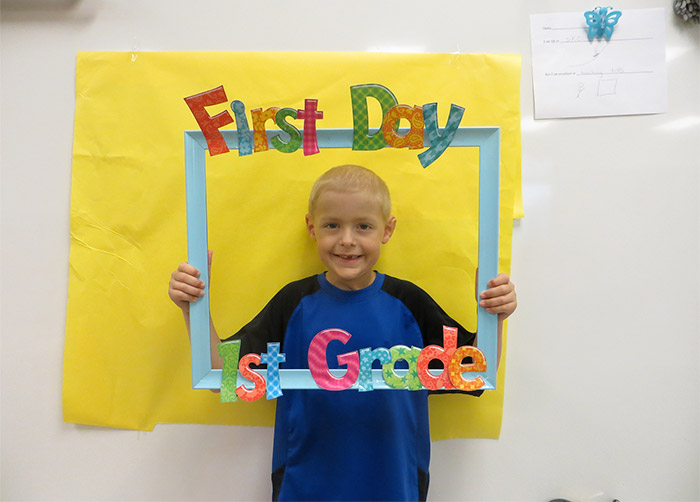 "He was relentless in his pursuit of being a 'normal' kid," Holden's mom said.
While planning his living donor kidney transplant, we received the worst possible news: There was metastatic cancer in his lung. Holden had high-dose targeted radiation to slow it down, and then we just enjoyed every minute with him.
Holden lived large and loved every minute of life. He was relentless in his pursuit of being a "normal" kid — riding the bus, going to first grade, playing baseball, being a friend. Being a kid. He handled cancer and its treatment with a grace and presence that took my breath away.
Holden passed away in May 2014, just nine days short of his seventh birthday. But he lived a lifetime that was absolutely full of laughter, joy, and love.
After Holden passed, some of my friends told me that their boys — friends of Holden's older brother — wanted to do something to show their support for him. From that, they came up with the idea of a garage sale fundraiser, intending to direct the proceeds to pediatric cancer research.
The boys worked very hard to collect donated goods to sell. Many friends helped out to locate and secure the right indoor space, and the boys and their siblings worked at it. Older sisters created a couple raffles and a bake sale in addition to the "Super Sale" itself, and there were independent fundraising efforts and simple donations.
I am humbled and honored to announce that their efforts brought in at least $13,000 for the St. Baldrick's Foundation, and they even made the local news! I am so proud of the kids for their hard work and dedication, and I'm grateful that we are able to direct this money to a foundation whose mission is to fund pediatric cancer research.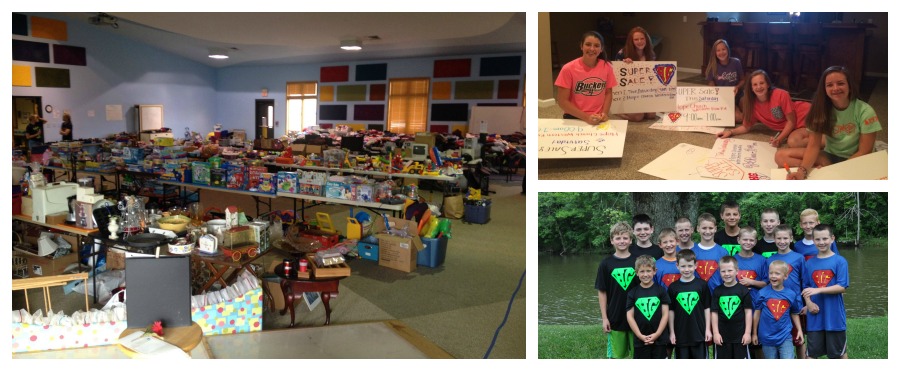 Friends of Holden's older brother came up with the idea of a garage sale fundraiser for childhood cancer research. On the day of the fundraiser, they wore t-shirts bearing Holden's initials.
Holden was my mini-me, and he was my hero in every sense of the word. He took everything that life and cancer threw at him with an unassuming grace, and he never, and I mean never, asked "Why me?" And as hard as it is for me to think it, the answer has to be "Why not him?" If 1 in 285 children are diagnosed with cancer before their 20th birthday, well, the odds are not great.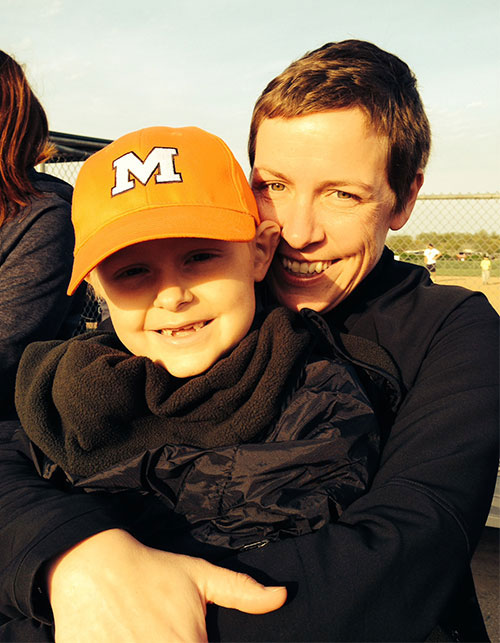 "Holden was my mini-me, and he was my hero in every sense of the word," Holden's mom said.
And that is why something has to change. Holden's oncologist was optimistic at the start because Wilms is one of the most "curable" cancers. We lost Holden because he got every short straw, but the ugly truth is that even "cured" is not good enough — had he lived, he would have faced a host of late effects from cardiac damage through the horrors of kidney transplants.
Holden deserved more. He was an awesome kid, full of life, someone who appreciated the simple pleasures of riding the school bus, playing baseball, and being with his friends. He had so much potential; he told me when he was 4 years old that he wanted to be a daddy and a doctor. He would have been awesome at both. He also would have been a fabulous big brother — but he never had a chance.
All kids deserve a chance. A chance at life. Without cancer.
Holden's family and friends are raising money for childhood cancer research to help kids just like him. Learn more about Holden and make a donation on his Hero Fund page.
Holden's Hero Fund
Read more on the St. Baldrick's blog: