Adam Rosowicz once told his wife that he'd give his life if it would save one kid with cancer. Now, thanks to his love for St. Baldrick's and others' love for him, the long-time shavee and his family are saving countless lives. Since Adam's passing in June from cancer, the St. Baldrick's memorial page established in his honor has raised $30,000 – and counting – to fund childhood cancer research and help kids live long, healthy lives.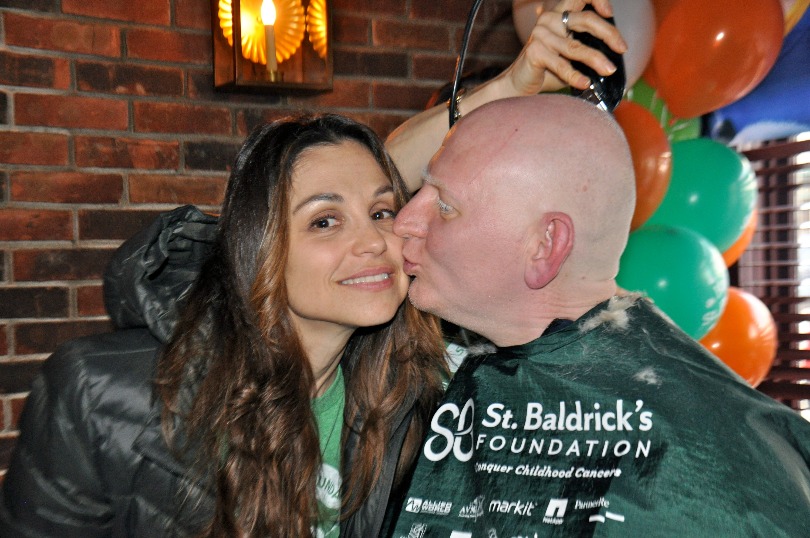 Adam and Christine, married for 21 years, share a kiss during a St. Baldrick's head-shaving event.
When Adam Rosowicz was in college, he worked multiple jobs to help his parents with the cost of tuition. When he was renovating a house with his wife, Christine, he would run wires at night, so she wouldn't be without electricity during the day. And year after year, he would sit down in the St. Baldrick's barber's chair with a smile on his face, a beer in his hand and zero hesitation. That was the kind of man he was. Generous, hardworking and kind, Adam put everyone else before himself.
"Once we were married and had our three boys, he dedicated his life to us," Christine said. "Absolutely nothing in the world mattered to Adam but his family. His will to live so that he could raise his boys propelled him to fight his disease longer than anyone thought he would."
Two of Adam and Christine's sons mug for the camera with friends during their first St. Baldrick's event in 2013. Altogether, the family raised about $50,000 for kids' cancer research. From left to right: Joey Rosowicz, Luke McAloon, Christian Rosowicz, and Riley Holahan in front.
In 2007, Adam was diagnosed with a rare pancreatic cancer. With few treatment options for his disease and sparse research, Adam felt a connection to kids with cancer who often face those same circumstances.
"One can understand that funding must be allotted where you can help the most people, but when it's your child, your loved one, you scramble for a ray of hope," Christine said. "When you realize that there are researchers and oncologist who are dedicated to helping patients with 'orphan cancers,' you also see how desperate they are for grants. Adam channeled his fears and frustration, put on his business hat, and decided to do what he could to get money to these scientists."
Adam with his three boys during their first St. Baldrick's head-shaving event in 2013.
That's why Adam shaved his head with St. Baldrick's. Working as an actuary in the reinsurance industry – the same industry the founders of St. Baldrick's worked in – Adam was familiar with the organization and often shaved with his TransRe company team at the founding Jim Brady's event in Manhattan.
"The first time he shaved for TransRe, he and our boys were the largest fundraisers for the event, and I remember him speaking to the crowd, flanked by our boys, about what he was going through and why research was so critical," Christine said. "This was an amazing experience for me because I had never been to a St. Baldrick's event, and I found it to be an addictive experience."
The experience was so addictive that in 2014, Adam and Christine helmed the head-shaving event at St. Patrick School, where their sons went to school. Adam's personality and enthusiasm for the cause was magnetic, pulling in crowds of participants and enormous amounts of money for kids' cancer research.
"If he was a part of something, everyone wanted to join in," his wife said. "I don't think I will ever forget those little children – kindergartners through middle schoolers – shaving their heads for other children. Nor could I forget the piles of baby, blond hair on the floor, and my Adam just sitting back watching it with a smile on his face."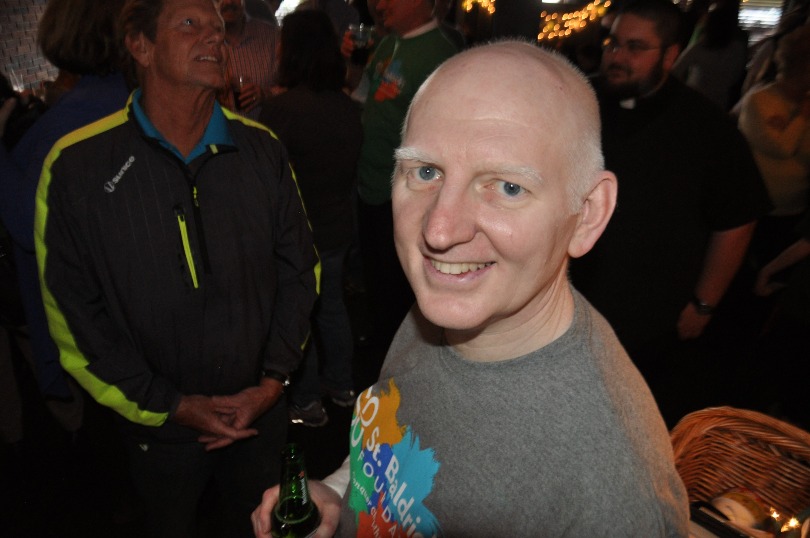 Adam smiles during the St. Patrick School event.
Adam loved St. Baldrick's and he loved kids with cancer. He saw his own story in theirs. Adam fought pancreatic cancer for 10 years, enduring round after round of different chemotherapies and 17 surgeries. On June 14, 2017, Adam passed away at the age of 48.
Just a couple days later, thanks to the efforts of two of his colleagues at TransRe, the St. Baldrick's memorial donation page in honor of Adam was created.

Would you like to honor a loved one and benefit childhood cancer research? Start a memorial donation page > 
"We are in awe of how much Adam's memorial page has raised for St. Baldrick's, and are so incredibly thankful," Christine said. "It is truly a testament to the amazing human being he was, and this has been a step in helping us heal."
Joey speaks during his St. Patrick School event.
Through a decade of illness, of ups and downs, of late nights researching the latest treatments for his disease, Adam never gave up hope. Neither are his sons.
Their oldest son, Drew, is looking to go to medical school and become an oncologist, while their youngest, Joey, inspired his peers to fundraise for St. Baldrick's at his school.
At the Jim Brady's event in March, Adam's 14-year-old son, Christian, will shave in honor of his dad. Like his dad, Christian is passionate about giving kids with cancer a chance at life and at hope. Like his dad, Christian had zero hesitation to sit down in the barber's chair.
Help Christian raise $10K in honor of his dad! Donate to his shave today >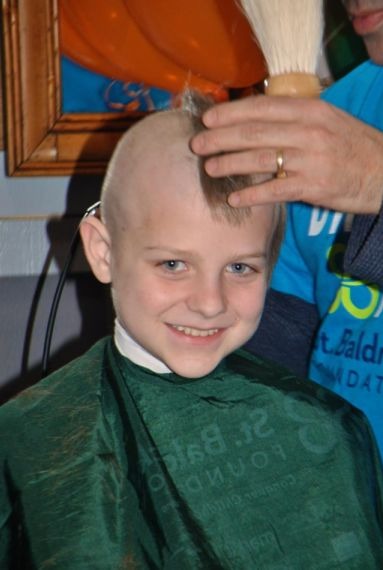 Christian, Adam's 14-year-old son, has shaved four times for St. Baldrick's alongside his dad. This year, he says his dad will be with him in spirit at the 2018 Jim Brady's event.
"When Christian found out there was a Team Adam, he instantly decided to shave for his father and all the kids fighting cancer," Christine said. "Adam was so incredibly proud of his three sons, and although they've grown up with many challenges stemming from having a sick parent who eventually passed, all three are a true testament to the man Adam was."
With his boys carrying on Adam's legacy and $30,000 raised for research through his memorial page, Adam's spirit is still being felt in exactly the way he'd want – through helping others.
He'd be so proud.
In honor of Adam, let's take childhood back from cancer. Give on his memorial page today.
Donate

Read more on the St. Baldrick's blog: