Ah, the holiday season. We know fundraising might not be at the front of your mind during the busy holiday season, but you can easily raise money for kids' cancer research with fun holiday activities that are sure to get you into a festive mood. Check out these 9 ideas below.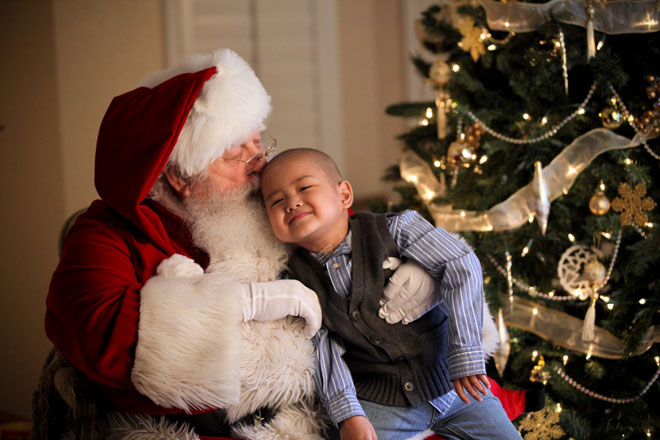 2014 Ambassador Alan gets a kiss from Santa Claus during a special photo shoot, a month before he passed away. The 5-year-old fought childhood cancer for most of his life after being diagnosed with a rare sarcoma in his hip.
1) Ditch the gift exchange!
Turn your company holiday party into a fundraiser. Instead of buying gifts, ask co-workers to "fill the stocking" with donations, pay for entry into the "Ugly Sweater" contest or create your own fun activity. Then see if your company will match your contributions!
2) Feeling crafty? 
Make gold ribbons or gold ornaments to represent childhood cancer awareness and sell them for a suggested donation. Homemade items are great for spreading awareness of this cause that's close to your heart during this holiday season.
3) Lifesaving solstice
Winter begins with the solstice on December 21st, which means it's the longest night of the year. Celebrate by hosting a winter-themed movie night, where a donation gets you in to the 'theatre'. Have snacks, warm beverages and comfy seats ready for a long night of festivities. Participants could even wear their favorite pajamas!
4) Not your typical gift giving
Ditch the gifts this year and ask others to donate toward your fundraising goal instead. You can also ask friends and family to give monetary gifts to St. Baldrick's in exchange for a service you provide, like babysitting, gift wrapping or snow shoveling.
5) Do you want to build a snowman?
Grab your carrots and see who can build the best snowman. Collect donations from your participants and judges. Too warm for snow in your area? Challenge friends to a gingerbread house making contest instead.
6) Polar plunge
Brave chilly waters and participate in a polar plunge challenge. Collect donations of support prior to your plunge. And remember, you can always invite a friend to take the dive too!
7) Holiday lights tour
Do you know where the best holiday lights are in your city? Grab some hot cocoa and offer to lead a tour of the lights in return for a donation to kids' cancer research.
8) Snowball fight fundraiser
Gather your friends and family for a friendly snowball fight at a local park. It's a great way for kids to have fun while helping other kids at the same time. Collect a donation for each participant and make a trophy for the winners.
9) It's that time of year
As 2017 is about to wrap up, your friends and colleagues might be looking to make their final donations for the year. Make a last call for 100% tax-deductible donations – or share tax saving strategies with them, such as stock transfers or IRA charitable rollovers. Do you have questions about how these gifts work? Contact us here.
Start a ho-ho-holiday fundraiser for kids with cancer today.
Start a holiday fundraiser

Want more holiday stories from the St. Baldrick's elves? Read more from the blog: