Honored Kid Sophie was just 3 months old when she was diagnosed with acute myeloid leukemia. When Sophie passed away 15 months later, her parents worried that she might be forgotten. They decided to honor Sophie's memory by starting a memorial fund in her name, forever tying her to a cause they care deeply about: funding childhood cancer research.
"The next place that I go
will be as peaceful and familiar
as a sleepy summer Sunday
and a sweet, untroubled mind.
And yet….it won't be anything like any place I've ever been…
or seen…or dreamed of
in the place I leave behind."
– "The Next Place" by Warren Hanson
Our first child, Sophie, was born in October 2013, and we were smitten with her the instant that she arrived.
A few months later, we noticed some odd bruise-like spots on Sophie's torso and back. She had a runny nose for a couple of weeks but we didn't think much of it, as everyone around us seemed to have a cold. Still, her "spots" concerned us so we brought her to the pediatrician.
The doctor shared our concerns and immediately sent us for blood work.
That night marked the first of many long stays at the hospital. A bone marrow biopsy revealed that our precious 3-month-old had acute myeloid leukemia (AML). Frightened and confused, we immediately began treatment.
BLOG: What It's Like to Be a Mom of a Child With Cancer >
Over the course of 15 months, Sophie had bone marrow biopsies, surgeries, chemotherapy, relapses, infections, blood clots, shots, and two bone marrow transplants. Her leukemia was persistent, to say the least.
Luckily, so was her smile. Despite spending much of her life confined to a single hospital room, Sophie was such a happy child. She loved playing music and dancing with the hospital staff, blowing kisses, and any opportunity to eat cheese curls.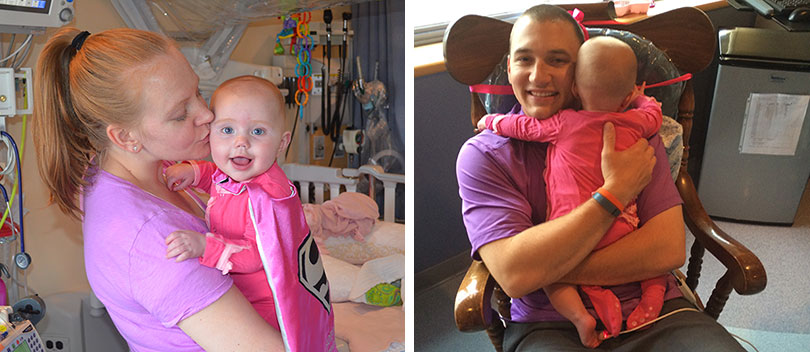 Sophie and her parents.
In April 2015, Sophie's doctor delivered the crushing news that her cancer was back, and it was more aggressive than ever. Despite our best attempts at treatment, we were out of options and Sophie would succumb to her disease.
I can still feel the hot tears rolling down my cheeks as we heard the news. We put together a plan to keep Sophie comfortable and make the best of the time we had left with her.
After learning this awful news, Sophie's nurse brought us the book "The Next Place" by Warren Hanson, a comforting tale of the life Sophie would lead after her earthly death. Although it was a struggle, we read her the touching words. And as Sophie drifted into her forever sleep, we began planning arrangements.
There were countless organizations we considered asking our family and friends to donate to in Sophie's honor. There are the popular cancer charities that everyone thinks of first. Then there are the local organizations that provided gift cards, toys, and funds for our family while we lived in the hospital and cut back on work.
We quickly realized that we wanted to direct donations towards an organization that was funding research specifically aimed at curing childhood cancers. Many of the nurses and hospital staff recommended St. Baldrick's so we reached out to them about a memorial fund for Sophie.
Sophie's sisters visit her memorial bench.
The staff at St. Baldrick's took no time at all to respond. They communicated with us with the compassion of people truly understanding of our situation. They helped us put together a fundraising page in honor of Sophie, which was ready when she passed a few days later. We were overwhelmed with the donations that came rolling in.
BLOG: I Lost My Little Brother to Childhood Cancer >
When you lose your child, one of your biggest worries is that it won't take long for people to forget she ever lived. We want Sophie's memory tied to the research that will get her friends better treatment options.
Most of all, we don't want her nurses to have to buy any more books about "the next place," unless the next place their patients plan on going is home, back to school, and on to lead a healthy lives.
We are confident that the research funded by St. Baldrick's is going get us there. We feel honored that Sophie's name and memory will be forever tied to their cause.
If you are interested in starting a memorial fund, to honor a loved one and benefit childhood cancer research, find out more here.
Help honor Sophie's memory by funding childhood cancer research. Donate to her memorial fund today.
Sophie's memorial fund
Read more on the St. Baldrick's blog: