Sean Swarner has been on top of the world — in more ways than one. He defeated cancer twice and was the first cancer survivor to summit Mt. Everest, the world's highest peak — a feat he accomplished with only one functioning lung. This is his amazing survivorship story.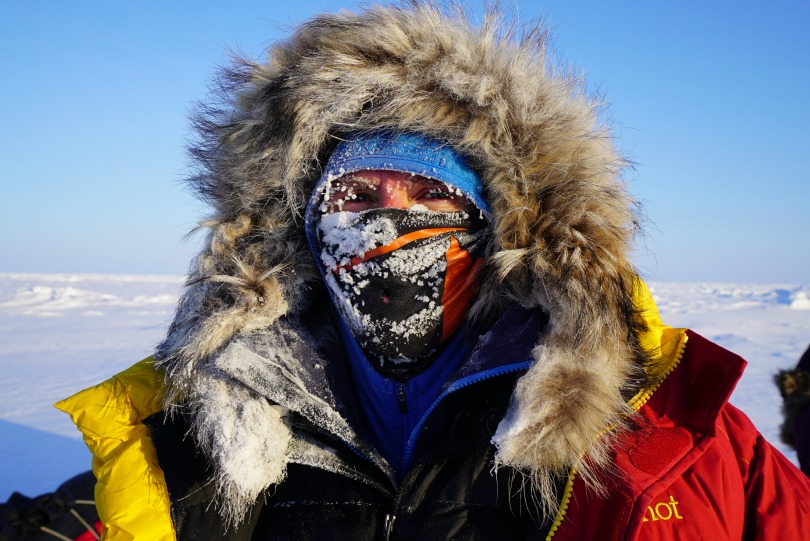 Sean Swarner treks to the North Pole, becoming the first cancer survivor to complete the Explorers Grand Slam, a challenge to reach the North Pole, the South Pole and all of the Seven Summits.
Like most teens, Sean loved sports, hanging out with friends and the outdoors. But at the age of 13, that all changed when a knee injury sent him to the doctor. He was diagnosed with stage IV Hodgkin lymphoma and given three months to live.
Sean was stuck in a hospital bed for a whole year but he'd watch TV specials about different places around the world and credits his love for exploration to that time: "Often I went on adventures inside my brain when I couldn't get out of the hospital bed."
He survived. But only to be diagnosed with an unrelated cancer called Askin's sarcoma when he was 16. After surgery to remove a tumor from his right lung, Sean was given only 14 days to live.
"I remember I was read my last rites," he said.
Miraculously, he survived again, but at a cost. Radiation to his right lung caused so much scarring that it ceased to function. But Sean has not allowed that to limit him.
Blog: 5 Facts About Childhood Cancer Survivors >
Sean undergoes cancer treatment after being diagnosed with cancer for the second time.
"I think I see myself as normal as possible. You never know what you're capable of doing until you go out and try it," he said.
Sean not only believed those words, he has lived them and set out to do what few would even think to try.
Climbing Mt. Everest as a cancer survivor and with one functioning lung. Done.
He didn't stop there. Sean went on to summit the highest peaks in Africa, Europe, South America, Australia, Antarctica, and North America, thus becoming the first cancer survivor to complete the 7-Summits. Done.
Then he trekked to both the South Pole and just recently to the North Pole, completing what is called the Explorer's Grand Slam. Done.
Finally, finishing the Ironman World Championship in Hawaii. Done.
But why?
Because Sean believes his purpose is to give hope to others, especially those who are battling cancer.
"When I'm battling through the elements, 97% humidity, 80 degrees below 0, I could easily pick up a satellite phone and call for an evac. I could get a helicopter to take me out," he said. "I constantly think about the people who are fighting for their lives. If they're continuing to fight and push forward, I can continue to battle the elements."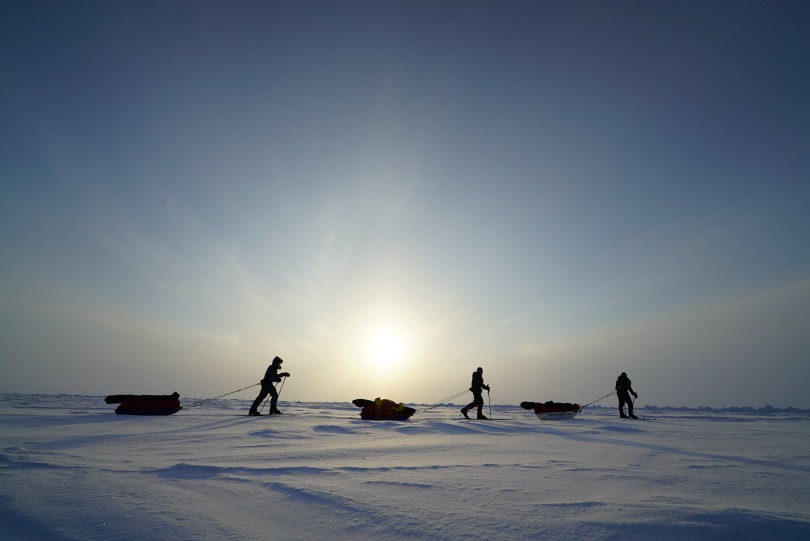 Faced with harsh weather conditions, Sean was motivated by the countless stories of kids with cancer currently in treatment.
When he was going through his own cancer journey, Sean said it was his family, friends and people in the community who gave him hope. He sees that same sense of community in the St. Baldrick's family.
As a childhood cancer survivor, Sean feels strongly that more focus needs to be on helping kids with cancer. He dedicated his recent trek to the North Pole as a fundraiser for St. Baldrick's called Mission of Hope. For a donation, people were able to send the names of those affected by childhood cancer and those names were added to Sean's flag of hope – a flag he carried with him to the North Pole.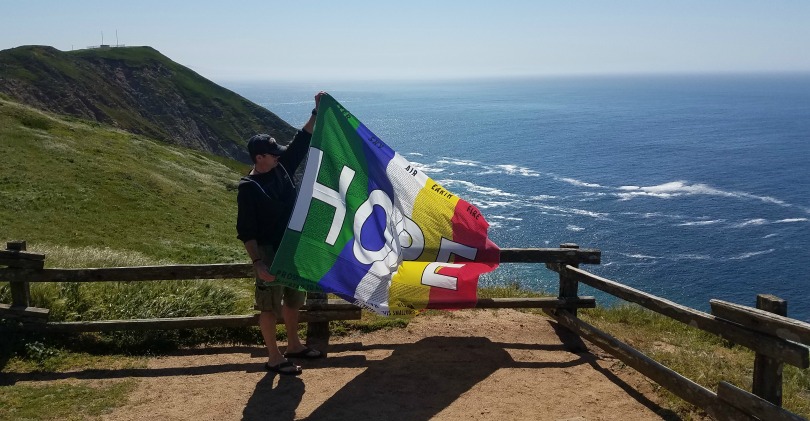 Sean proudly holds the flag of hope.
Because of Sean, the world is literally covered in the names of people touched by cancer.
"There needs to be more attention to childhood cancers…the kids don't have a voice for themselves. They can't stand up and lobby or do stuff. They need help," he said.
Feeling inspired? Start your own fundraiser for kids with cancer >
Sean will continue to climb higher to summit new challenges and embark on new adventures because he has a calling to conquer the impossible and defy the odds — all to give others hope.
"I wanted to use it [climbing Everest] literally to give people hope. I wanted to show people that there is life after cancer and it can be a beautiful life," he said. "The world is such a big place and we need to get out there and explore."
You have the power to make more research and more survivors, like Sean, possible. Give now so kids with cancer not only survive, but thrive.
Give
Sean is not only an avid climber, he's also a keynote speaker and performance coach. Read more about Sean at  
www.seanswarner.com
.

Read more on the St. Baldrick's blog: