On a seemingly normal Wednesday in the summer of 2015, Stephanie Goodall's son, Jonah, was diagnosed with a brain tumor. And today the Goodall family has something to celebrate. Read on for more about Jonah's cancer journey, their good news and why they consider every day a gift.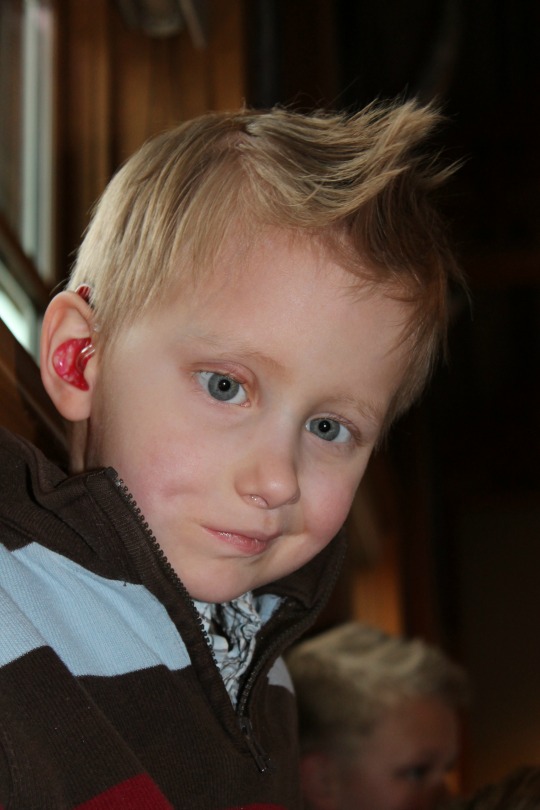 Jonah is a confident 6-year-old who works hard to overcome the challenges caused by his cancer and treatment.
Before pediatric cancer touched our lives, Jonah was a happy, healthy, energetic, little boy who was wildly popular in preschool. He was both little brother to an older brother and sister, and big brother to a baby sister.
In the spring of 2014, regular waves of nausea and vomiting started to interrupt his exuberant play with growing frequency, so we went to GI. Everything checked out, and Jonah was put on a course of antacid that cleared everything up.
In January 2015, an allergic reaction sent Jonah to the ER and his nausea and vomiting returned. After a trip to Lurie Children's Hospital for an upper endoscopy we learned that he had Eosinophilic Esophagitis (EOE), which is an allergenic condition of the esophagus that affects about 1 out of every 2,000 people.
After cutting out certain foods from his diet to treat the EOE, Jonah seemed to be getting worse instead of better. He was eating less and less, vomiting more and more. Our bright, rambunctious little boy was fading before our eyes.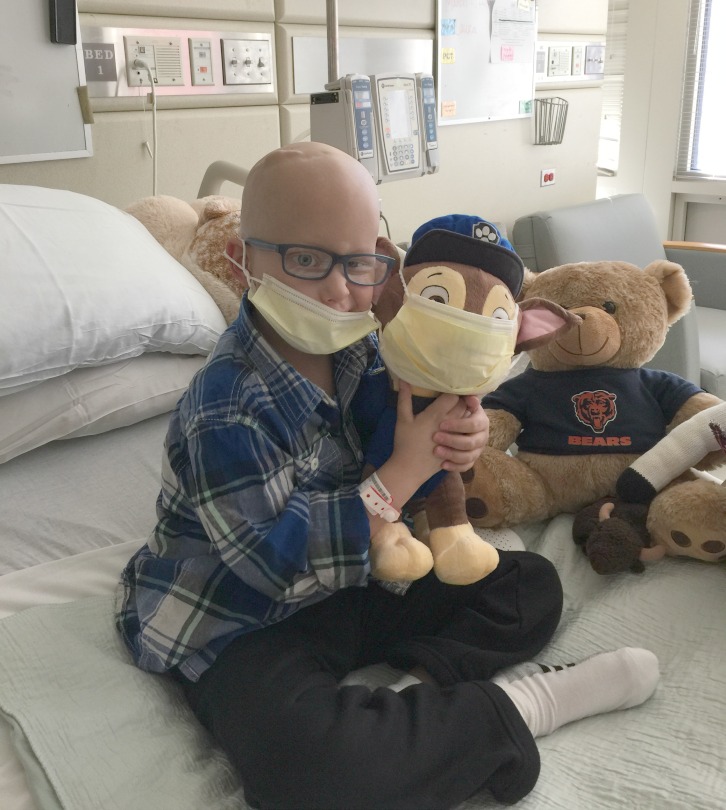 Jonah hugs his stuffed animal tight during a hospital stay.
By July, Jonah had grown extremely lethargic and had lost almost 10 pounds since the spring. After a disconcerting afternoon of Jonah complaining of double vision, followed two days later by an episode of "word salad" his pediatrician sent us to our local hospital for an emergency MRI.
What started out as a normal Wednesday forever changed the lives of our whole family.
A plum-sized tumor was discovered in the cerebellum portion of Jonah's brain. Jonah had medulloblastoma, which had metastasized through his brain and spinal column.
Every child deserves to live cancer free. Fund childhood cancer research today >
The days that followed were a blur — surgery to remove the tumor, a life threatening hematoma on the brain, a transfer to the PICU for two weeks, remaining intubated for almost two weeks, another hematoma, and surgery to place a shunt and central line.
Because of the surgery, Jonah's body forgot how to listen to his brain. It was almost like he was in a coma, but he wasn't. He couldn't breathe on his own, eat, smile, talk or move.
Pediatric cancer treatment decisions suck. As a parent, you have to decide between terrible and horrible. There isn't a third, more pleasant option. We chose terrible, and Jonah received six rounds of high-dose chemotherapy followed by a stem cell transplant.
We watched Jonah's beautiful blonde hair fall out, we saw him continuously nauseous and throwing up so regularly that it stopped fazing any of us. We saw mouth sores the required morphine to dull the pain, skin rashes causing him to peel from head to toe, hearing loss, fevers and random infections. No one can adequately prepare you to watch your child so miserable that you can't find the light in their eyes.
After Jonah finished chemotherapy, we had to move onto radiation. Our medical team told us that radiation will cost Jonah IQ points that will likely affect his abilities in the future. The flip side is that radiation is currently our most effective treatment for medulloblastoma.
Learn about the two biggest late effects that survivors face in life after pediatric cancer >
Jonah finished treatment in May 2016 and today is a 6-year-old boy fighting his way back to a new normal.
He has six hours of therapy a week. He walks with leg supports and a walker. He has hearing aids in both ears. He has endured facial reanimation surgery and two eye surgeries, all in effort to regain some facial symmetry and the ability to fully close his eye.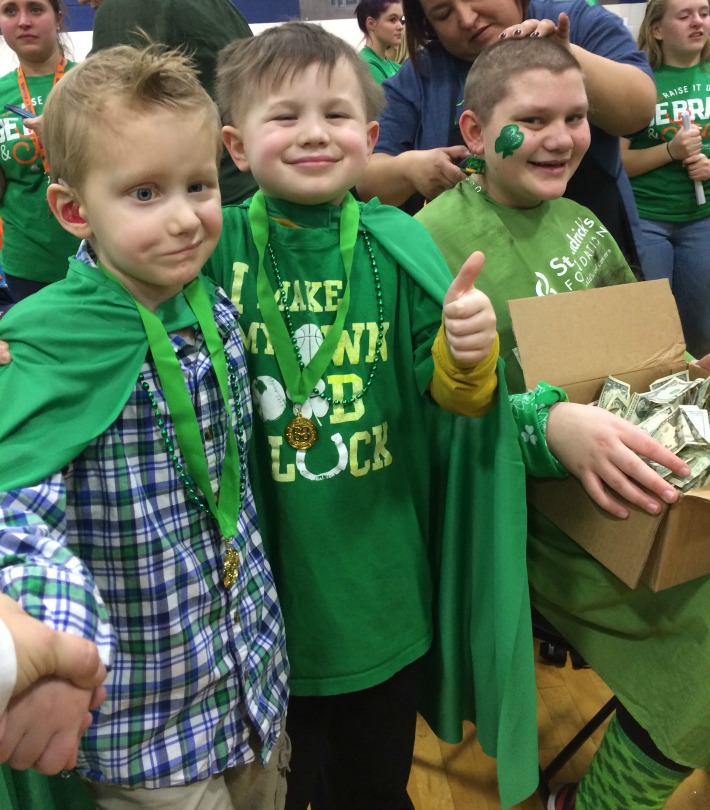 Jonah smiles with his buddies during a St. Baldrick's head-shaving event.
The spirit of the boy we knew has returned though. He is again silly, loving, kind, inquisitive and warm. He is also different. He's more timid, less confident and more scared. Cancer has changed him on the inside as well as the outside.
And yet, we are not out of the woods. We are just on the other side of a big scare. In April an MRI revealed a new spot that caused great alarm for recurrence. If medulloblastoma recurs, there is no cure and the median life expectancy is 1 year. We are able to celebrate though, as Jonah's MRI this week showed that the spot has miraculously disappeared.
Even in all of this, today is a gift. The friends and family in my life are gifts. The faith that allows me to hope is a gift.
Sharing our story is a gift.
We share our story to make the statistics personal, to make childhood cancer personal. We hope our story raises awareness, and that with awareness comes funding, and with funding comes a cure for Jonah and for the kids of tomorrow.
You can be a part of the cure for Jonah and kids like him. Fund childhood cancer research today.
Give
Read more on the St. Baldrick's blog: