Childhood cancer survivor and budding chef, Petey Miceli, celebrates 5 years cancer free and recognizes Pi Day — the day we celebrate the ratio of the circumference of a circle to its diameter — by sharing his story, along with his famous pizza pie recipe. (Pi Day is today, March 14 or 3.14 — get it? See, math can be fun! And delicious.)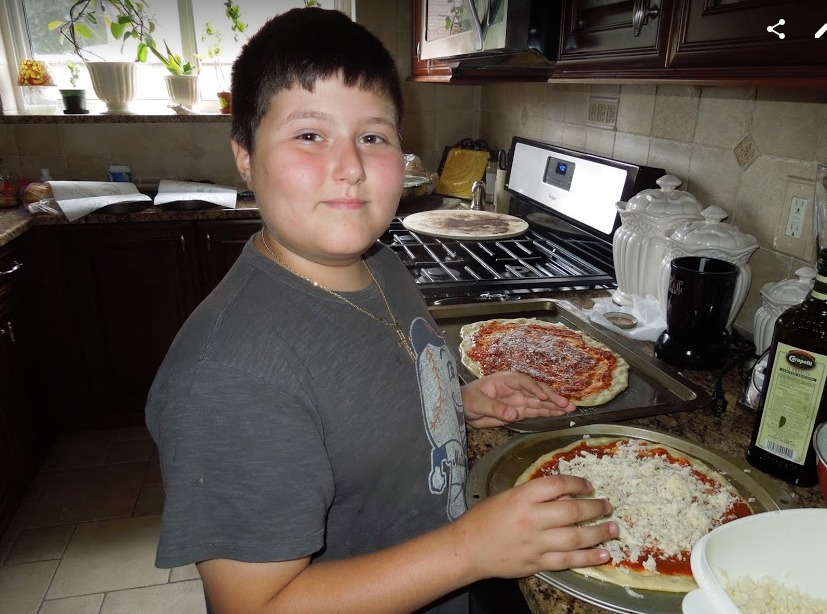 Petey shows off his handcrafted pizza pies.
For 13-year-old Petey Miceli, his passion for cooking all started with an egg — and childhood cancer.
At 7 years old, Petey was diagnosed with acute lymphoblastic leukemia. He went through intense chemotherapy, with injections into his port that made him sick to his stomach. Courses of steroids made the kid so hungry that he had to eat every hour, and chemo in his spinal fluid caused neuropathy in his legs, leaving him in pain and unable to walk or stand for long.
Learn more about childhood cancer >
It was tough, but there was a bright spot — breakfast.
When Petey and his dad were home together, the senior Peter would make elaborate breakfasts, even though Petey couldn't keep much of it in his stomach. Peter would pick his son up and place him up on the kitchen counter, so Petey could watch him cook. There were pancakes that looked like Mickey Mouse and Spongebob, and smiley faces made out of sausages.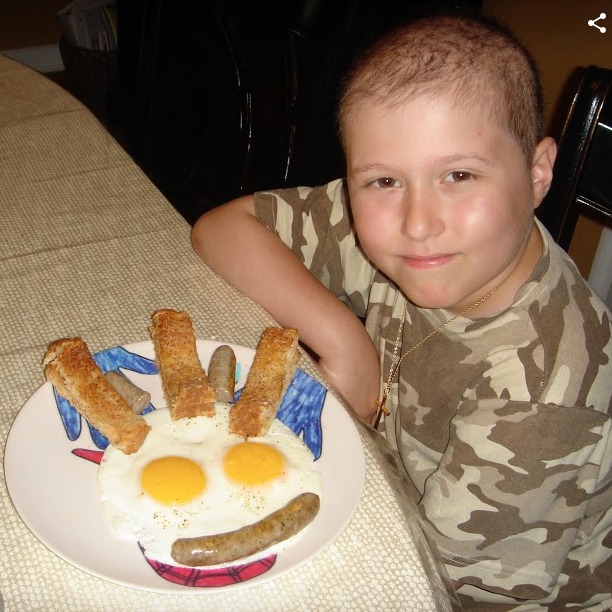 Petey smiles next to one of the special breakfasts his dad cooked for him.
Then, one morning, Petey asked a question: 'Can I crack the egg?'
And he did.
"The next day he'd end up in the kitchen again. 'Can I crack the egg?' And he'd crack the egg and his hands would tremble and he'd make a mess and then the next day and the next day and the next day," Peter said. "And he's whisking it — and he couldn't really whisk it at first — then eventually he's in the kitchen and he'd bend over and he'd get out a pot and a pan, he'd go get the butter, he'd put the toast in the toaster. It became his therapy."
Petey holds up the chef's knives he got as a present for Christmas.
Now 13 years old, Petey is an avid cook. Instead of playing games on his phone, like most kids his age, Petey is in the kitchen cleaning calamari or cooking calzones. He watches cooking shows instead of cartoons and received a set of chef's knives for Christmas.
"I just find it fun," Petey said. "When there's not much to do, instead of just going on my phone, I like to find new recipes and make new recipes. Plus, I like how cooking something crazy can come out and just taste amazing."
Petey plans to become a professional chef and open a restaurant with his dad. He'll display that first set of knives in a glass case for all the patrons to see, he said. His cookbook is already in the works.
"Because of cancer, he developed this passion for cooking. It's what kept his sanity and made us smile every day to watch him do something instead of laying there, saying, 'Why me, why me?'" Peter said.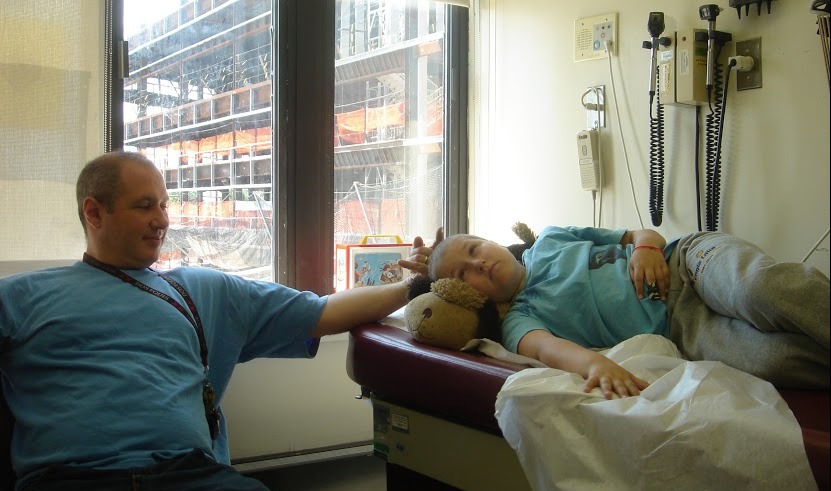 A New York City firefighter, Peter was able to visit Petey in the hospital as often as he could, because the fire department transferred him to a firehouse 10 blocks from Petey's hospital.
Now Petey wants to give back. He wants all kids with cancer to be able to follow their dreams, like he is.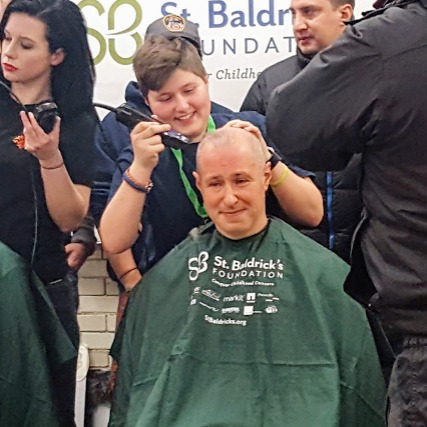 Petey shaves his dad's head during the St. Baldrick's head-shaving event hosted at a New York firehouse.
That's why he shaved his head and raised funds for St. Baldrick's.
Petey is so close to his goal of $10K! Make his day by giving on his participant page >
And he did it on a special day — March 13th, the day he was declared five years cancer-free.
There are no more pills, no more steroids, no more shots, and no more appointments every three months. Now he'll get check-ups every six months.
It feels like a big accomplishment, according to Petey.
"If there were no research, we wouldn't have the results we have today," Peter said. "We're just thankful."
In honor of Pi Day and Petey celebrating five years cancer free, watch this video to learn how to make pizza dough from Chef Petey himself. (But don't ask him for his tomato sauce recipe. It's a secret.)
All kids with cancer should get the chance to grow up to follow their dreams, like Petey. Give today to give kids their best chance at life without cancer.
Give
Read more on the St. Baldrick's blog: