Honored Kid Annie is a force to be reckoned with. In fact, when the little girl was first diagnosed with leukemia, she told her mom, "I'm going to kick its butt." And that's just what this spirited fighter is doing, with her loving family backing her up. Read on for more about this amazing kid and her fight against cancer.
Annie doesn't let anything stop her from being a kid — not even cancer.
The firecracker of a 5-year-old loves to dance, especially to the rock band AC/DC. Her signature move is like "the worm" but with less moving and the addition of a foot wiggle.
Annie kisses and hugs her little brother, Benji, constantly and she isn't shy about saying whatever is on her mind.
Like that time when Annie told her mom, Misty, that she had wished for a mom like her before she was born, because Misty knows exactly what makes her happy.
"The stuff that she says — she's just so matter-of-fact that you can't believe it's coming out of this little girl's mouth," Misty said.
Annie is just totally, completely, and unabashedly herself. No matter what.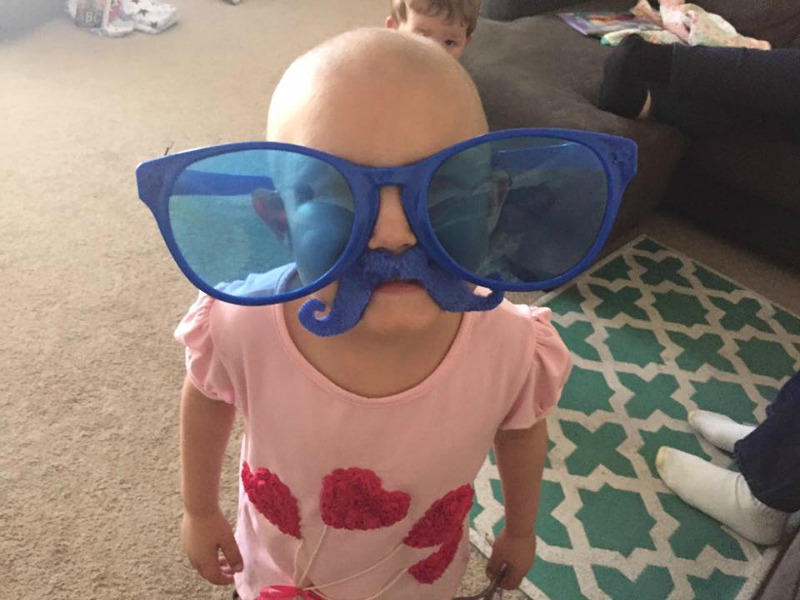 A mustachioed and bespectacled Annie mugs for the camera.
The diagnosis
Back when Annie was 3, she had been sick with strep and high fevers for a week. She didn't want to play with Benji, even though the two are usually inseparable.
The pediatrician prescribed antibiotics, but nothing helped. Annie just got sicker and sicker.
After two and a half weeks of doctor appointments, Misty got a phone call. Annie had acute lymphoblastic leukemia.
Annie was admitted to the hospital around Halloween. Being the resilient and determined girl she is, she bounced back enough from her blood transfusions to go trick-or-treating on the floor. She was a giraffe, which is what she insists on being every year.
Annie shows off her favorite costume during Halloween.
But that's not her favorite animal. Furry, slimy, scaly — she adores them all. When she and her mom drive to her doctor appointments, Annie reads the animal crossing signs and warns her mom to watch for critters on the road.
"She tells me, 'Mommy, watch out for the deer and bears. I'll watch on my side and you watch on your side,'" Misty said. "She's just so in tune with everything going on. Everything."
One day at a time
After the first few days in the hospital, the doctors inserted a port — a device placed under the skin in Annie's chest that delivers medicine directly into her bloodstream. Annie named her port after one of her favorite cartoon characters, Kwazii, a cat who's a pirate.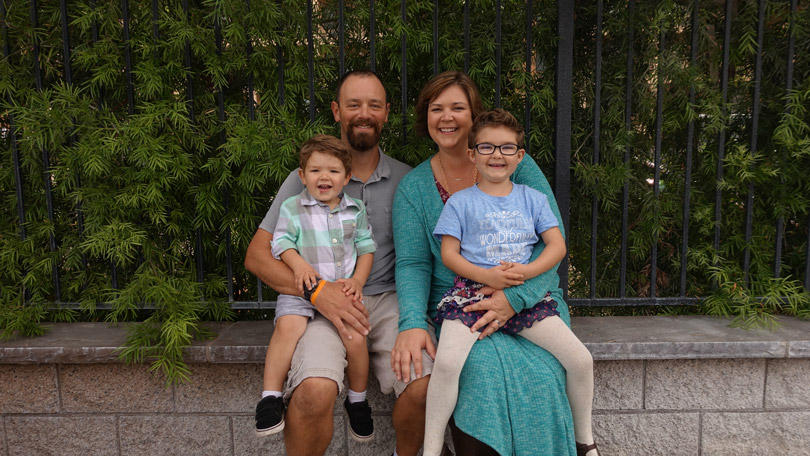 Annie and her family pose for a photo during a recent family trip to Disneyland.
Annie insists that Kwazii be kissed and told what's going to happen before the nurse inserts the needle to inject the chemotherapy. There also needs to be absolute silence in the room.
"We try really hard to give her as much control as possible, because there are things that we can't control and we just have to do them," Misty said. "She says sometimes, 'I wish I didn't have to do this, but I know we have to do what we have to do. And we just take it one day at a time.'"
That's exactly what Annie does. Armed with her stuffed duck and her little brother by her side, Annie does what she has to do and she does it in her own way.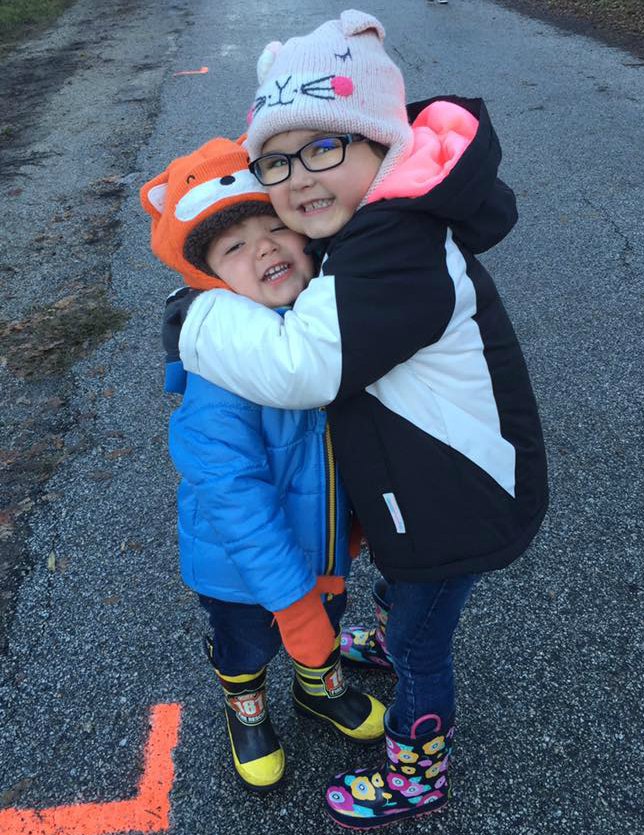 Annie gives Benji a squeeze.
In fact, when she was first diagnosed, she wouldn't talk to the doctors and nurses.
"They'd walk in and she'd give them a thumbs down. I just let her do whatever she needed to do. She'd growl at them," Misty recalled. "She would growl at them so much, because she didn't feel good."
BLOG: 10 Facts About Childhood Cancer >
Annie weathered the intense chemotherapy and lost her hair, but she didn't mind. In fact, she loved being bald. Now that her hair is growing back, she's even flirted with the idea of shaving her head so she can be bald again.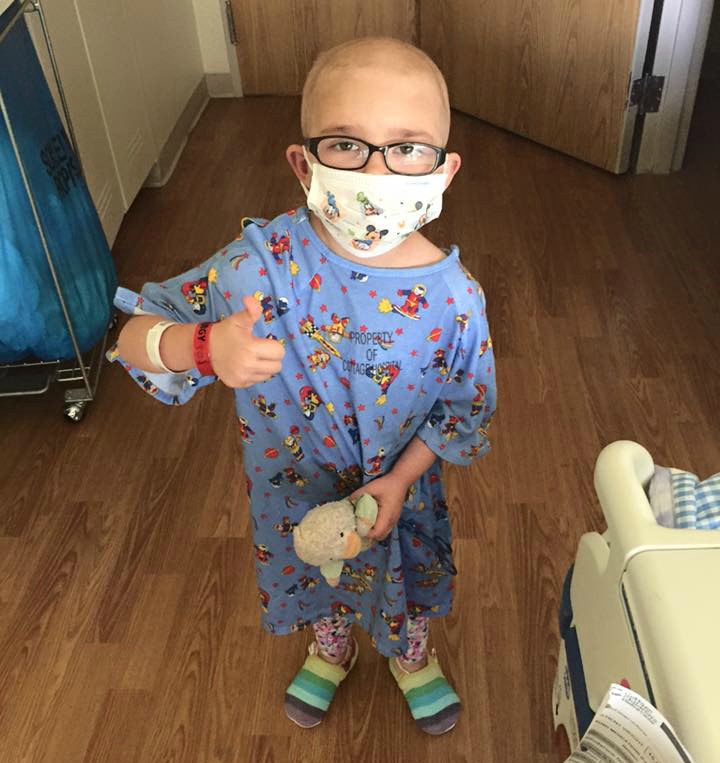 Annie gives a thumbs up during the first part of her treatment.
For now, her go-to hairdo is a faux hawk.
The road ahead
The intense phase of her treatment may be over, but things haven't been easy.
The little girl has struggled with headaches, dizziness, and nerve damage in her legs. She's been experiencing neurological effects and sometimes has trouble remembering how to write her name.
"We just don't make a big deal out of it. We move on to the next thing, because it's the whole 'risk versus gain,'" Misty said. "For us, we're having to take these risks in order for her to stay here — for us to keep her alive. We just have to deal with what's going to happen."
Annie loved being bald. Now that her hair is growing back in, she wants to shave her head.
But for Annie, Benji, Misty, and her husband, Jeremy, the journey is about more than just dealing with the cancer. It's about giving back.
That's why they're involved in St. Baldrick's — so no other kid and family has to endure what they have. That has been their silver lining.
"If we can help one family not have to go through this or not see their child have to go through this process, it's worth it," Misty said.
Annie is on a mission to raise $50K to help kids with cancer! Make her day with a donation to childhood cancer research.
Give
Read more on the St. Baldrick's blog: