On National Sibling Day, meet Josh Aguilera, a brother and St. Baldrick's shavee who made his sister's dreams come true on one of the last nights of her life. Because what does a big brother do to make his sister happy? Get suited up in a tuxedo and ask her to prom, of course.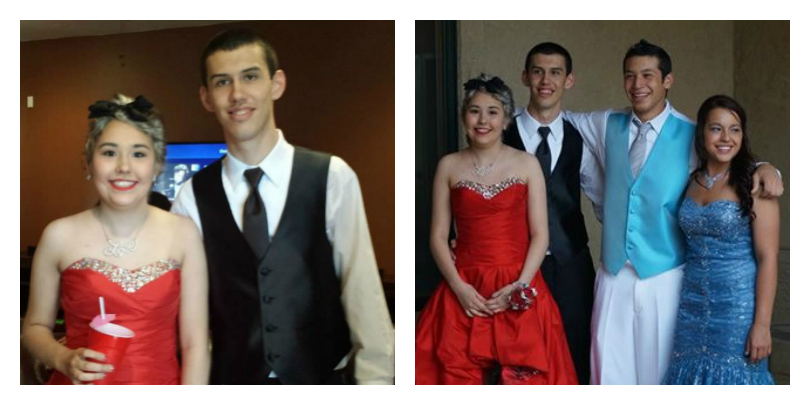 Janea, in the red dress, beams at the camera with her brother, Josh, on prom night.
Like many teenage girls, Honored Kid Janea Aguilera dreamt of her high school prom. What dress would she wear? Who would ask her to go? Did she have a shot at being crowned Prom Queen?
But when she was in eighth grade, Janea was diagnosed with osteosarcoma, a cancer of the bone.
Doctors first removed part of her tibia and knee. Then, when the wound didn't heal, they did a rotationplasty, where her foot was rotated and reattached, so her ankle could act as her knee. She endured chemotherapy and underwent lung surgery to remove spots of cancer. But more spots popped up in her lungs.
In May 2014, the cancer spread to the young girl's brain.
She had more surgery, but the cancer was relentless. The doctors said Janea didn't have much more time to live.
It was a Wednesday when she and her family received the news. Prom was Saturday night.
"When Janea was finally released and sent home, she told our dad that she was sad that she would never get to go to prom," said her brother, Josh.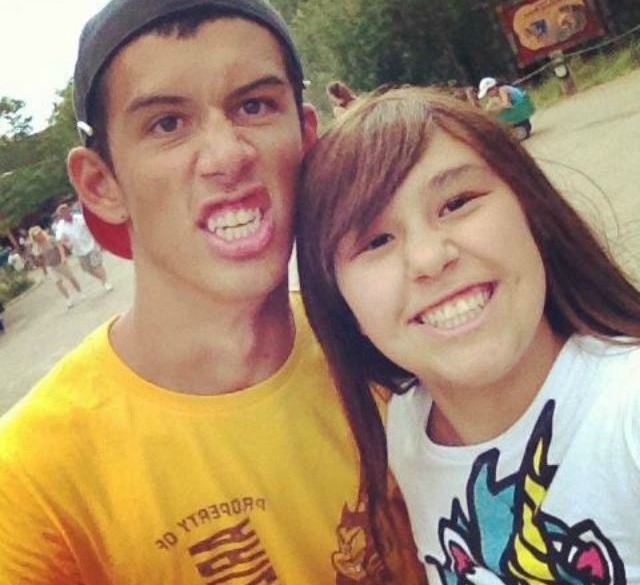 Josh and Janea act silly while taking a selfie.
Janea may have given up on going to prom, but Josh had other plans.
Their dad called the principal to get permission, and the principal called the superintendent. Finally, everything was set.
That's when Josh called Janea and asked her to prom. At first, Janea thought Josh was yanking her chain — as any girl with brothers would.
"She thought I was just joking, so she didn't really believe me," he said. "She started crying and asking, 'Are you serious?'"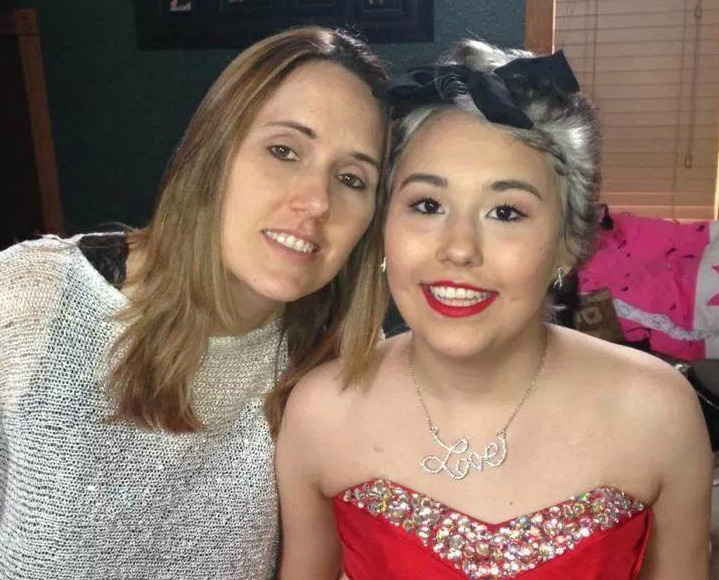 Melony shares a moment with her daughter before prom.
The next day Josh picked up his tuxedo. A shop donated Janea's prom dress. Others from their community did Janea's hair and make-up and donated corsages for the siblings.
"It was making her so happy — I mean, she was ecstatic about it," said their mom, Melony. "She was on cloud nine. This was like a dream come true to her."
But her dream of going to prom would only get better. That night, Janea was crowned Prom Princess.
"We were aware of it, but she wasn't," Josh said. "She wasn't expecting it at all, so the look on her face when they announced it …"
Janea was surprised, to put it mildly.
The brother and sister had a blast. They danced the night away. Their mom and aunts were there for the crowning of Princess Janea.
"It was what she wanted, it was making her happy, and that was what was most important," Melanie said. "She was getting to live out this dream."
The next day, Janea awoke with excruciating headaches. Then she lost consciousness. Early on Monday morning, she died.
Josh gives his sister a peck on the cheek during her fight against cancer.
Josh and his dad arrived just moments after Janea took her last breath.
"We barely missed her," Josh said. "It was definitely one of the hardest things I've ever had to see or had to do."
Now, Josh shaves his head with St. Baldrick's in honor of his sister, so kids with cancer in the future don't go through what his sister did. He shaves so kids with cancer can go to prom, graduate from high school and live long, healthy lives, like kids should.
"I always look forward to the event and shaving my head, but the best part is raising the money. To know that money I raise can be of some help always makes me feel good inside," he said.
Give on Josh's bald head and help him honor his sister — donate today!
He and his family started a St. Baldrick's team — Team Janea — and when they get together to shave at the event in Denver, they bring a poster-sized photo of her.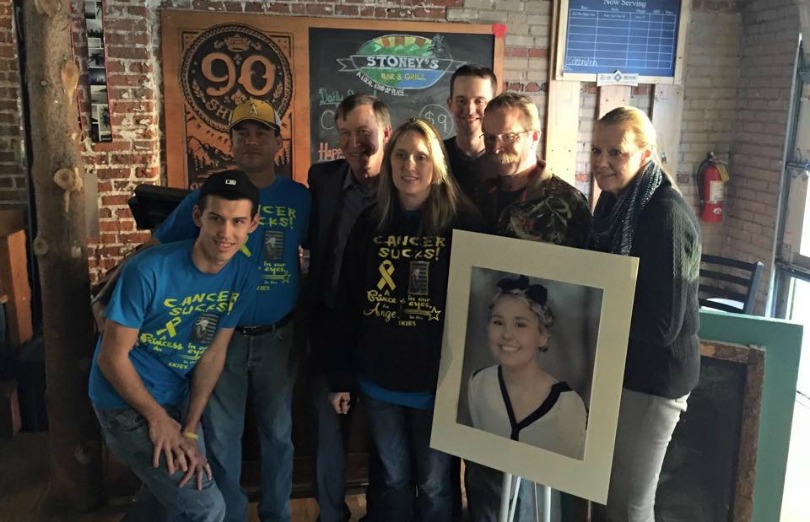 Team Janea gathers for a team photo before their shave at the Stoney's Bar and Grill event in Denver, Colo.
When Josh thinks about his sister, he remembers how strong she was through everything she endured.
"What I admire the most was her strength, knowing she wasn't going to give up even if she wanted to," he said.
He remembers the times they played basketball together and fished. He remembers Janea tattling on him and pushing his buttons, like little sisters do. He remembers playing outside with her when they were both little kids.
There are so many memories, Josh said.
But that Saturday night three years ago when he made his little sister happy — that was a night to remember.
"I don't think anything can beat that," Josh said.
Help Josh and his family honor Princess Janea. Give to Team Janea today and fund lifesaving kids' cancer research.
Give for Janea
Read more on the St. Baldrick's blog: