Honored Kid Ben was an astonishing 15 days old when he was diagnosed with a rare brain tumor. The tiny baby was a fighter and now, seven years later, Ben is cancer free. "He can hit his head and fall down and whatever. He just gets back up with a smile and keeps going like there's nothing that stops him," said his mom, Erin.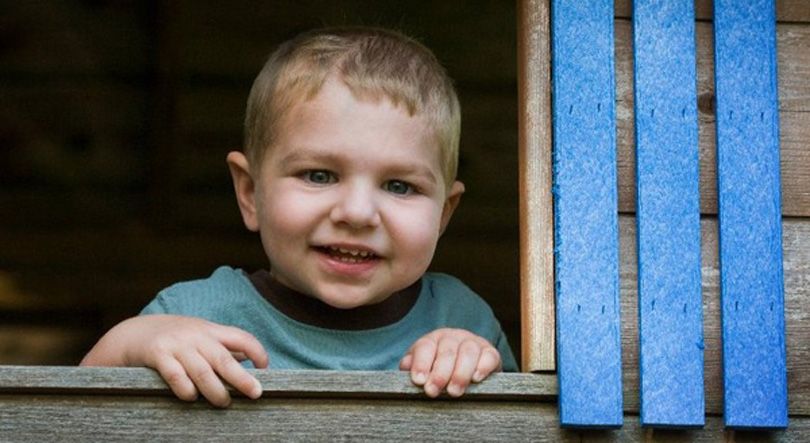 Ben was diagnosed with a rare brain tumor as an infant and has battled through every obstacle thrown his way.
Erin Worsham's pregnancy was flawless.
The ultrasounds looked great. Everything went smoothly.
A week after he arrived, even the pediatrician remarked that Ben was perfect.
There was no indication of what was to come.
"We tried for four years to get pregnant, so I had pretty much run through every scenario in my head of everything that could possibly go wrong," she said. "And that was absolutely not even in my realm of possibilities. It was definitely a shock."
Just 15 days into his life, Ben was diagnosed with a rare childhood cancer — an atypical teratoid rhabdoid tumor, or ATRT.
'Something is not right'
In May 2008, on the morning of Ben's two-week weight check, Erin stepped out of the shower and picked up her new baby. He immediately projectile vomited. Then he threw up every ounce of milk she tried to give him.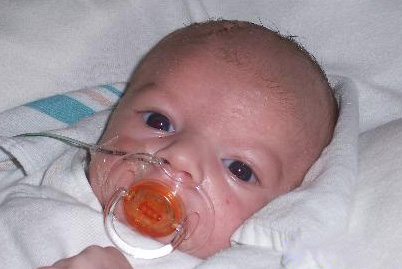 Ben spent most of his early days in the hospital.
"My mom gut just told me something is not right," she said.
At the doctor's office, Ben threw up in the examining room. Their pediatrician admitted him into the hospital, and once there, he vomited again when Erin and her father moved him.
"My dad went out and asked at the nurses' station, 'Can we have new sheets? He threw up again when we moved him,'" Erin recalled.
This single, almost mundane moment at the nurses' station likely saved Ben's life — the pediatrician overheard the request for clean sheets and when Erin's dad mentioned moving Ben, something clicked.
The pediatrician realized it was the motion that was making Ben sick, and she had to look at his head for the problem.
She was right to look at the baby's head — doctors found enlarged ventricles in Ben's brain during an ultrasound, an indication that something wasn't right. Soon after, Erin and her baby were heading north to Chicago's Comer Children's Hospital in an ambulance.
The answer
Erin watched as a young technician rushed to pull another technician into an ultrasound room at the hospital. They focused on the image of her baby's head.
Ben's stomach was fine, but they had found a tumor in his brain.
"I don't even know how to describe the shock," Erin said. "This was a brand-new baby. At that time I thought, babies don't get cancer."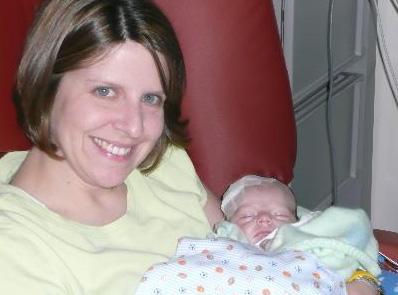 Erin holds Ben in the hospital.
The tumor was the size of a ping pong ball and nestled near the infant's brain stem, which controls breathing, heart rate and swallowing, among other essential functions.
The tiny boy would be in brain surgery the next morning. But first, despite it being 10 p.m., there was something his family had to do.
"It was like an hour before we could find a Catholic priest anywhere, but we finally found this Catholic priest that came in and baptized him," Erin said. "We also decided that night that he was not going to have his first haircut in surgery, so we did a little haircut."
Then, after completing those parental milestones, they took turns holding him close through the night.
Surgery and treatment
A few minutes before he was to be rolled into the operating room, Ben had a seizure.
"If we hadn't caught it [the tumor], that could have been at home," Erin said of the episode. "Who knows then what would have happened."
Hours later, Ben's surgery team was celebrating in the operating room — against all of their expectations, they were able to remove the entire tumor.
"They came out and said, 'Everyone is high-fiving in the OR,'" Erin remembered.
She found out later that her son had only a 20% chance of surviving just the surgery.
Ben on his last day of chemo.
That was the first victory in a long journey of ups and downs that hasn't ended yet.
At first, doctors thought the cancer was medulloblastoma, but thanks to strides made in childhood cancer research, the diagnosis was narrowed to ATRT. This more precise diagnosis got Ben the best-known treatment protocol for his type of tumor, which was 51 weeks of chemotherapy and 28 sessions of proton radiation to his brain.
"The first round literally almost killed him," Erin said. "The drugs were very strong and caused thick mucositis and mouth sores and he could not breathe through it."
On top of being intubated for nine days, fluid built up around Ben's lungs, bacteria infected his central line, and he ended up with a blood clot in his brain. He also had to have a feeding tube, because he was still having trouble keeping nourishment down.
Ben was a big fan of Elmo during his hospital stays.
Ben was cancer-free for 15 months and then relapsed, with a tumor found along his spine. He had to receive four more rounds of chemotherapy, plus a stem cell rescue, where his own stem cells were harvested and stored, then given back to him after he was given high-dose chemo. Then there was more radiation.
He came through all of it. Ben beat ATRT not just once, but twice.
His last treatment was May 31, 2011.
Life after treatment
Ben is now 7 years old. Just earlier this month, he and his family got fantastic news. His four-year scan showed no evidence of disease.
"Quite a miracle," his mom said.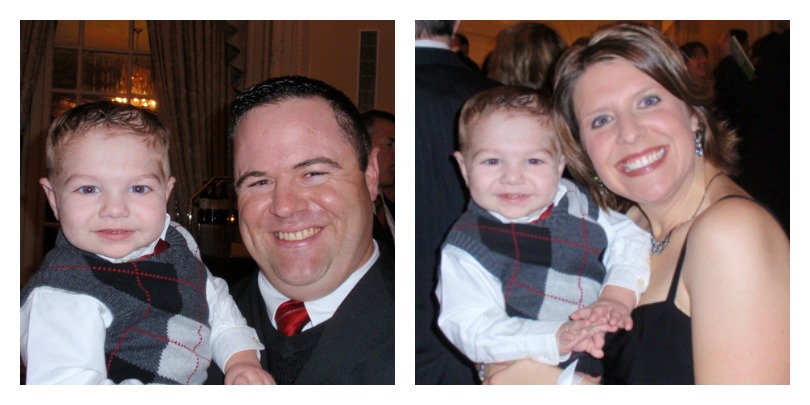 Ben got all dressed up to attend a gala with his mom and dad.
Being cancer-free doesn't mean life is easy for the little boy.
Learn more about childhood cancer survivors >
He has a condition caused by his brain surgery called syrinx, where fluid collects around the spine. He wears hearing aids because of chemotherapy-related hearing loss and still has a feeding tube. Eating takes him a long time and requires a lot of coordination. As his mom says, when you don't use a skill, like chewing and swallowing, you lose it.
"We're up to about a quarter of a peanut butter and jelly sandwich, which is huge for him," Erin said. "Because at 2 years old it was like, a cheerio."
Ben has weathered all of these challenges like they're the most normal thing in the world.
"He is the strongest, toughest little guy," Erin said. "I mean, this kid, if he cries because he's hurt you know you better go run and get him."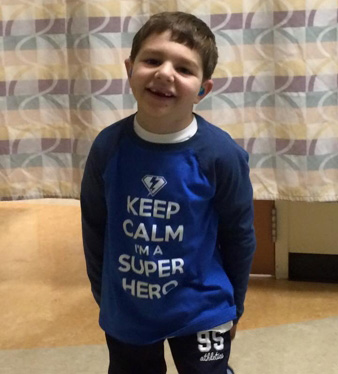 Ben wears a shirt that speaks volumes about who he is. It says, "Keep Calm, I'm a Superhero."
The importance of research
Ben and his family got involved in St. Baldrick's about four years ago. ("We just jumped in head first," Erin said of the cause.)  This year, Ben raised nearly $4,000 for childhood cancer research.
Give to research on Ben's shavee page — help him reach his goal of $10,000! >
"It [St. Baldrick's] is amazing and I know a lot of this research would not be possible without it, because of the lack of government funding," Erin said.
Erin certainly wants a cure, but she also hopes research can give kids like Ben better, safer treatments, so they don't have to endure what he's gone through.
"A lot of people think when you are considered cancer free that it's over," Erin said. "It's never going to be over for him, even if he is cancer free for the rest of his life. It's never over."
Help kids like Ben. Give to lifesaving childhood cancer research today.
Give
Read more on the St. Baldrick's blog: