After three and a half long years, Honored Kid Scott finished treatment for childhood cancer last week. Along the way, he's taught his mom, Nancy, a whole lot about life and how to live it. "I have learned more from my 6-year-old about living life than anyone else I've ever met," she says.
When your child is faced with a life-threatening illness, life as you know it stops abruptly and there's no going back.
Life was already busy in November 2011 with my job, a 4-month old, 3-year old, and a kindergartner. But when my son Scott was diagnosed with acute lymphoblastic leukemia, life suddenly became an overwhelming nightmare filled with more questions than answers.
I was completely shocked. I felt helpless. At only 3 years old, Scott depended on us as his parents to be able to fix whatever ailed him. Leukemia, however, was not something that we could fix, nor was it something that we could promise him that anyone could fix.
Our time and attention was of course primarily directed towards our child with leukemia, and yet our other two children still had needs to be met and lives that needed to go on, regardless of the life-altering news we were just handed. At times, we wondered how on earth we would manage. This was particularly difficult for me, who liked to plan things months or years in advance and who lived by a calendar and to-do lists.
Scott's diagnosis really helped me to re-prioritize and obtain a much more meaningful perspective on what is important in life.
As for Scott, he matured so quickly during his time on treatment. He learned to swallow pills at 3 years old, which helped tremendously considering the high volume of medications he had to take. (He took more than 1,500 pills while on treatment!)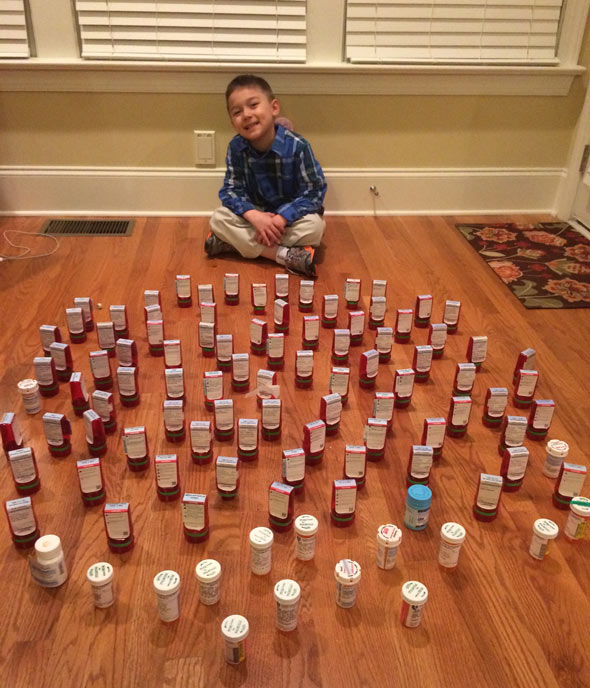 Scott sits with the empty pill bottles from his acute lymphoblastic leukemia treatment.
Lumbar punctures, bone marrow biopsies, chemo infusions, hospitalizations, nausea, steroids, waking up in the middle of the night to take meds, early morning trips to the hospital … it's a lot for anyone to handle, especially for a young child. Yet during his three and a half years of treatment, I can count the number of times he complained about the challenges of leukemia on one hand.
When I asked him last week how in the world he has managed to deal with the stress and fear so well over the years, he responded very matter-of-factly, saying, "Why worry about it? There's nothing you can do and worrying about things doesn't help anything. It actually makes things worse. You get this stuff [chemo] so you don't die. What's better — getting chemo or dying?" I was speechless.
I have learned more from my 6-year old about living life than anyone else I've ever met.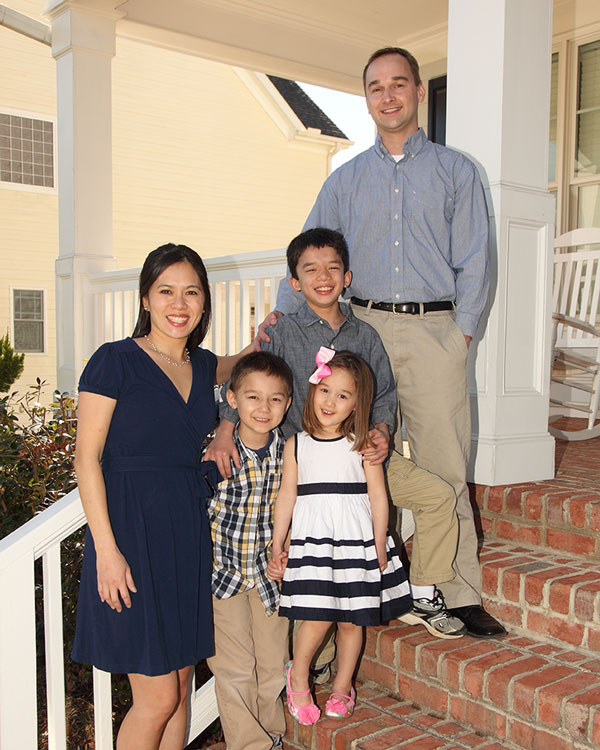 Nancy with her husband and three children.
Every night he prays for others going through a hard time, and he thanks God for the simple things in life — going to the park to feed ducks, painting pottery, playing with Legos, and having a soft poop. (Yes, he even celebrates days when he isn't constipated!) Scott has really taught me to slow down and be thankful for everything around me.
Interestingly, it's not that Scott isn't aware of the gravity of his condition; it's that he proactively chooses to live a courageous life. He lives every day joyfully and I'm so thankful for the gift of being his mother and being able to learn daily from his example of what it looks like when life isn't taken for granted.
It has been a long road, but the lessons I have learned about life and mothering have been priceless. I feel so blessed that Scott has come so far and is doing well — the best Mother's Day present I could ever ask for.
Make celebrations like this possible for more families like Scott's. Give to childhood cancer research.
Give to Research
Read more on the St. Baldrick's blog: