At 9 years old, Madelyn Bougard was diagnosed with a rare and deadly type of childhood cancer. A fashionista with a big spirit and an equally big heart, Maddy was an inspiration to those around her. Her father, Jim, shaved for St. Baldrick's in her memory at the Mickey Byrnes Irish Pub event in Hollywood, Florida. Honor Maddy by contributing to her dad's shavee page.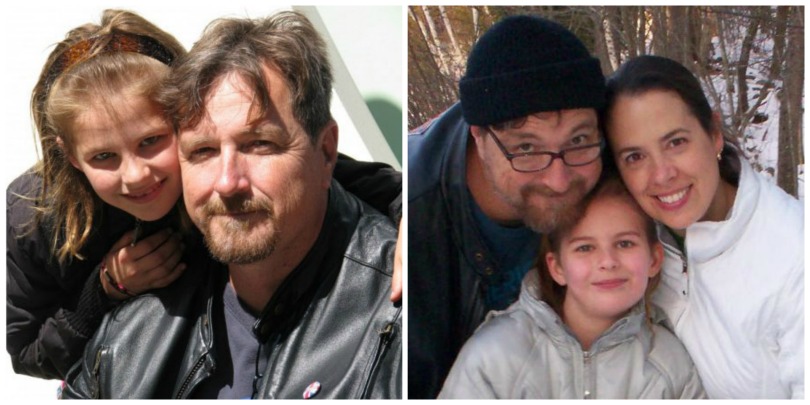 Madelyn with her parents. The 9-year-old was diagnosed with an aggressive type of childhood cancer called diffuse intrinsic pontine glioma, or DIPG, in 2010.
One day before church, Jim discovered that his daughter Madelyn had outgrown most of her wardrobe. But instead of dreading the trip to the department store as some guys might, he welcomed it.
The shopping trip meant his daughter was still growing — she was still alive.
Now, there's not a day that goes by that he doesn't think of his daughter. Memories of her are everywhere, in that song on the radio or the pink thermos he found stashed in a kitchen drawer the other day. But most of all, her spirit is part of him.
"Her strength and her spirit really touched people, and the way she influenced us …" He paused. "It's something that keeps me going."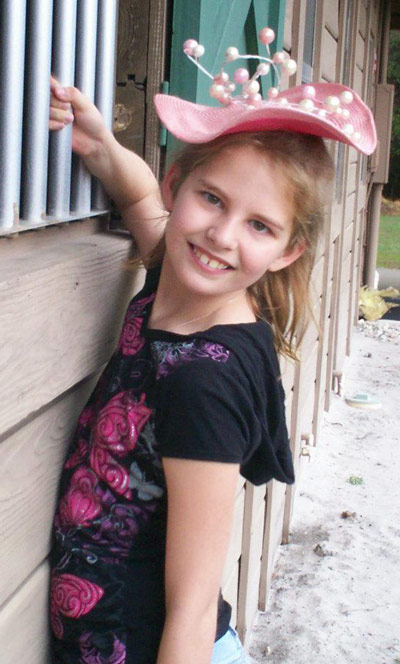 Maddy was a fashionista. Jim said that she certainly didn't get her sense of style from him.
Four years ago, at 9 years old, Maddy was diagnosed with an aggressive type of brain tumor called diffuse intrinsic pontine glioma, or DIPG. Given six months to live, the little girl ended up fighting this rare childhood cancer for a year and a half. She passed away in November 2011. The church was standing room only during her funeral.
"She was a tremendous inspiration," he said. "We were dealing with a really horrible, horrible disease. DIPG is what she had … it's just a monster."
It all started with concerns over subtle changes in Maddy, like frequent headaches that were noticed by Jim's wife, who has a background in neuropsychology. One night, Maddy had a crippling headache that her parents couldn't alleviate.
"Off we went to the emergency room and there it was," Jim said. Maddy had an inoperable brain tumor.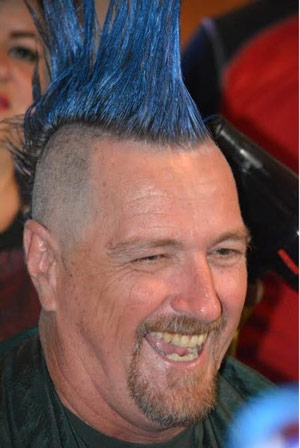 Jim and his blue mohawk at a St. Baldrick's event in Florida.
During treatment, Maddy wowed hospital staff with her sense of style and her big heart. She made pins and collected winter hats to benefit other kids with cancer.
She underwent radiation and participated in a clinical research study. The treatment caused the hair on just the sides of Maddy's head to fall out, which upset her. Jim tried to cheer her up by showing her photos of female rockstars with mohawks. She was able to get chemotherapy, even though chemo was not typically given to children with her type of cancer. There are very few treatment options for DIPG, and none are curative.
"We understand the importance of the research," Jim said.
That's why Jim decided to shave for St. Baldrick's this past March. For the event, he did something he thought Maddy might either be embarrassed by or totally into — he sported a bright blue mohawk in her honor. He raised $3,100 to help fill the childhood cancer research funding gap.
"It's something I'll do every year from now on if I can," Jim said. "Obviously, it's near and dear to my heart."
All children deserve to live long and healthy lives. Donate to childhood cancer research today.
Fund research
Read more stories from the St. Baldrick's blog: