Emily was diagnosed with a brain tumor when she was 5 years old. An avid cheerleader and dancer with a vibrant spirit, she rallied everyone around her throughout her childhood cancer journey. Help kids like Emily. Get involved.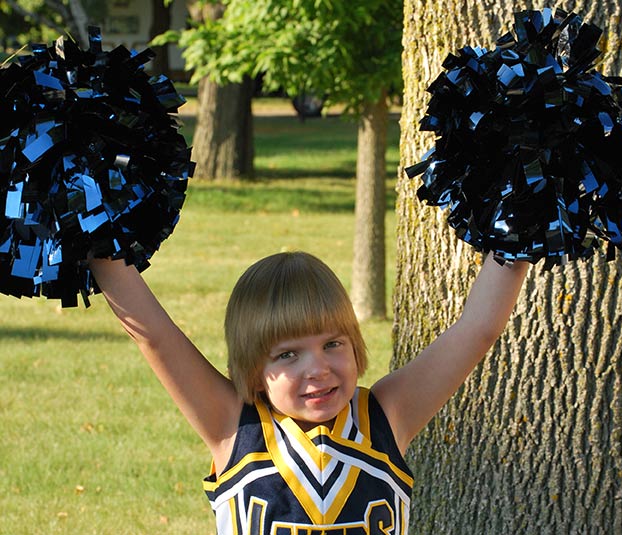 Emily was a cheerful girl who loved cheerleading and dancing, even during treatment for a glioblastoma tumor.
Emily loved painting rocks. In fact, she said when she grew up she was going to start a company that painted rocks. But she wasn't the kind of girl to stop there. She also wanted to be a pediatric oncology nurse at Children's Hospital of Minnesota in Minneapolis, where she was being treated for a glioblastoma multiforme brain tumor.
"Knowing her she probably would have grown up to be a nurse at Children's and painted rocks," her mother, Lisa, said. "She would have done it all."
A vibrant spirit
Emily was diagnosed with childhood cancer at the age of 5, after her grandmother noticed half of Emily's brilliant smile drooping during a school recital.
"When you first hear she has a brain tumor, you're shocked," her father, Chris, said. "It's even hard to really explain it, because it's such a surreal moment."
Surgery wasn't possible because of the placement of the tumor, so she went through chemotherapy and radiation. Despite the harshness of treatment, she kept her bright spirit. Chris said it was easy to be positive around her, because she was so positive.
"She was all about having fun and making people happy," he said. "…She loved to dance, she was a cheerleader for the little Park and Rec football team, so she loved being a cheerleader. Never was unhappy very much about anything, always happy, always smiling."
Even with treatment, her doctors said she may have as little as 10 months. She made it almost two years, Lisa said, and she still danced and cheered much of that time.
"She'd have a chemo infusion and then go right to cheer. They couldn't believe she could go from having poison in her body to go cheer," Lisa said.
"She never cared that she was the only cheerleader without hair," Chris added.
Emily considered her nurses and doctors her friends, including her oncologist, Dr. Kris Ann Schultz, who is a St. Baldrick's Scholar.
Read more about Dr. Schultz and the differences between childhood cancers and adult cancers.
Emily was well-known at the treatment clinic for her fabulously painted nails. Nurses from near and far in the clinic would visit her just to see what she was wearing on her fingers that day.
"There wasn't one person that she didn't like," Chris said. "Everybody was her friend. That's Emily in a nutshell — that everybody was her friend. She really believed that and treated people as such."

Emily has continued to be an inspiration to her family.
One year, nine months and 20 days after her diagnosis, Emily died at home on the morning of January 5, 2014 surrounded by her family.
"She continues to be [an inspiration] and she will forever," Chris said.
An inspired fundraiser
Emily and her brother Alex were close. They would watch the SpongeBob SquarePants cartoon together — her favorite character was Gary, the snail, and his is Patrick, the sea star.
Before Emily passed away, her brother shaved for the annual St. Baldrick's event with Children's Hospitals and Clinics of Minnesota. Emily's oncologist, Dr. Schultz, organizes the event.
"I just wanted to do it for Emily," Alex said.
He requested that his sister wield the razor. So, taking turns with the barber, Emily shaved her brother bald for the cause. ("She did a pretty good job," he said.)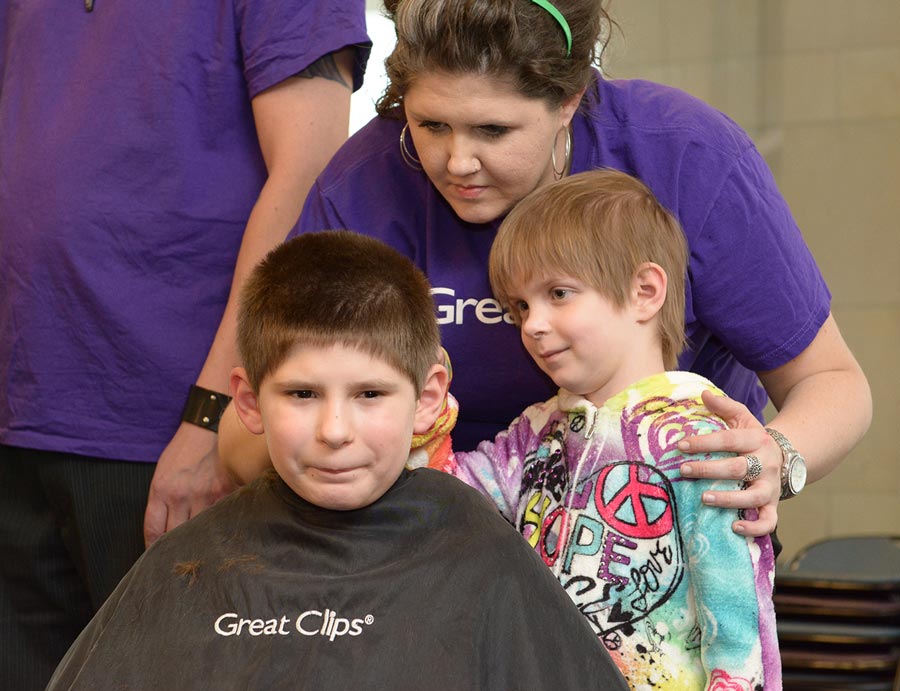 Emily shaved her brother's head for St. Baldrick's to raise funds for childhood cancer research.
Alex has shaved three times now, holding a sign with Emily's name on it, and launched a fundraiser at his school. Students normally wear uniforms, but if they donated to St. Baldrick's, students could dress up in purple, Emily's favorite color, or gray, which is the color for brain tumor awareness. The small school of about 400 students raised nearly $500 for childhood cancer research with Alex's fundraiser and decorated a school bulletin board with gold ribbons, the color for childhood cancer awareness.
Want to launch a fundraiser? Read about five school service projects that help kids with cancer. 
"We want that gold ribbon anywhere we can get it," Lisa said.
Alex has since challenged his parents to brave the shave. His dad wants to raise as much money as possible before the big day.
"So I guess I've got my work cut out for me before April comes up again," Chris said.
Emily moments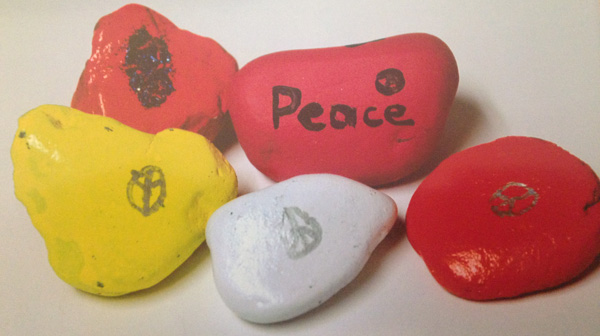 Emily loved painting the river rocks around her house. Now the rocks she painted are "everywhere," her dad said.
Emily's family, and even her doctor, continue having what they call 'Emily moments' — moments when they know she's still around and saying hi. Like when the sky is deep purple, which was Emily's favorite color, or when a particular song comes on the radio.
For instance, about two months ago, Lisa was gathering items for a garage sale. She grabbed a pair of Alex's snow boots that were too small, so she could put them out for sale.
"I heard a rattle noise," she said. "Turned it upside down and there was a little rock in there and it was purple and it had an E on it."
That was a quintessential Emily moment, like a tap on the shoulder.
"You just can feel it," she said.
No family should lose a child to cancer. Join us in helping kids live long, healthy lives by funding childhood cancer research — get involved today.

Get Involved
Read more stories from the St. Baldrick's blog: