St. Baldrick's shavee℠ Ginny Escobedo has been a pediatric oncology nurse for almost three decades. Through those years, her young patients and their journeys have also been her teachers, schooling her on how to embrace every moment of life, no matter what. As we celebrate National Nurses Week, Ginny shares some of the wisdom she's learned from the kids she's cared for.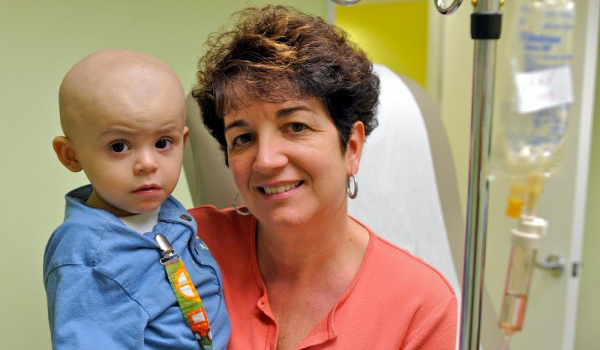 Pediatric oncology nurse Ginny Escobedo with a young patient.
The relationship between a pediatric oncology nurse and her patient is something special.
It is more powerful than many other nurse-patient relationships. This is because it is not just a one-time encounter, but one that can last from months to years, and have highs and lows that can challenge any relationship.
I have been blessed to have taken care of children with cancer for over 27 years, and in that time, I have watched children grow into beautiful young adults, get married, and even have children of their own. Sadly, I have also watched far too many children die.
No matter the outcome, each and every child I had the privilege of working with has taught me so much about what is important in life.
1.  Think positive.
I could give a hundred examples of a child battling cancer who had every right to complain and be negative, but instead, would always look on the positive side of things.
One patient, Melissa, a teenager with acute lymphoblastic leukemia, sticks out in my mind. She was one of those patients who, no matter what we did, was constantly nauseous. Every time she came into clinic I would ask how she was, and every time she would respond, "Good!" But once I asked specifically about the nausea, I would inevitably be told she had already thrown up that morning, often more than once.
When I asked her why she said she was good, she simply responded that complaining wouldn't help — and that maybe if she kept saying "good," good would eventually happen!
2.  Appreciate the good days.
This is something I believe children fighting cancer have the ability to do so much better than adults in the same situation.
They are able to live in the moment and not waste a good day worrying about a past bad one. Even the parents of these amazing children learn this early on — take the good days when they come and roll with the bad ones. Just never forget that another good one is on the way.
3.  There is always a reason to smile.
Even when they're feeling sick and under the weather, my patients have a way of smiling and making others around them smile too.
They've taught me that smiling is contagious. And if a kid fighting cancer can find a reason to smile, the rest of us have no reason not to have one permanently plastered on our faces.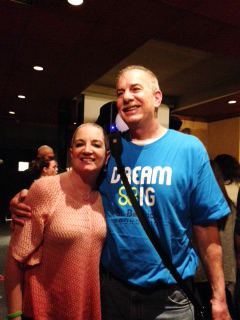 Ginny and her husband both braved the shave for St. Baldrick's.
4.  Bald is beautiful.
I have yet to see a child without hair that can't rock the look!
Some wear a cool hat, others a funky wig, and many just the good old "natural" head look. But as long as there are bright eyes and a smile on their faces, the lack of hair doesn't seem to matter. They are beautiful from the inside out — something we all should strive to be.
5.  Research makes a difference.
I have seen new drugs and protocols come out that have saved children who had the same diagnoses as others who succumbed to their disease not many years earlier.
It is because of research that 80% of childhood cancer patients will now survive. But for those of us who care for these amazing children, until that number reaches 100%, we can never stop funding research. Those children who have survived their ordeal will be the first to agree.
That's why I had three former patients and the parents of two of my "angels" cheering me on as I shaved my head for the St. Baldrick's Foundation.
Let's shave Ginny out of a job! Brave the shave and fundraise for childhood cancer research so all kids can live long, healthy lives.
Brave the Shave
Read more on the St. Baldrick's blog: