Jeremy Edwards moved from Maryland to Hawaii in 2010. When he learned Hawaii had never had a St. Baldrick's event, he decided to do something about it. Read on to learn more about Hawaii's first St. Baldrick's event, the man behind its success, and the reason he keeps it going every year.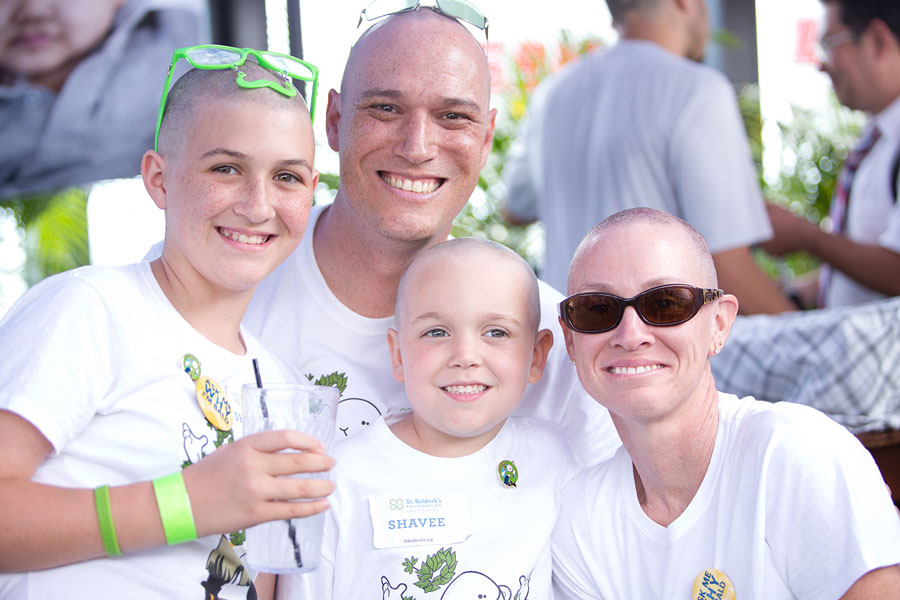 Jeremy with his wife, Katey; his daughter, Lily; and his son, Owen. They all shaved at last year's Honolulu event. Jeremy's daughter, Claire (not pictured), volunteered at the event and cut her hair.
As a pediatric oncologist, Jeremy sees the effects of cancer on kids and their families, and he understands the power of standing — and shaving — in solidarity.
Jeremy first shaved his head in Maryland during his residency as a physician. He loved the event so much he came back the next year, and when he moved to Honolulu two years later, he brought his love for St. Baldrick's with him.
Organizing the first event was a true team effort. Hospital staff members, doctors, nurses, and families got together. Everybody reached out to everyone they knew, and the fundraising began.
"We thought it was going to be small, but it turned out to be gigantic," he said. "It was noisy, it was crazy, and we realized we had something!"
That year, the event raised over $100,000 and over 150 people shaved.
Now approaching its fifth year, the Honololu Dave and Busters event has raised almost $400,000 for childhood cancer research!
So what's made the event such a hit? According to Jeremy, it's a feel-good time for everyone. "Everyone is having a blast and the kids are laughing. Even the kids who don't feel great are having a good time and smiling," he said, adding that it's inspiring to watch the whole community come together.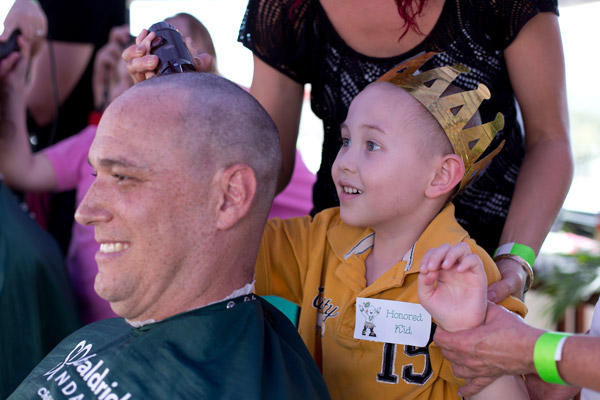 Jeremy gets shaved by a St. Baldrick's Honored Kid at the 2014 event.
As memorable as each of his events is, there will always be one defining moment that stands out in Jeremy's mind — the moment he knew that the head-shaving was more than a mechanism to raise funds for research.
At one of the first Hawaii events there was a young man, one of Jeremy's patients, who was going through cancer treatment and had lost his hair because of it. This young man "always wore a beanie," Jeremy said. "I had never seen him not wearing a beanie. And at the event his friends came, and they all kind of passed a hat around, raised a few hundred dollars, and he helped shave their heads."
Later, Jeremy noticed the young man had taken off his hat.
"That was the first time I'd ever seen him take off his beanie," Jeremy said. "That's always followed me — the impact that it had on him."
That young man's name was Jordan Paganelli, one of St. Baldrick's 2013 Ambassadors. After battling alveolar rhabdomyosarcoma for 23 months, he passed away in 2009.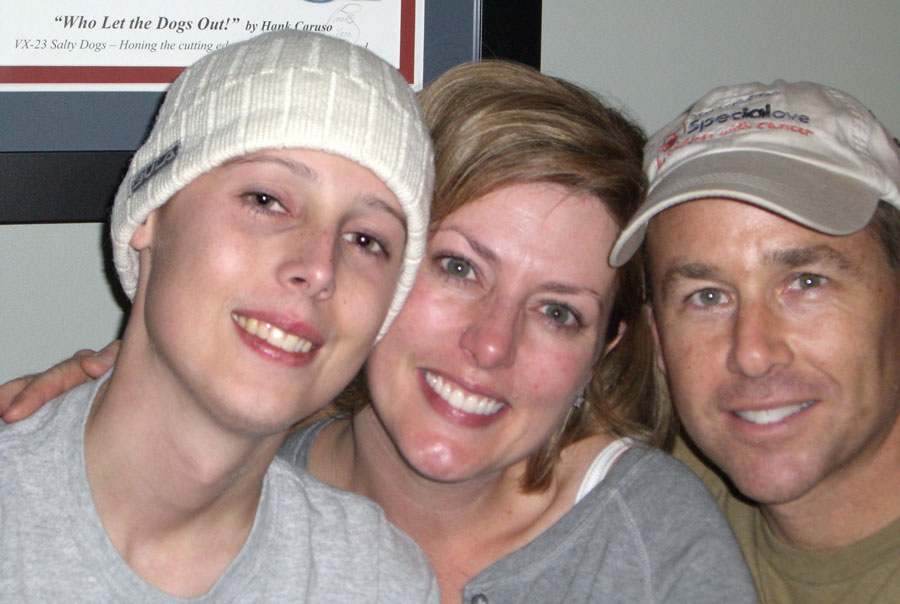 Jordan, wearing his classic beanie, with his parents in 2009.
Jordan's parents continue to attend the Dave and Busters event, and this year they will be officiating Jeremy's knighting ceremony, where he will become Hawaii's first
Knight of the Bald Table
!
"I'm excited about that," Jeremy said, laughing.
In his line of work, Jeremy gets to see firsthand how the dollars his event raises are impacting kids with cancer, and he'll be the first to tell you that it does make a difference. Many more kids are surviving their cancer diagnoses today than decades before, and it's all because of research.
That's what keeps him coming back year after year.
"Everything that we're doing for these kids is a result of research protocol that was done before," Jeremy said. "The neuroblastoma drug that was just approved [by the FDA] was a direct result of St. Baldrick's money, and that's making what was a horrible, horrible disease, actually survivable. We're seeing a huge, huge difference using research for some of these kids, and that's been absolutely incredible."
YOU can be the one to bring the St. Baldrick's fun to your community. Sign up to organize an event today!
Organize an Event
Read more on the St. Baldrick's blog: