Jordan was a shavee℠ all four years of high school.

Jordan at her high school's head-shaving event in (left to right) 2010, 2011, 2012, and 2013.
When
Jordan Carr
signed up to shave her head her freshman year of high school, she had no idea the St. Baldrick's event in her school's gymnasium would soon become
one of the biggest head-shaving events
in the world.
She also didn't know it would have such a strong influence on her life five years later. Now in college, Jordan is studying to become a child life specialist — someone who helps kids with cancer and other diseases cope with the challenges of their illness. According to Jordan, it was St. Baldrick's that led her to realize that that's what she wants to do.
"St. Baldrick's has truly changed my life and helped me become the person I am," Jordan said.
Back in 2010, only a few girls at McHenry West High School signed up as shavees, and Jordan was one of them. "A lot of boys told me not to and would make comments hinting that I wouldn't be pretty," Jordan said. "But I have never been one to follow the crowd and was excited to stand up for something I believed in."
When it came time to shave, Jordan's nerves kicked in. "I was super nervous and shaking intensely," she said. But by the time it was over, she couldn't wipe the smile from her face. "It was a feeling I had never felt before. I felt like I was glowing."
The sentiment was so strong that she came back for more each following year. And last year, Jordan became the first girl to shave her head with St. Baldrick's all four years of high school.
When she learned that, she was moved to tears. "Tears of joy, of course," she explained. "I was proud to be a part of something that helped so many families."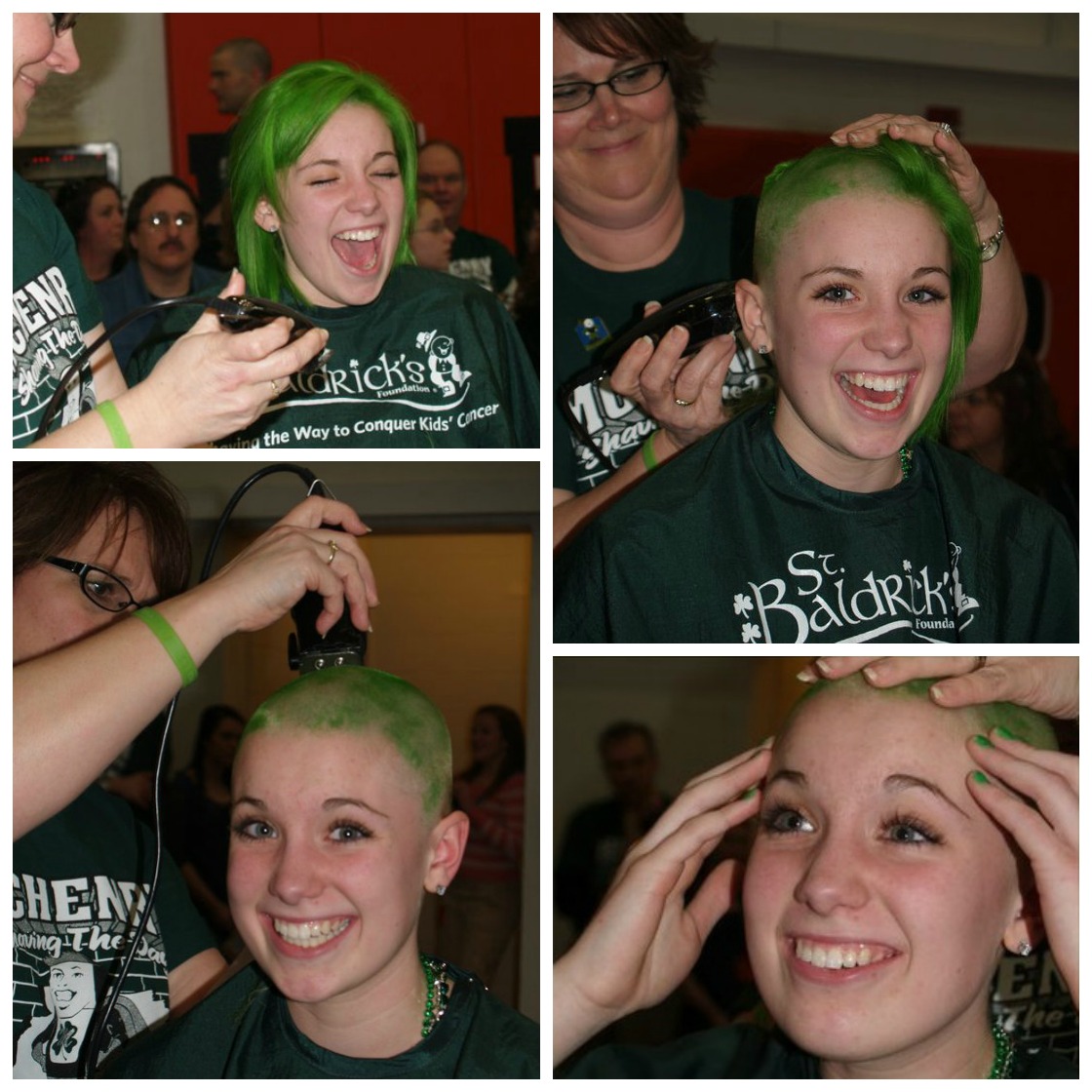 Jordan's second time shaving.
That year, the
McHenry High School shave
— which had grown into a community-wide event — saw 938 heads go bald, the most of any event in St. Baldrick's history. They also raised the most money of all the events in the
Chicago Area Schools Challenge
, and Jordan was invited to be a part of the campaign's check presentation at Advocate Hope Children's Hospital in Oak Lawn, Illinois.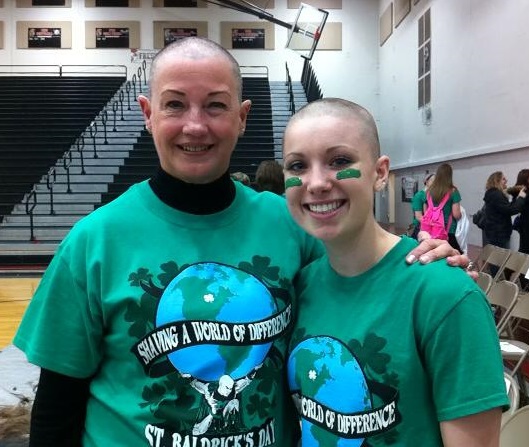 Jordan and McHenry Mayor Sue Low after shaving their heads last year.
It was there that she had the opportunity to meet kids in treatment for
childhood cancer
and was introduced to a child life specialist. As Jordan listened to her explain her daily work with the hospital's littlest heroes, Jordan realized it would be the perfect way for her to bridge her love of working with children and her desire to help those in need.
On March 13, Jordan will return to her former high school to shave her head for the fifth time, and she won't be sad to see her short locks go. "I actually prefer not having hair," she said.
According to Jordan, the most rewarding part of her St. Baldrick's experience was getting to meet the kids who are benefiting from St. Baldrick's-funded research. Knowing that she is giving them hope makes her feel both honored and humbled.
As Jordan put it, "It blows my mind to think that little me — one person — can contribute to something that helps so many people."
To donate toward Jordan's fundraising goal, visit her participant page and click "DONATE."
You can help kids with cancer, too. Register to shave your head and start fundraising today!
BE A SHAVEE
Read more shavee stories on the St. Baldrick's blog: