One bold 10-year-old shavee takes her fundraising to the next level.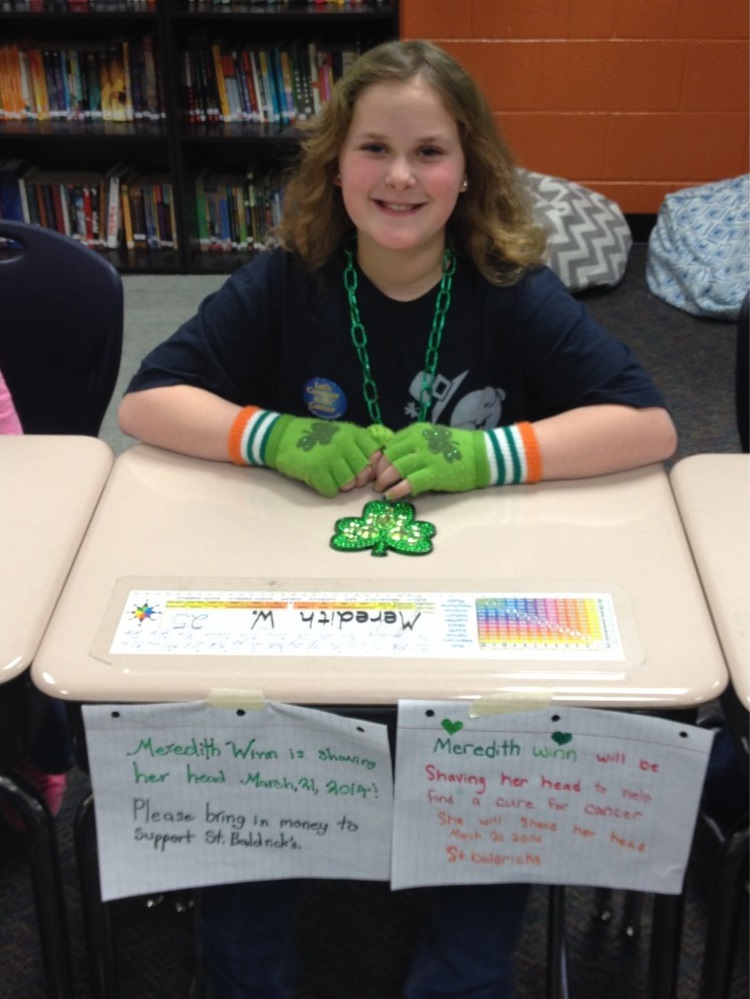 Meredith at school. Her friends made signs hanging from her desk to spread the word about her head-shaving.
If you want to help cure childhood cancer, signing up to shave your head is just the first step. The next challenge is raising money. Sometimes that can feel like a daunting task, but you don't have to do it alone, as fourth-grader
Meredith
can attest.
She has enlisted the help of her elementary school to raise money for childhood cancer research. She hopes to raise $5,000 by March 21, when she will shave her head in front of her entire school at an assembly.
Meredith is shaving  in honor of her friend, Luke, who passed away from childhood cancer in 2012 at the age of 8. "I feel like other kids shouldn't have to go through what Luke did, and I want to find a cure for this," Meredith said.
To drum up excitement for her big shave, Meredith started a school-wide competition in the form of a coin drive. She has stationed a coin collection jar in every classroom — a total of 35 jars — and each week, the donations are totaled. The top five classes with the most money are announced over the loudspeaker on Thursdays to keep up the competitive spirit in a race to see who can collect the most money.
And the class that wins the race? As Meredith explained, "They get front-row seats to watch me shave my head at the assembly!"
Meredith's mom, Merrily, was in for a surprise when she went to the school to pick up the first round of donations. She tried to lift the bag and almost dropped it. "I thought it was going to be a light bag, but lo and behold, I couldn't lift it with one hand," she said.
After just three days of collecting coins, the school had raised $359.10. "I was so impressed," Meredith said.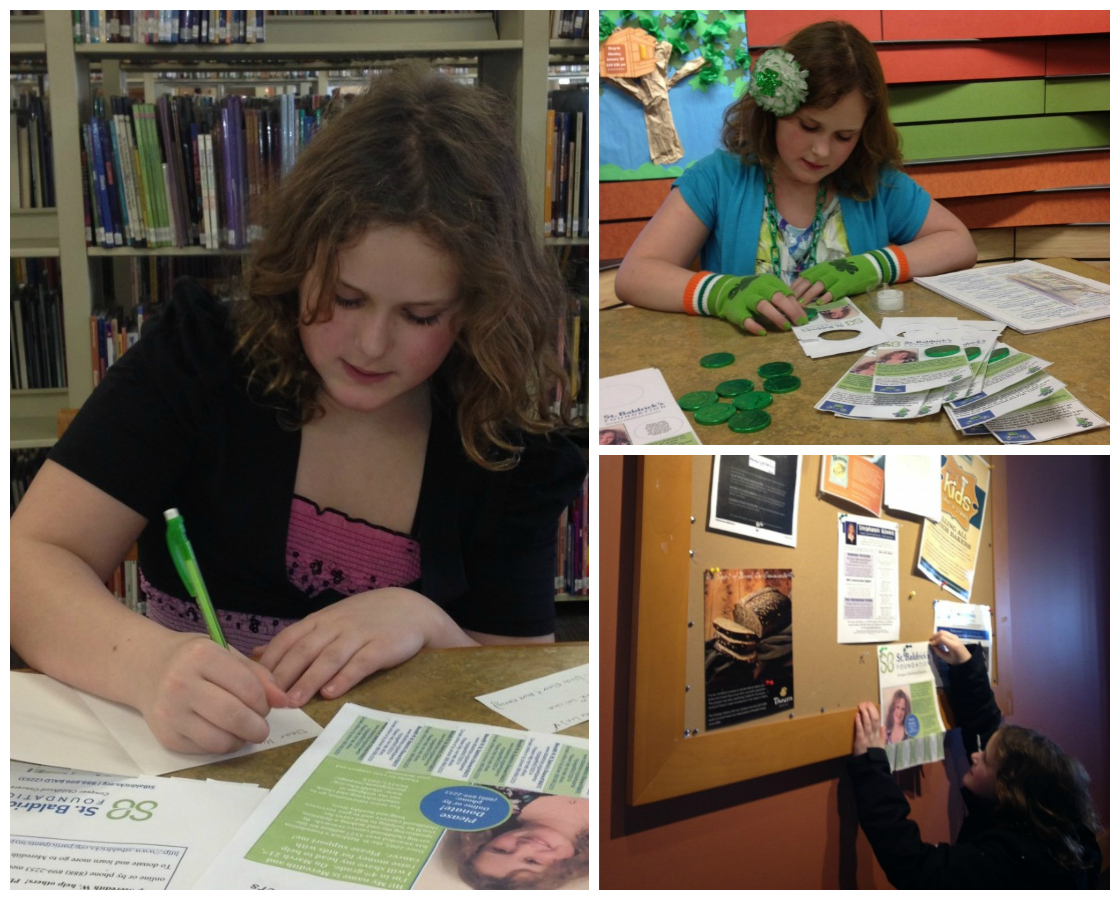 Clockwise from left: Meredith writing thank you notes to donors, making door hangers, and hanging flyers.
Meredith also recruited her school's Character Counts Club to help. She gave a presentation to the student members and teachers to show why she was shaving her head for childhood cancer research, and they jumped right on board. They decorated the coin collection jars, they help count the coins each week, and they made posters promoting Meredith's fundraising that now deck the halls of the school.
"Reaching out to the school to help promote Meredith was the best decision we could have made," Merrily said.
"Reaching out to the school to help promote Meredith was the best decision we could have made," Merrily said. "And what's so wonderful is the kids are so supportive and really want to see Meredith go bald."
The teachers have an incentive to donate, too — the school principal is allowing staff members who donate a minimum of $10 to wear jeans to school the week of Meredith's shave.
In true St. Baldrick's spirit, Meredith is wearing green every day to remind everyone of what she's doing — she even wore a green dress, a green corsage, and green nail polish to her school dance.  She has posted tear-off flyers around town with links to her participant page, and she carries her personalized St. Baldrick's business cards with her wherever she goes. (Shavees and volunteers can find a template to make their own business cards, as well as a wealth of other materials to aid their fundraising, in the Document Library.)

Meredith going door-to-door in the snow to ask for donations.
And despite the Midwest's record-breaking cold temperatures this year, Merrily said, "Meredith has been very dedicated going door-to-door in the snow." She even made door hangers with links to
her participant page
to leave if no one was home, with a green foil-wrapped chocolate coin attached for the recipient to "exchange" for a donation.
With anticipation growing throughout the school, Meredith hopes she might inspire other students to shave with her next year. And she does plan to shave again next year — and every year after that.
"From now on, I think every year when I grow my hair back I might shave my head over and over again," Meredith said. "When I have kids, I really want to tell them about something that I used to do that is exciting and that they should to do help find a cure."
With the hard work of volunteers and shavees like Meredith, maybe by that time we will already have found a cure.
Inspired by Meredith's passion? Register as a shavee, and then follow her lead to take your fundraising to the next level!
Be a Shavee
Read more inspirational shavee stories: