A recent challenge between two CEOs turned into a whole lot more for childhood cancer research and other worthy causes — like $1 million more! Heather Kash, Senior Director of Corporate Relations and Risk Management at St. Baldrick's, explains.
Jim Kavanaugh, CEO of World Wide Technology, Inc. shaved for St. Baldrick's after being challenged by fellow CEO John Chambers.
It all started when John Chambers, CEO of Cisco Systems, put a bounty on the head of Jim Kavanaugh, CEO of World Wide Technology, Inc., or WWT: If Jim shaved his head for St. Baldrick's, John would donate $10,000 to the childhood cancer research charity.
Jim accepted and took a big step beyond shaving his head.
Jim launched a $1 million Global Community Impact Initiative and challenged WWT employees to get involved in their local communities.
In turn, WWT would match employee donations, up to $500,000. Plus, if employees collectively donated $200,000 by the company's midyear Corporate Update, Jim would shave his head for St. Baldrick's.
WWT employees did their part and raised more than $1,028,498 for charities across the country by midyear. And WWT corporate was right behind them with the match, donating more than $418,249 (and still counting!) to those charities.
Jim held up his end of the bargain. He shaved his head and collected on the $10,000 offer that started the whole thing. And now, as part of the Global Community Impact Initiative, WWT will be donating another $25,000 to St. Baldrick's to fight childhood cancers.
Click here to donate on Jim's shavee℠ page. 
Jim isn't the first one from WWT to go under the clippers for St. Baldrick's. In their North Carolina office, Phil Hoffman has been participating in St. Baldrick's events since 2010. And employee Jeff Mika along with his 13-year-old son, Jack, and friends, formed the St. Baldrick's team "6 is a Serious Number" in memory of Jack's pal, Joe. They all shaved their heads in March 2014, raising more than $31,000.
Both WWT and Cisco have been long-time supporters of St. Baldrick's, introduced to the foundation by their business partners at NetApp. Teams in Toronto and San Jose raised more than $20,000 this year, often participating in NetApp organized events around the country. NetApp has supported St. Baldrick's since 2007, encouraging coworkers, families, and business partners to get involved, and raising nearly $6 million for childhood cancer research.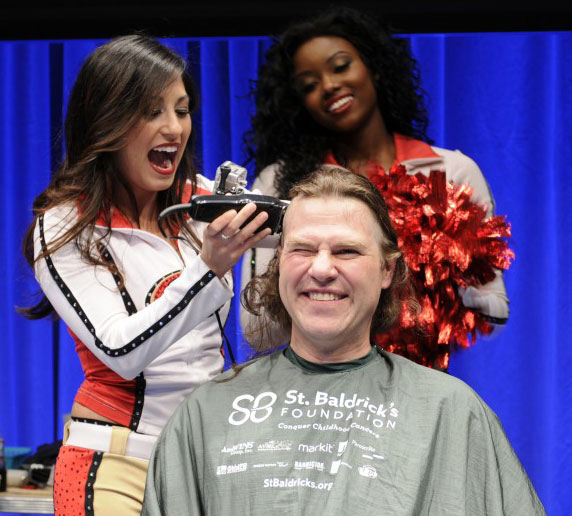 NetApp holds events across the country, like this one in Sunnyvale, California, and has supported St. Baldrick's since 2007.
In 2013, at the NetApp Annual Sales meeting, Jim Mazzio, WWT's vice president, was challenged to shave his head for a $25,000 donation to St. Baldrick's — a challenge he readily accepted! The year before, Matt Horner, also a vice president at WWT, along with President Joe Koenig, accepted a challenge by NetApp to participate, raising more than $75,000 that year.
Read more about how companies are supporting the mission to Conquer Childhood Cancers.
In 2011, ServiceSource's CEO Mike Smerklo and then-Chief Financial Officer David Oppenheimer told their staff that if the company hit $50 million in revenue globally for their third quarter, they would shave their heads. In addition, their sales center in Nashville won their third quarter sales competition and the right to host the big shave.
The contributions by these companies, and many others, along with the dedication of their employees, are an inspiration. Their efforts will help ensure that kids with cancer will have the best chance for a long and healthy life!
Get your company involved in funding lifesaving childhood cancer research.
We are honored to be the beneficiary of their generosity, and are amazed to see how corporate America is stepping up to fund lifesaving research.
Want to make a difference now? Donate today and together we can take childhood back from cancer.
Fund research
Read more stories from the St. Baldrick's blog: