What happens when you mix an army veteran, a hockey player and a shavee℠? You get Johnny Laursen, a man on a mission to help fund childhood cancer research. Read on to see how he's dedicated himself to serving his country and helping kids with cancer.
To Johnny Laursen, enlisting in the army was a no-brainer.
He grew up watching his father serve as a police officer in New York and New Jersey. When the 9/11 attacks devastated the country in 2001, it hit Johnny close to home. His father had often worked in one of the buildings that fell.
Thankfully, his father survived. But many of his colleagues did not.
Seeing how closely the 9/11 attacks had impacted his father, Johnny made the decision to enlist in the army in 2008.
"I just remember looking over to my friend in science class and saying, 'My father's in there,'" Johnny said. "That was probably the biggest reason why I joined."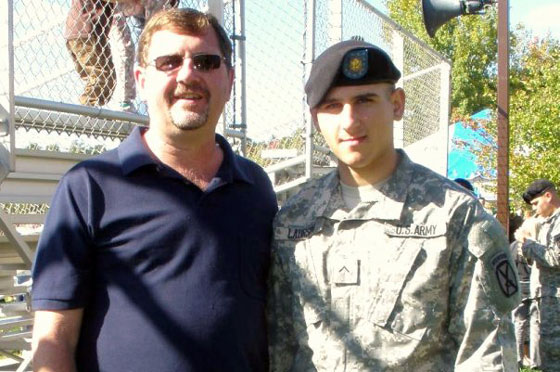 Johnny poses with his father, John L. Laursen.
He was deployed to Iraq in 2009 and later to Afghanistan in 2013. After suffering an injury three months into his second deployment, Johnny was flown by air ambulance back to the United States.
In his recovery, he was introduced to the USA Warriors, a hockey team of injured veterans.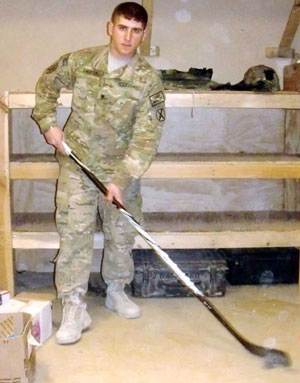 To pass the time during his deployment in Afghanistan, Johnny practiced shooting a puck in a makeshift net.
"I don't know if I'd be here if it wasn't for the team," Johnny said. "Those guys really got me back on my feet. Being around guys that have gone through it really brings a camaraderie that I had while I was still in the army."
Little did Johnny know just how impactful his position on the Warriors team would be until February 2014, when Johnny went to an NHL game at the Chicago Blackhawks arena.
Before it began, 4-year-old Nicholas Skretkowski stepped out onto the ice with Jonathan Toews, the captain of the Blackhawks. Nicholas was battling kidney cancer, and the Make-a-Wish Foundation was fulfilling his wish to learn hockey from Jonathan.
Seeing little Nicholas on the ice struck a chord with Johnny.
"I grew up playing hockey," he explained. "I've been on the ice since I was 2, so seeing him maybe sparked some memories. But it really touched me."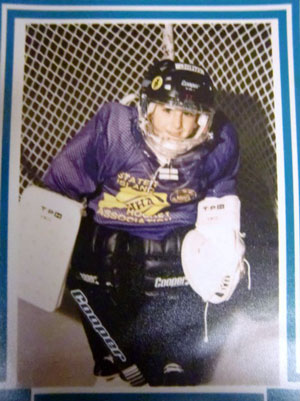 Young Johnny grew up playing and loving hockey.
Seeing Nicholas led Johnny to look into childhood cancer organizations. It was no question to Johnny that St. Baldrick's mission to fund childhood cancer research was one to support.
Johnny decided to shave his head this year in honor of three children hockey players: one in remission, one in treatment and one passed away.
Getting involved with St. Baldrick's has been an eye-opening experience for him, and he hopes it will be the same for anyone else he meets.
"The more I learn about St. Baldrick's, the more I can educate people," Johnny said. "I think that every person who sees what I'm doing is just one more person who can make a difference — if not now, then maybe in the future."
Being a first-time shavee is just another way that Johnny is stepping up to serve those in need.
"If I could use my experiences to help others in any way, I think it's my responsibility as a veteran to be able to do that," he said. "Just because we take off the uniform doesn't mean that we should, or have to, stop serving the nation and the people in it.
"To me, that's still part of our responsibility, to make the nation a better place."
You don't need to be a military veteran like Johnny to serve others. You can make a difference for kids with cancer everywhere — get involved today.
Get Involved
Read more on the St. Baldrick's blog: