Dr. Dan Wechsler is one really busy — and sometimes bald — pediatric oncologist. Read on for more about this hardworking St. Baldrick's researcher and everything he's doing to help kids with cancer.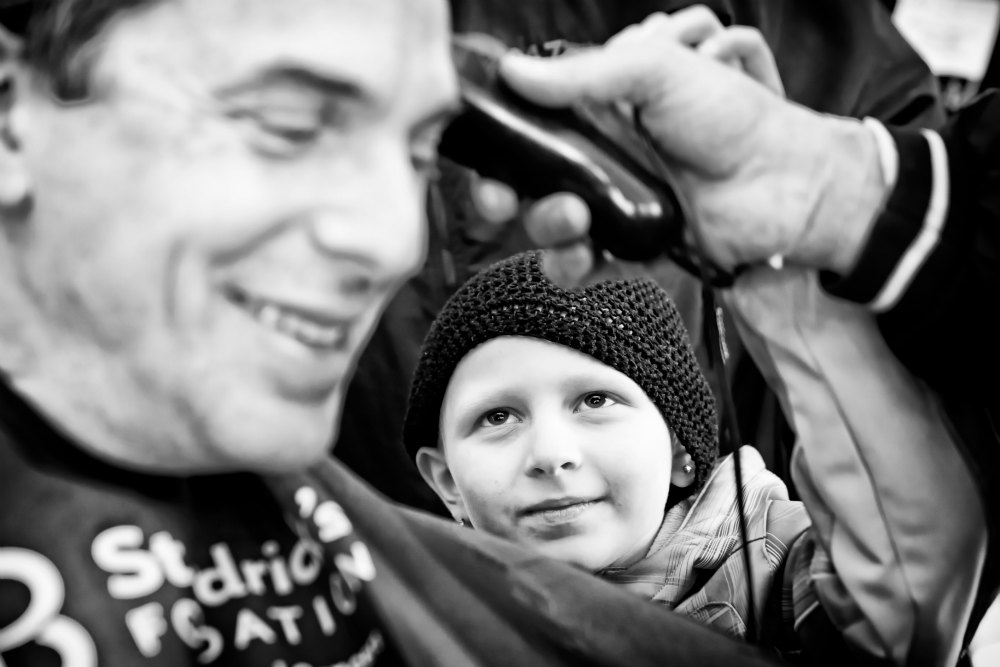 Dr. Dan Wechsler goes under the clippers with a little help from a friend.
Dr. Dan Wechsler admits that he doesn't get much sleep.
Working at Duke University Medical Center as chief of pediatric hematology-oncology, Dr. Wechsler is also a St. Baldrick's-funded researcher, a six-time shavee, a grant mentor, an event speaker, and a grant reviewer with the St. Baldrick's Scientific Advisory Committee.
It's a lot of work, but he knows he's making a difference in the lives of kids with cancer.
"The fact that they're kids and they just want to get better and they just want to play — that keeps you going and wanting to do everything you can to make them better and just be able to be regular kids," he said.
It all started years ago, when he was invited to speak at his first St. Baldrick's event. He was amazed at the many people, from all walks of life, who were trying to help kids with cancer by funding childhood cancer research.
He was hooked.
Soon enough, he was shaving his head with St. Baldrick's, with his tiny patients holding the clippers. This spring, he'll be shaving for the seventh time.
"It's a really good feeling to do it. And in some ways, it's the least you can do to show solidarity with the patients," he said. "You're not going through what they're going through, but at least you're looking kind of like they look."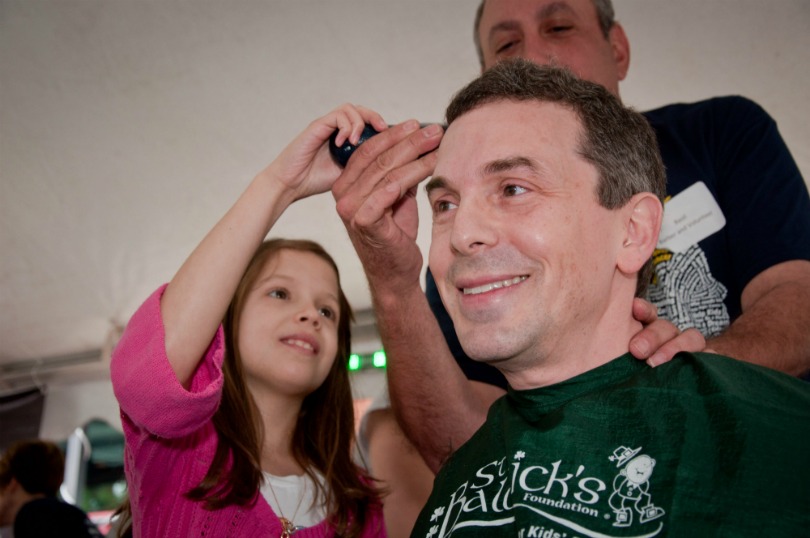 Dr. Dan Wechsler will be shaving for the seventh time this spring.
Alongside seeing patients in clinic, Dr. Wechsler works in the lab studying a rare type of leukemia that his team first identified in a 3-month-old baby.
"This baby had a particular genetic abnormality that had never been described before," he said, explaining that the abnormality involved two chromosomes that had translocated, or stuck together, causing the cancer. "We decided to work on it and try to understand why and how it caused leukemia. This is about 10 or 12 years ago, and this led to all the work that we're doing now."
Funded by St. Baldrick's since 2010, he and his team have since stumbled upon answers that could unlock treatments for a host of other leukemias.
It comes down to two proteins, CALM and CRM1. Dr. Wechsler's lab found that CRM1 helps shuttle CALM from the cell nucleus, where DNA is stored, into the cytoplasm.
"So, you have this CALM protein, which just by chance interacts with this CRM1 protein, that also by chance turns on leukemia genes or genes that cause leukemia," he said. "If you can block the interaction between CALM and CRM1, then you can potentially block leukemia from happening or treat the leukemia."
It turns out there's a drug that interferes with CRM1 and it's already in clinical trials for use in leukemia.
"It's very cool that there happens to be a drug available that we totally stumbled upon that is effective in the kind of leukemia we're looking at, but also other kinds of leukemia too," Dr. Wechsler said. "What that suggests is that this CRM1 protein is involved not just in this rare leukemia that we started working on, but in a whole host of other leukemias."
Now, he and his team are trying to understand exactly how that drug works and how CRM1 interacts with the leukemia genes.
That's where it gets complicated — or more complicated.
They discovered that it's not just CRM1 interacting with the leukemia genes. There's a bunch of other proteins in between.
It appears that blocking that particular interaction is the ticket to a more targeted therapy, with fewer side effects. That's exactly what Dr. Wechsler wants for his patients.
"My hope is that by getting a better understanding of how cells become cancer cells, we'll be able to develop more specific, more tailored treatments that are specific for an individual person's tumor, that will work better against that person's tumor and that will have fewer side effects," he said.
As if he wasn't already doing enough to make a difference, Dr. Wechsler recently took on a new role with St. Baldrick's. He's now a reviewer on the Scientific Advisory Committee, which is a group of pediatric oncology researchers that helps St. Baldrick's set priorities when it comes to choosing the most promising research to fund.
Read more about our research priorities >
"There's no question. I've benefitted, my fellows have benefited, my faculty have benefited, pediatric oncologists around the country have benefited, and most importantly the patients have benefited from the money that St. Baldrick's has invested," he said. "Being able to help St. Baldrick's decide what's most important and help set priorities, it's really an honor to do that."
St. Baldrick's has been a lifeline for researchers like him, Dr. Wechsler said, and he's watched the young investigators he's mentored go on to do amazing things after receiving St. Baldrick's grants.
"Honestly, we as a field could not survive without St. Baldrick's."
Help researchers like Dr. Wechsler find new treatments for kids with cancer. Fund childhood cancer research today.
Give
Read more on the St. Baldrick's blog: