Clippers, check. Barber cape, check. Ring — check! Read on for more about the most romantic marriage proposal we've ever seen!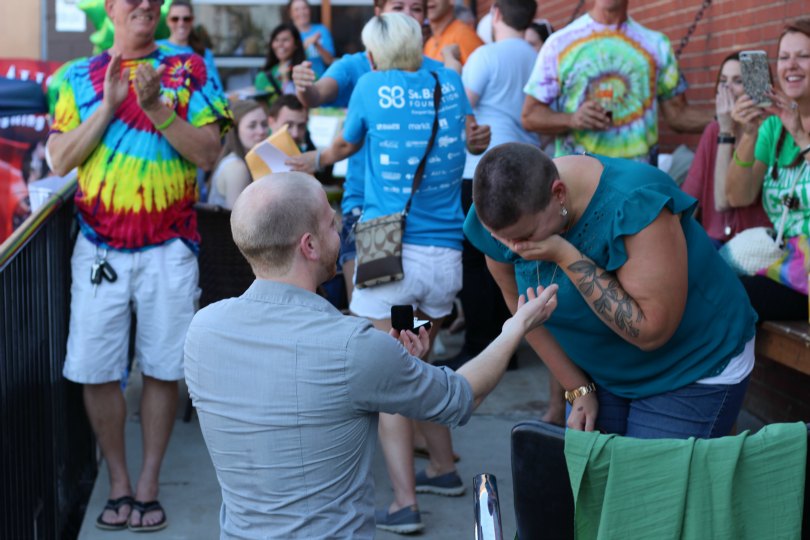 Photos by Kim Casanova Photography
When Ashlee Wines walked onto the stage to brave the shave, she knew it was a big moment.
But she had no idea just how big it was going to be.
Her boyfriend of three years, Caleb, was planning to ask her to marry him on stage at the NoDa Brewing Company head-shaving event last month in Charlotte, North Carolina.
"We've known each other since we were 13," Ashlee said of Caleb. "We were middle school sweethearts and then I moved away, tragically, to North Carolina when I was 14 and we had to break up, but we always kept in touch. I've known him for a very long time."
Ashlee was inspired to shave when her friend Caitlin Mauldin, one of the organizers of the Charlotte event, shaved off her voluminous hair for kids with cancer last year.
"It was something I've always played with," Ashlee said. "I don't need this much hair. So I decided that I would do something good with it. Why not?"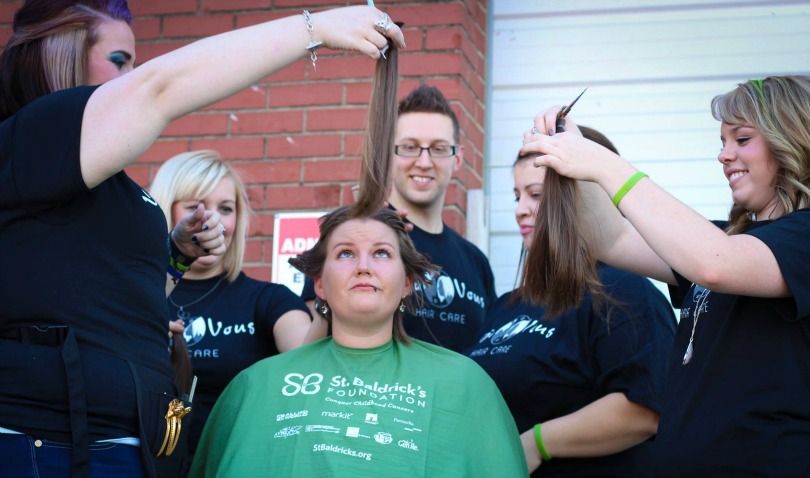 Before her shave, Ashlee donated 14 inches of her hair to a charity that makes wigs for kids who need them.
Ashlee's mom, stepdad, sisters, best friends and their significant others were all there in the audience simply to support her shave — or so she thought.
With everyone watching, cameras out, the barber got to work on Ashlee's hair.
"While she was buzzing me, my boyfriend Caleb said that he was going to shave too — he randomly decided, or so I thought, that he was going to shave his head," Ashlee said.
Caleb watches Ashlee brave the shave.
Once the couple had shaved, event organizer Caitlin distracted Ashlee while Caleb got out the ring. She had the emcee announce that Ashlee won a prize for driving the farthest — from Virginia to North Carolina.
"I was like, 'Oh! What is my surprise? I get a prize? That's so fun!'" Ashlee said.
But suddenly, Caitlin said she couldn't find Ashlee's prize and asked Caleb if he had it.
"I turn around and there's Caleb on his knee," Ashlee said. "I started ugly-crying. It was so good. It was so good."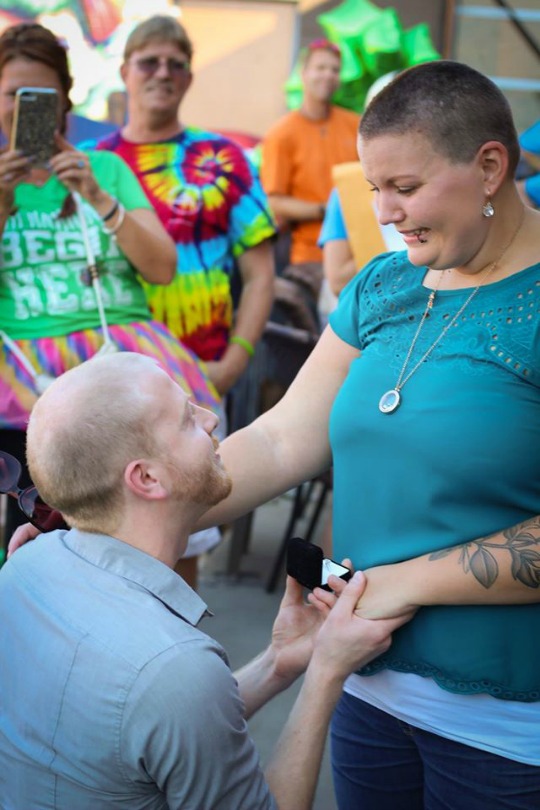 Caleb pops the question on stage at the head-shaving event.
Of course, Ashlee said yes.
"I knew that we were forever, but for him to do it in the way that he did, it was such a surprise," she said. "And with my family and friends there to share it with me, it was really the best day ever."
Everyone from the barbers to the emcee knew about the proposal plan — they had even rehearsed the entire performance beforehand, to make sure everything went off without a hitch.
"It was amazing. I've got goosebumps just thinking about it," said Caitlin, who helped plan the event and the proposal. "It couldn't have gone more perfectly."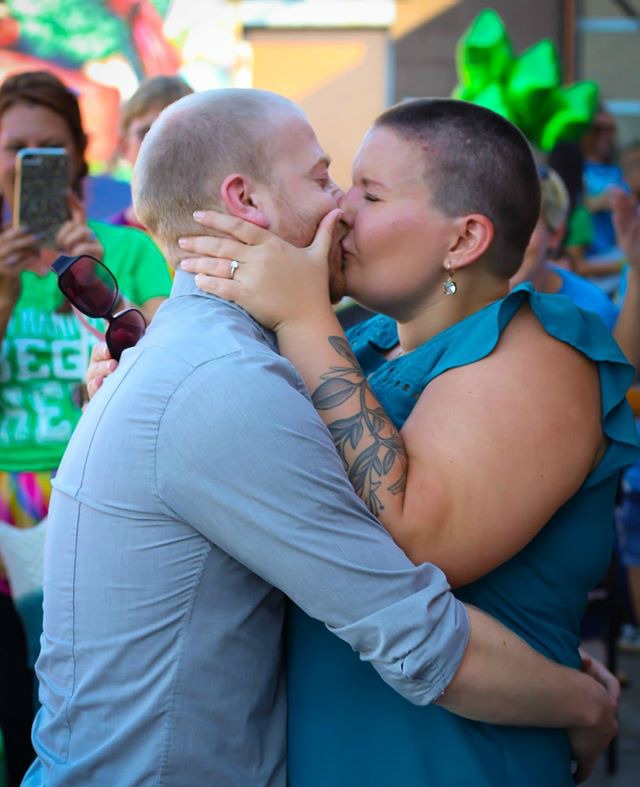 Caleb and Ashlee share a kiss after the proposal.
Caitlin has known Ashlee for over 10 years and was absolutely enthusiastic when Caleb pitched the St. Baldrick's event proposal idea.
"They're a force to be reckoned with," she said of the couple. "It's just a comfortable love that you see whenever you're around them. It just feels right. You don't get that feeling with very many people. With the two of them, you can just tell, to this day, that they are so in love."
Ashlee doesn't have any personal connection to childhood cancer, but she is a mom to a 5-year-old girl. She feels deeply for those parents and children who face pediatric cancer. Her little girl is her life, she said.
"So, I just can't imagine being faced with that news. The chances of survival need to be the best that they can be, so whether it's a dollar or whether it's a million dollars, anything that can be done, needs to be done. They're our future."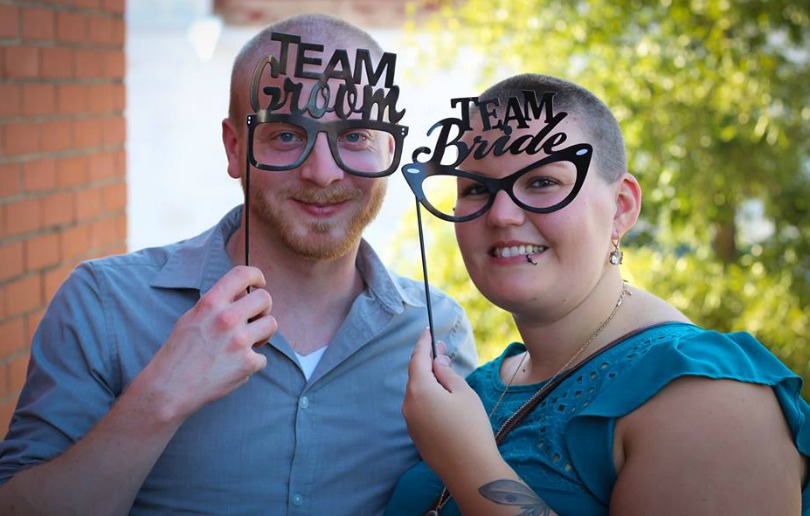 Caleb and Ashlee mug for the camera after the proposal.
Ashlee said it won't be her last time shaving for St. Baldrick's. After the wedding, her hair should be long enough to shave again.
"It was definitely a moment to remember," she said. "I told him, 'OK, how do I grow this out as fast as I can so I can do it again?'"
Anything can happen at a St. Baldrick's head-shaving event! Join in the fun and bring St. Baldrick's to your community. Start planning an event today!
Start an Event
Read more on the St. Baldrick's blog: