Nearly one year ago, Kim and Jon Smith peddled from San Diego to Florida in memory of their daughter, Tyler, who passed from germ cell cancer at 15 years old. The couple experienced searing temperatures and soaking rain on their 3,069-mile, two-month-long fundraising journey dubbed Team Tyler Rides. But most of all, Kim and Jon encountered their daughter's beautiful and generous spirit along the way.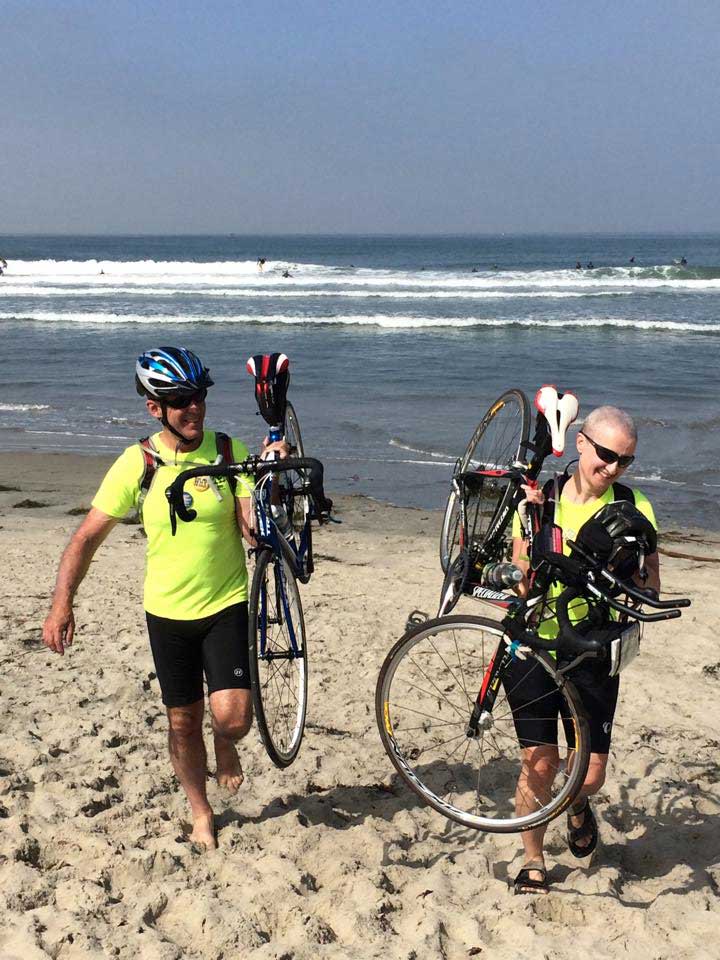 Kim and Jon start their cross-country ride at the Pacific Ocean in San Diego.
When Jon and Kim needed a boost, there were the energy bars and electrolyte replacing beverages, but the real fuel couldn't be torn from a wrapper or gulped from a bottle.
When the miles got tough, it was the dragonflies and the generosity of strangers that kept the couple pedaling.
---
"Smart, funny, athletic," Jon said, describing his daughter. "A wonderful child. It was the biggest surprise when she got sick."
At 13 years old, Tyler was diagnosed with germ cell cancer, a rare childhood cancer which can start in the ovaries. She went through treatment after treatment, but eventually there were no options left for Tyler. She passed away in December 2003.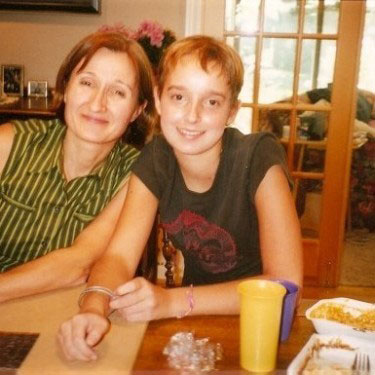 Kim and Tyler smile together.
Eleven years later, Tyler's parents embarked on a two-wheeled journey that, by the end, raised $41,927 for St. Baldrick's and its mission to conquer childhood cancers.
"I particularly have always wanted to do that," Jon said of the bike trip. "It's one of those adventures that I just really wanted to do. But what's the point of doing it if you're not going to do it for a cause? So that's the way we felt."
Congratulate Kim and Jon on the one-year anniversary of their ride — give to Team Tyler Rides today >
Kim and Jon shaved for St. Baldrick's a few days before starting the ride in San Diego, California.
Then, on September 1, the first day of Childhood Cancer Awareness Month, the bald bikers ceremoniously touched their front tires in the Pacific Ocean to start their journey.  It was a tough start — just the first day they had seven flat tires between them and their supporters.
Then there was the heat, which topped 115 degrees as they biked during their first week. It was so hot that they rode in 15 minute increments, then would rig up an umbrella in the nearest prickly shrub and sit under it.
The slight respite helped, but the dragonflies that hung around them in the shade helped more.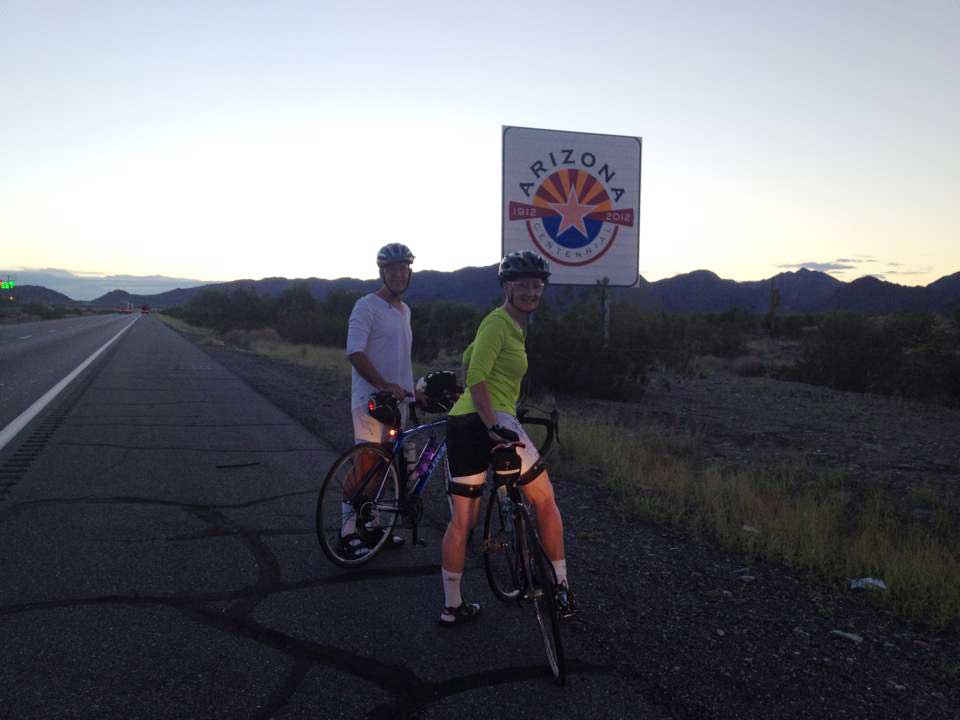 Kim and Jon celebrate reaching the Arizona border with a photo. During the time they were there, the state was hit with torrential rains.
"We felt her support the whole way along. When she was going through treatment, whenever we'd see dragonflies, that was our sign of hope," Jon said. "We've changed that to being one of our signs of hope that we can help with childhood cancer."
Dragonflies were everywhere during their journey. At one point, when Jon was hot and spent, about a dozen dragonflies flew ahead of his bike, as if to encourage him to keep pedaling.
"The whole trip, every time we would get tired or feeling discouraged, a dragonfly would come and be flying along with us, so it really felt like she was part of the trip," Kim said.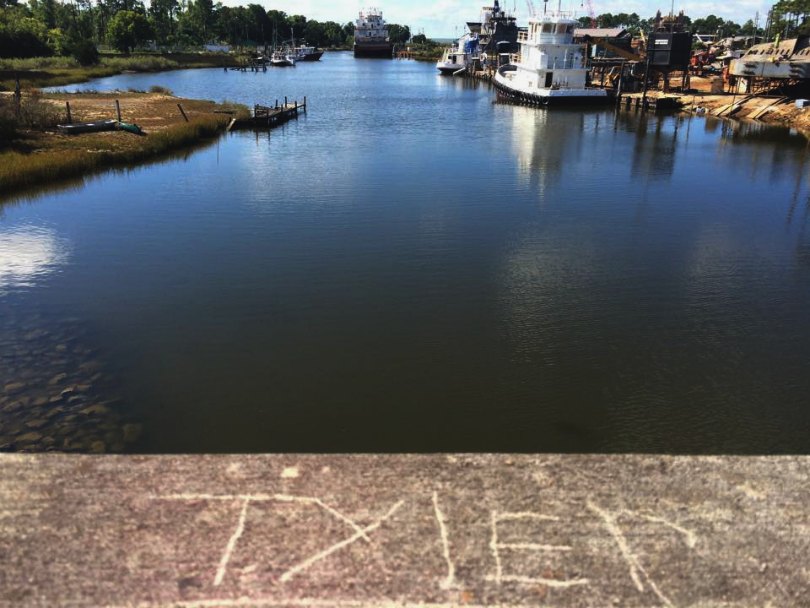 Kim and Jon spotted their daughter's name written on a dock as they waited for a ferry in Alabama.
If the heat wasn't enough that first week, there were the mountain passes. The couple pedaled from sea level in San Diego to 4,000 feet elevation in the first couple days.
Along the way to that summit, they stopped to eat lunch at a tiny restaurant. Two of the restaurant patrons had seen Jon and Kim on the news the night before and greeted the bikers as they were hitting the road again.
"They literally had tears in their eyes and they gave us $20 for our trip. It turns out they were both volunteer EMT technicians — the sweetest people — and that gave us enough energy to get up over that pass," Jon said, "We kept having those all along the trip. You get a little tired or discouraged and somebody would pump you up for one reason or another. It was pretty amazing."
The trip was difficult at times, Jon said, but it was nothing compared to what a child goes through during treatment.
"We struggled on it, but it was relatively easy, compared to what we had to go through years ago," he said.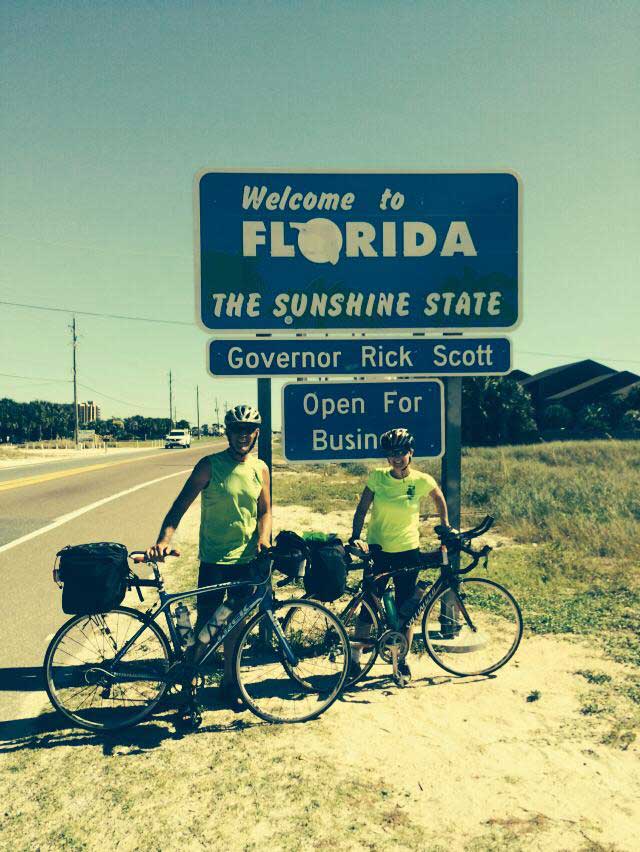 Kim and Jon were all smiles when they finally reached the Florida state line.
After that first week, the weather was perfect and the couple was getting stronger, biking through state after state, on back roads and highways. All in all, Kim and Jon biked through California, Arizona, New Mexico, Texas, Louisiana, Mississippi, Alabama and Florida.
It was a transformative journey, both externally ("I had a new appreciation for my thighs," Kim quipped) and internally.
"Obviously, it's always difficult to talk about," Kim said of her daughter's illness and passing. "But because we had to talk about it to let people know what we were doing and tell our story, there was something very healing about that as well."
Their most memorable experience was in Arizona. Jon had a flat tire, so they pulled over to change it under the awning at a fast food restaurant. There were two homeless men sitting there and Kim asked Jon to watch her things while she went inside. Jon went over to talk to them, and after hearing Team Tyler Rides' story, the men donated $3.
"I felt so guilty thinking, 'Oh no, they're going to steal my money,'" Kim said. "They gave what they had to our cause."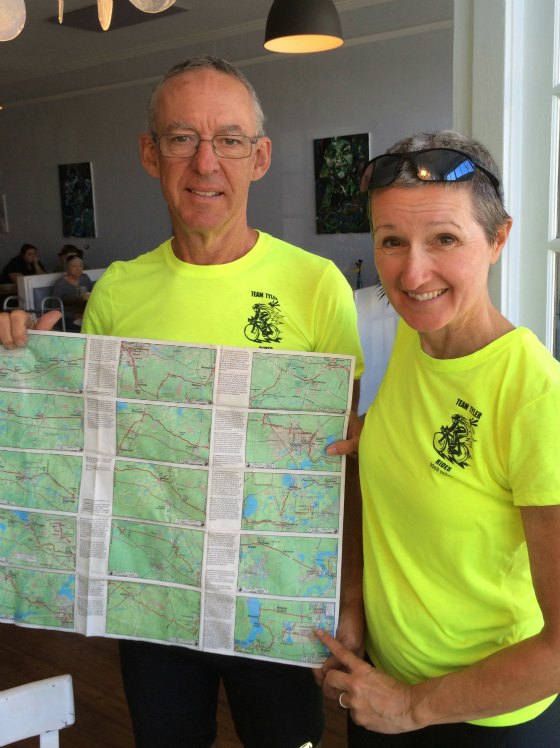 The couple posed with their last map at a restaurant where they had one of their final 'second breakfasts,' as they called it.
Everywhere they went, they were bowled over by generosity. From free campsites to hot dinners to a restaurant manager running after them with a $100 bill for the fundraiser, it was a trip that renewed their belief in people's kindness. It also made them realize that cancer has touched so many lives and that everyone has a story of cancer, Jon said.
"That sort of surprised us," Kim said. "… We ended up hearing stories rather than telling our story."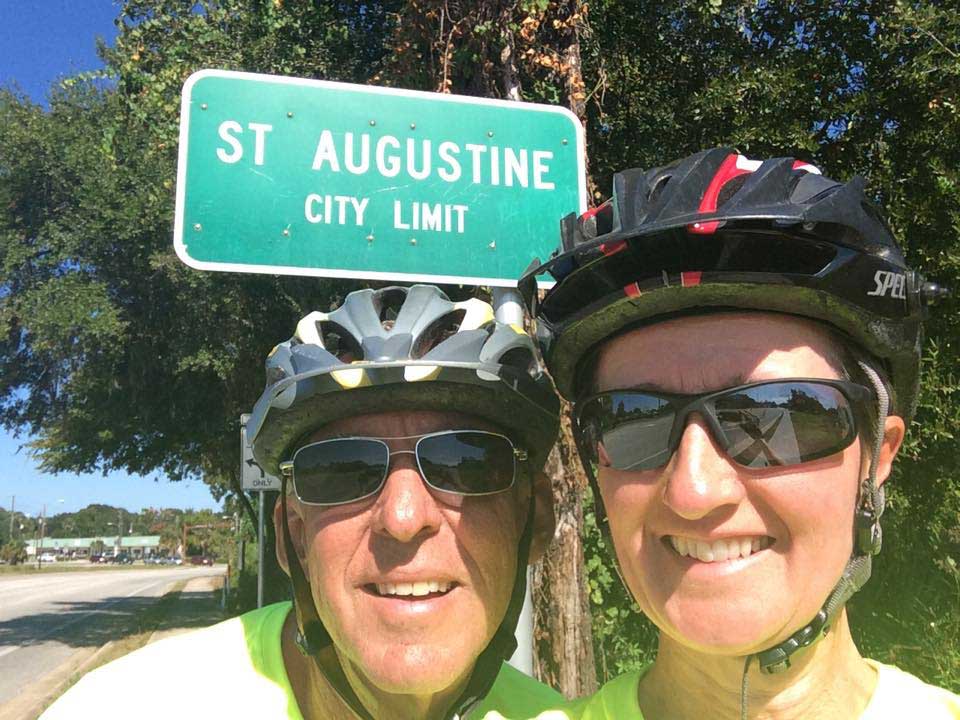 Kim and Jon ended their journey in St. Augustine, Florida.
Finally, they reached St. Augustine, Florida.
"We got to the beach and I'm picking my bike up and running across the beach and Jon's laughing because he's way behind me, so I had to wait for him," Kim said. "We got in the water and touched the front tire in the water and I was done."
Friends who had biked to the beach with the couple rode circles around them in the sand, cheering. Their middle daughter, Ashley, surprised them at the finish line, which was the best part of the end of their ride, they said.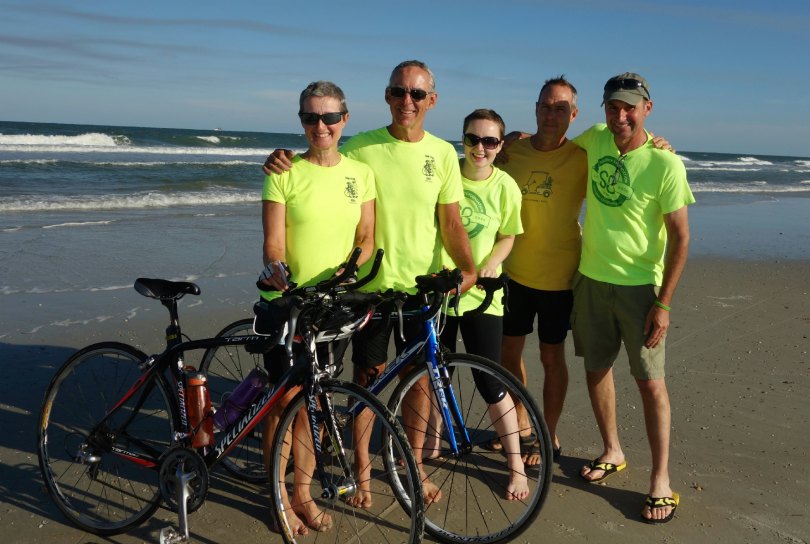 Kim and Jon with their support team and their daughter Ashley, who surprised them at the end of their ride.
"We were riding up the beach going, 'We just rode 3,100 miles.' We couldn't believe it," Jon said. "Two days later, I said to Kim, 'We just did what?'"
For anyone thinking that they might want to go on an adventure for a cause, Jon has some words of wisdom.
"Turn off your television, get on your bike and ride across the country," he said. "If you have any inkling at all, don't hesitate."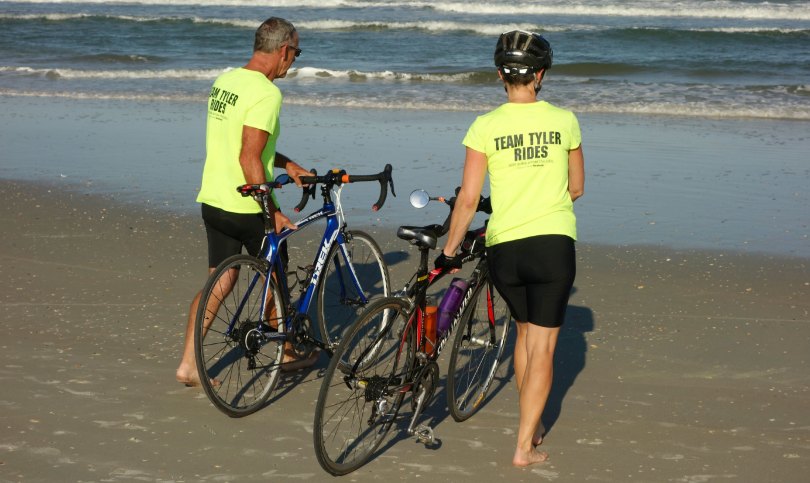 Kim and Jon wheel their bikes across the sand to mark the completion of their ride at the Atlantic Ocean.
You could bike, walk, skip or pogo for kids with cancer — Do What You Want and contribute to lifesaving research.
Do What You Want
Read about other adventurous fundraisers on the St. Baldrick's blog: