From MRIs to CT scans, kids with brain cancer get pictures taken of their tumors all the time. St. Baldrick's Scholar Dr. Peter de Blank wants to get more out of those pictures, so that all children can lead long, healthy lives. Read on for more about this St. Baldrick's Scholar and the exciting work he's doing with a new imaging technology.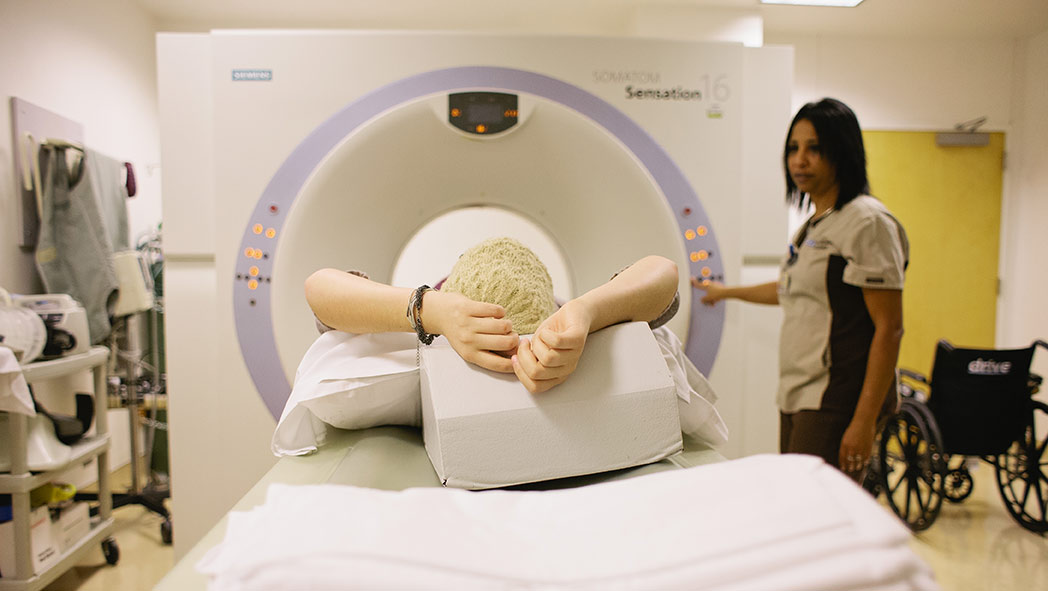 Getting scans done is a routine part of life for a kid with cancer, like 2013 Ambassador Emily. Dr. Peter de Blank wants to use new technology to get more out of scans like these.
For Dr. Peter de Blank, a picture is not only worth a thousand words — a picture can save a life.
As a St. Baldrick's Scholar at Case Western Reserve University, Dr. de Blank is studying how a new radiographic tool, called magnetic resonance fingerprinting, or MRF, might improve outcomes for kids with cancer.
"My research is based off of the thought that we get a lot of information in these pictures that we don't use efficiently," he said, describing all of the scans a child with cancer might get.
There are CT scans and MRIs and other scans too, and all are looked at qualitatively, Dr. de Blank explained. For instance, one bright spot in the scan might be a bit brighter or bigger than it was a week ago. So, doctors end up ordering more scans to figure out what those spots mean.
"What I hope to do is use quantitative methods — methods where we use those same scans and get actual numbers out of them — to try to answer some of these important questions about diagnosis, prognosis and even function. So, what a bright spot might represent, what it might mean to a patient and whether it might affect that patient in the future," he said.
Dr. Peter de Blank was awarded a Scholar grant in 2014 for his work with magnetic resonance fingerprinting.
It turns out, when focused on a child with brain cancer, MRF was able to not only distinguish tumor tissue from healthy tissue, but also tell a high-grade tumor from a low-grade tumor.
The difference is an important one. High-grade tumors grow out of control quickly, making them deadlier than low-grade tumors, which are less aggressive and lower risk.
Being able to make this distinction early through the use of MRF can help guide doctors in choosing the best treatment to help save a child's life, while avoiding as many long-term effects from the treatment as possible, Dr. de Blank explained.
In addition to being able to distinguish between a high-grade and low-grade tumor with MRF, Dr. de Blank and his team noticed something different about the area around the tumors in the kids they studied.
That area, called the peritumoral region, looked normal on a traditional MRI, but abnormal in the measurements coming from the MRF.
"We're just starting to make guesses as to what that could be," Dr. de Blank said. "It could be some swelling associated with the tumor, or it could be some infiltration associated with the tumor, but the fact that we're able to see this abnormality that you couldn't see on traditional MRI is also really exciting."
Over and over, "exciting" is the word Dr. de Blank uses to describe his research. He loves working with kids and he loves helping them without having to put them through the pain and stress that come with some therapies. Most of all, Dr. de Blank loves trying to answer some big questions that have interested him since he was in training, when he met a 5-year-old boy who inspired the researcher to pursue the path he's on now.
"I was seeing him for his optic pathway glioma, or OPG, and I was having so many questions about it," he said.
Dr. Peter de Blank with his wife, Dr. Robin Norris, who is also a St. Baldrick's Scholar.
He wondered whether the tumor was going to continue to grow, whether the boy was going to lose more vision, and how that vision loss would affect him for the rest of his life. Finally, he wondered how best to treat the tumor, so his patient's vision could be saved. "I got very interested in these questions of function and whether the MRI scan can tell us some of the things that his parents and I needed to know about his function."
Eventually, to help answer some of these questions, Dr. de Blank and his colleagues used a special kind of imaging, called diffusion tensor imaging, that traced the integrity of the connections between the boy's eyes and his brain.
Inspired by the potential of diffusion tensor imaging, Dr. de Blank stumbled upon MRF. He's been smitten ever since.
Now, alongside conducting research into neuroimaging as a St. Baldrick's Scholar, Dr. de Blank also heads the survivorship program at Case Western and sees patients as a pediatric oncologist. But he's still working on those same questions he had as a fellow, when he first saw the potential of imaging technology. He doesn't see that passion waning anytime soon.
Help researchers like Dr. de Blank continue making progress for kids with cancer. Fund childhood cancer research today.
Give
Read more on the St. Baldrick's blog: