by Luke Hofmann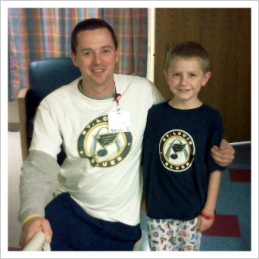 Nurse Luke with cancer-fighter Brandon, who will help shave Luke's head on March 9
Why do I shave for St. Baldrick's? I do it for the kids I take care of at work. I am a nurse on the pediatric oncology floor at St. Louis Children's Hospital, and I am inspired by the grace and dignity that these kids and their families endure each and every day.
I can't even begin to imagine being in one of those parent's shoes – having a child sick in the hospital, receiving chemo, going through one procedure after another. In spite of it all, they carry on with strength and fortitude, sitting by their child's side, comforting them 24/7.
I see the horrible effects that childhood cancers have on our kids – the fighters, survivors and those that we lost. If a simple act of shaving my head can bring more awareness to their fight or their memory, then I'm all for it!
It is true that children's cancer research has increased survival rates since 20 years ago, but recently that trend of progress has slowed. Some of the treatments the kids endure were developed a long time ago, and new drugs need to be developed in order for more of our kids to survive and decrease the negative effects they endure as a result of cancer treatments.
Everyone should get involved with St. Baldrick's and shave their heads at least once and see how rewarding it is to be involved with such a great charity. One of my favorite parts of St. Baldrick's is the visual reminder it creates for people even after the event is over. Having a bald head is a symbol to everyone of the fight that too many kids have to endure.
Join Luke and thousands of others in the fight against childhoood cancers – get involved!