At 35, Dr. Greg Aune underwent emergency heart surgery to repair the consequences of the childhood cancer treatment he endured as a teen. Now, with support from St. Baldrick's, he's working in the lab to understand exactly how chemotherapy damages the heart — and how we can protect kids with cancer from the deadly long-term health consequences of their treatment.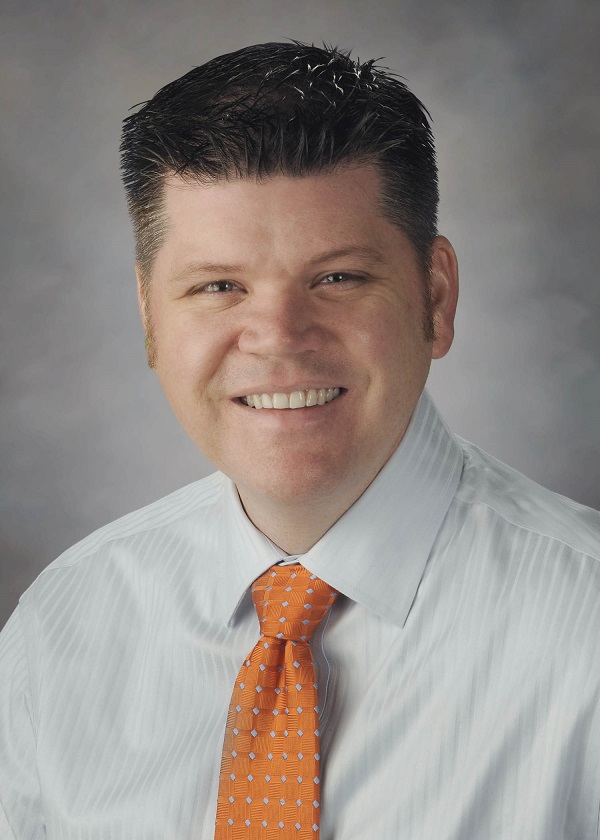 Dr. Aune was diagnosed with Hodgkin lymphoma when he was 16. He is now a pediatric oncologist and a St. Baldrick's infrastructure grant recipient.
Sometimes things happen that cause you to question your life's direction. Something like a devastating diagnosis can compel you to reevaluate your career, even making you switch gears entirely to go down a path you never imagined you'd be on.
This happened to Dr. Aune twice in less than 20 years.
As a physician-scientist, Dr. Aune regularly treats kids with cancer of all ages in the South Texas Pediatric Cancer Survivorship Program in San Antonio. He also studies the long-term effects of chemotherapy on the heart. And his St. Baldrick's infrastructure grant is helping him and his colleague, Dr. Helen Parsons, to expand the survivorship clinic to better provide adolescent and young adult (AYA) patients with treatment appropriate for their unique needs.
But Dr. Aune said he probably wouldn't have gone to medical school had he not experienced childhood cancer firsthand. He was diagnosed with Hodgkin lymphoma at 16 and underwent surgery followed by multiple rounds of chemotherapy and radiation before he was declared cancer free.
That experience, he said, made him want to pursue a career in medicine. But throughout all his schooling, his focus was never on the childhood cancer survivor population.
"I thought I was going to use all that training to develop novel therapeutics that were less toxic," he said. "And then when I started fellowship, I had this major life-changing event where I was 35 years old and I ended up having to have emergency heart surgery."
Dr. Aune with a patient.
He knew his heart problems most likely resulted from the cancer treatment he'd received as a teenager. He recovered from the surgery and went back to work seeing patients, but he found himself feeling very frustrated. Like any good doctor, he treated his patients as best he could with the treatment options available, hoping he could save their lives. But having experienced the detrimental effects of his own childhood cancer treatment, he struggled to feel at ease suggesting therapies he knew might hurt them in the long run. "I thought, 'We need to find a better way to do this,'" Dr. Aune said.
He began to consider how he might do that. "Instead of using my research training to develop newer therapies that would target the tumor, I started thinking, 'Could I use this to develop therapies that might protect the heart, or to develop models that would help us understand better how chemotherapy damages the heart?'"
That's now the basis of Dr. Aune's lab research. He has developed a model to examine the effects of chemotherapy on the heart from a very young age through adulthood. "This is something that hasn't been looked at from the perspective of pediatric oncology," Dr. Aune said. "It's been studied in adults, but how the pediatric heart is damaged by some of these treatments is potentially very different than how these agents damage adults' hearts."
The survivor population is continually growing since doctors have gotten much better at treating pediatric cancer — a direct result of childhood cancer research.
He hopes his lab studies will help identify what's going on in the body after chemotherapy that makes the heart more susceptible to problems later on. "And then potentially we'll be able to develop novel strategies to either prevent the damage from occurring in the first place or prevent it from progressing over time," he said.
Survivorship is a critical area of research focus, according to Dr. Aune, because the survivor population is continually growing since doctors have gotten much better at treating pediatric cancer — a direct result of childhood cancer research.
Dr. Aune also sees patients in a pediatric oncology clinic and in a survivor clinic, where he often encounters the problems he's studying in the lab, among other late effects of childhood cancer treatment. "The common cardiovascular and endocrine problems you see in all adults become more common in the survivor population, but at a much earlier age," he said.
As well as addressing their physical health needs, one of the major aims of the expanded survivorship clinic Dr. Aune is planning with Dr. Parsons will be to provide counseling for the various psychosocial issues that affect AYA patients differently than their younger counterparts. "When you're younger, your parents are pretty much responsible for you," Dr. Aune explained. "But as patients age out of their parents' insurance and then have difficulty finding jobs — a lot of people face these things, but if you have a chronic illness or are dealing with some kind of aftermath of cancer therapy, it becomes a big burden."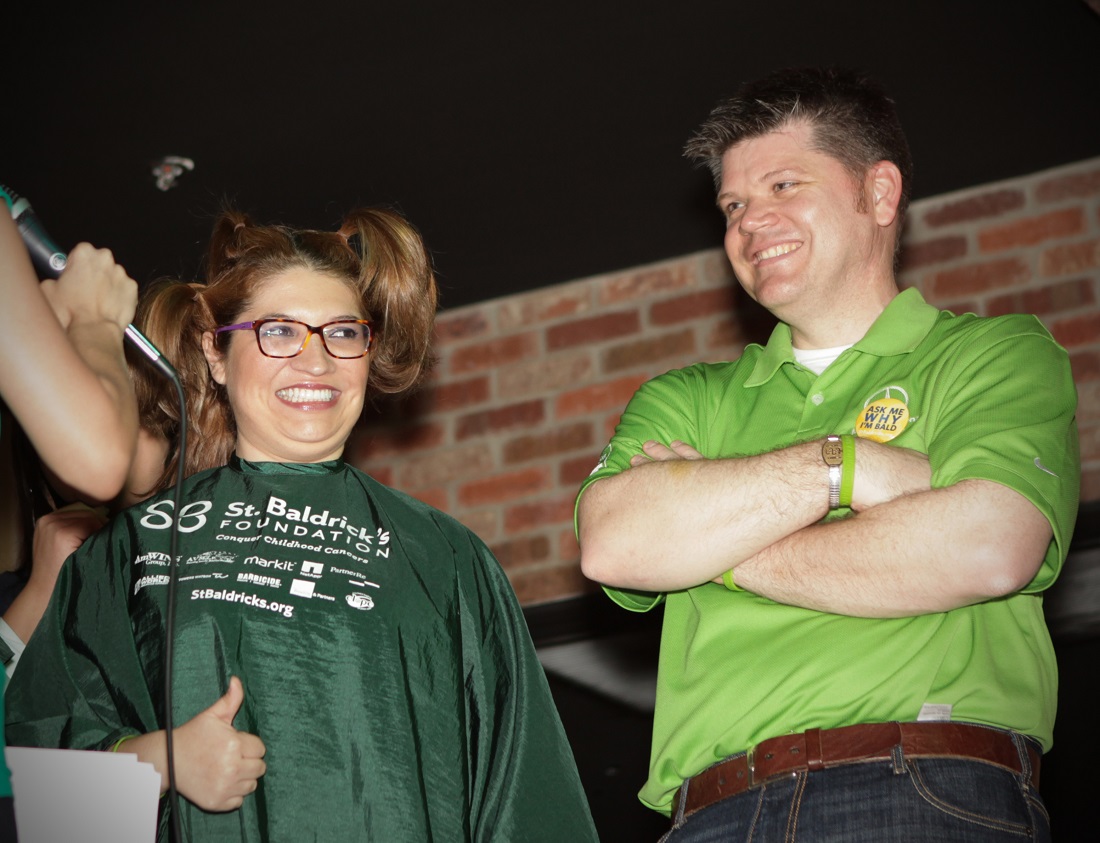 Dr. Aune waits his turn to shave at a St. Baldrick's event in 2013.
Dr. Aune knows firsthand the importance of childhood cancer research. It's what saved his life when he was a teenager, and it's what he's dedicated his life's work to. It's also the reason why he helped bring St. Baldrick's to San Antonio. He serves on a committee to plan and organize
their big event
each year, and this March, he'll be
shaving his head
for the third time.
"Of all the things money gets given for in the name of childhood cancer, St. Baldrick's uses it for research. It's very specific in the way they give the money out, it's very specific who is deciding how it gets spent, and so I think it's a really good organization to be associated with," he said. "But I didn't realize I'd enjoy it as much as I do. It's fun."
St. Baldrick's events bring childhood cancer awareness to the community, and they help to unite everyone involved in their shared mission to conquer childhood cancer — something that, according to Dr. Aune, is just as valuable as the money raised. "St. Baldrick's events really help create that sense of camaraderie for what we're all trying to do," he said. "I think it's very important because we are all on the same team."
Join our team and fight kids' cancer. Get involved today.
Get Involved
Read more stories on the St. Baldrick's blog: