Instead of being bound to a specific project, researchers who receive the Robert J. Arceci Innovation Award are given the resources and the freedom to go wherever their curiosity, pioneering spirit, and passion for kids' cancer research takes them — and the newest awardee, London's Dr. Sam Behjati, has those three characteristics in spades. Read on (and watch the video!) for more about this innovative award and its first international winner.
Where do cancer tumors come from?
That is the question that gets Dr. Sam Behjati's gears turning. It keeps the researcher combing through genes in his lab near London. It's the question he wants to answer to help kids with cancer.
And as the first international winner of the Robert J. Arceci Innovation Award, it's a question Dr. Behjati can now explore freely — wherever it may take him.
A Game-Changing Award
For Dr. Behjati, the award is revolutionary. Without it, the experiments he's considering would have taken at least five years to realize — if they even happened at all.
"Normally when you apply for a grant, you have to write a few safe experiments, which are perhaps a little bit interesting, but you can't really do bold things," Dr. Behjati explained. "In that context, this award is really amazing — that the St. Baldrick's Foundation says, 'Listen, you've delivered so far. We trust that you can deliver more, so let's give you this liberty to go and do that.'"
Nominated by a former supervisor for this award, Dr. Behjati will receive $250,000 a year for three years to pursue this profound question — and any others he sees fit — that could change what it means to have childhood cancer forever.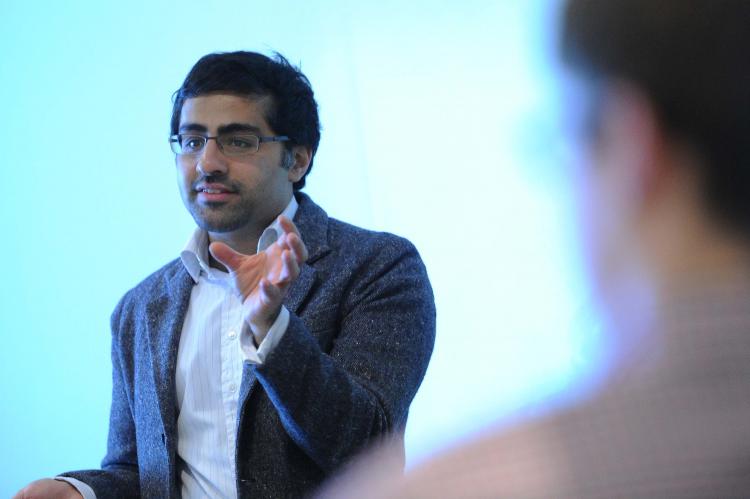 Dr. Behjati works with University College London, Great Ormond Street Institute of Child Health, and the Wellcome Trust Sanger Institute of Cambridge.
A Bold Idea
Dr. Behjati has been mulling over his fantastic idea for years.
Simply put, cancer is a collection of mutated cells. If you know where a cancer cell comes from, or its "post code," as Dr. Behjati puts it, then you can figure out what it was meant to be — if it was meant to be a liver cell or a brain cell or something else.
Then, with that knowledge, maybe you can help the cell get back on the path to becoming a normal, healthy cell.
In order to do that, Dr. Behjati believes we need to understand cancer at its most basic, structural level. We need to understand what's going on in the cancer's DNA — in other words, at the genomic level.
"If you do genomics, it enables you to dig deep into the heart or essence of what a cancer is. It is quite a profound thing," he said.
Born to Work With Kids 
Dr. Behjati doesn't only love looking at genes. He also loves kids.
In fact, he jokes that he was born with a pediatric stethoscope around his neck. Caring for kids has just always been a part of who he is.
But caring for kids with cancer? That wasn't always part of his plan.
His career in pediatric oncology began with meeting a brave little girl. He was a medical student at Oxford, and she was the first childhood cancer patient he'd met.
"She was quite a remarkable little girl," he recalled. "She was around 7 or 8 years of age and very witty. I mean, she was absolutely hilarious."
Dr. Behjati has always known he wanted to be a pediatrician, but it wasn't until medical school that he realized he wanted to work with kids with cancer.
She had Ewing sarcoma and then developed leukemia, which was caused by her treatment. Sadly, she passed away from that secondary cancer.
"You look at these children who put up with a cancer and this treatment and they just cope with it," he said. "And you see families that just soldier on. No matter what happens, they plow on. That is very humbling. And I think that particular girl — that, for me, marks the beginning of when I knew, 'I'm going to do pediatric oncology.'"
Dr. Behjati wants to keep helping kids like that little girl. He's thankful that the Robert J. Arceci Innovation Award is giving him the freedom to speed toward that distant horizon — toward bold progress for kids with cancer.
"It took a day and a half to realize that this really is happening and that I will have the opportunity to do the experiments I've been thinking about," he said of receiving the award. "It is beyond belief, really. It is amazing."
Together we can create a future that's free of kids' cancer. Fund childhood cancer research today.
Give
Read more on the St. Baldrick's blog: