With over 11,000 events to date, St. Baldrick's knows a thing or two about fundraising. While we do it to raise money for childhood cancer research, you can ace getting a local sponsor for any fundraising event with these 10 tips.
Your fundraising event is right around the corner, and you want to raise as much money as possible.
Getting local businesses to sponsor your event is a great way to boost your event revenue and strengthen community relationships. Here are 10 tips to get you going.
1. Know who to ask.
Use your inner circle to find the best leads to potential sponsors. Your volunteer committee may have connections with local businesses — work those connections to get your foot in the door.
Pursue companies with a strong presence in your community. These can include corporations headquartered in the region, branches of large companies, or even your doctor's office or dry cleaners.
2. Learn how to make a pitch.
When it comes to building a relationship with a corporate partner, don't leave any doubts that you and their company are the right fit.
Focus on these four things:
Tell them who you are and introduce our mission.
Summarize when your event started, the number of attendees, and other unique facts about your event.
Point out specifically why their company would be a good fit to sponsor your event.
Describe what they'll get out of it. Outline the benefits that align with their business goals. Check out the Event Sponsorship Packet for some great examples.
3. Know your talking points.
Speak confidently and know the facts for sponsors who might be unfamiliar with who we are. Be sure to include the impact we've had on your community.
TIP: Visit our grants search or contact your coach to learn about any childhood cancer research grants awarded in your area.
4. Be clear.
Let them know what you're offering them in return. Their logo on promotional materials? A banner at your event? Be clear about what you're committing — and make sure you deliver. Suggested deliverables based on level of sponsorship can be found in the Event Sponsorship Packet.
5. Be open.
Be receptive to any questions they might have. Remember it's a conversation, not a monologue.
6. Think big.
Ask small, get small. Ask big, get big. Don't sell yourself short or stray away from asking for larger donations. The worst they can say is no.
7. A "no" is not a rejection.
It's OK if they say no. Make the most of your meeting by giving them other options to be part of your event. They could start a shavee℠ team, donate a raffle prize, or set up an office fundraiser. Always leave with something!
And remember: Just because they say no one year doesn't mean they'll say no the next. Don't be shy about asking again… and again!
8. Build your relationship.
Open a line of communication from the moment you meet potential sponsors. You represent your team and St. Baldrick's, and you may be contacting these companies again next year. Be polite, be organized, and show your interest in what they do.
9. Say thank you.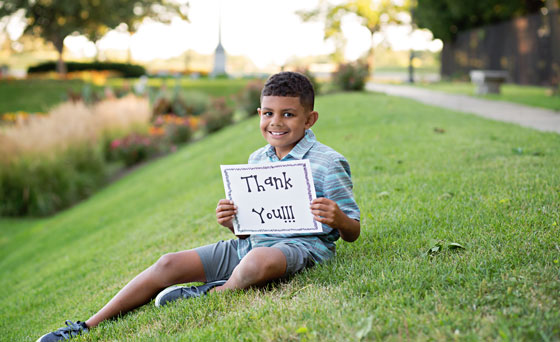 Ambassador Isaac was diagnosed with a brain tumor when he was 5. Today, he's cancer free thanks to childhood cancer research.
Don't forget to thank your sponsors. Your relationship with them doesn't end when your event is over. You might be asking them to sponsor your event again next year, so make sure you stay connected. Share
St. Baldrick's news
, videos and other information to remind them that their sponsorship was worth the investment.
10. Have fun!
Smile. Be upbeat, friendly, positive and polite. Remember you are offering them an opportunity to join a worthy cause — and that is a great thing!
Want more tips and tools for getting local businesses on board? Visit our Resource Lounge for customizable letters, templates, checklists and tips to take your event fundraising to the next level.
Resource Lounge

Find more tips on the St. Baldrick's blog: