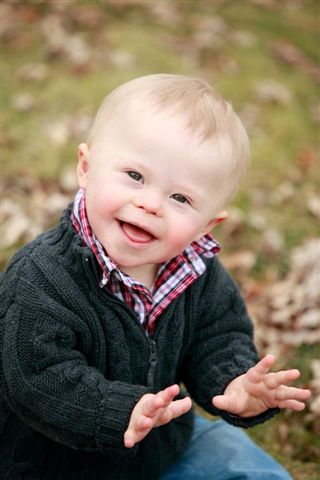 16-month old Logan, a direct beneficiary of St. Baldrick's "high-impact" initiative
Anthony Scott describes his son, Logan, as "your typical giggly, happy, goofy, 16-month-old silly kid."
But his health has been far from typical. When Logan was born, he was diagnosed with Down syndrome and Transient Myeloproliferative Disorder (TMD), a disorder caused by abnormal blood cells that travel throughout the body. This disease could be life-threatening if Logan developed organ swelling, enlarged liver, or heart- and lung-function problems.
But the combination of TMD and Down Syndrome could also turn into acute myeloid leukemia (AML).
"We were in the process of dealing with and learning about trisomy 21 in Down syndrome, and then, to get hit with the TMD diagnosis — it was overwhelming to have all at once," Anthony shared.
Dr. Richard Tower and Dr. Michael Kelly at Children's Hospital of Wisconsin approached Logan's parents about a "high-impact" study to monitor Logan's TMD. "Logan's doctors wanted to monitor him monthly, explaining to us that he might develop leukemia as a result of his diagnoses of Down Syndrome with TMD, and he did," Anthony said. "Just five months ago, Logan was diagnosed with AML, a type of childhood cancer."
As part of a 2012 grant to the Children's Oncology Group (COG), the St. Baldrick's Foundation funded a new high-impact initiative that will help accelerate discoveries in rare childhood cancers and cancer-related complications like TMD. The Children's Hospital of Wisconsin is one of 130 institutions of the COG that opened four of these high-impact studies.
The purpose of the high-impact study Logan is enrolled in is to collect blood samples from TMD patients for medical research. Because the condition of TMD in children with Down syndrome is not well understood, researchers want to learn more about TMD that can lead to cures and better treatments.
"Because of this study, we were able to get Logan started on a protocol way earlier than any other child who would develop AML," says Anthony. "He has now been declared leukemia-free as of the finishing of his third induction phase of chemotherapy. But, if that kind of research opportunity wasn't there with the money given by St. Baldrick's, we don't know how long we would have been drawn out and waiting, not knowing what was going on."
Help fund research like the kind that saved Logan's life. Make a donation now.
Donate
More from the St. Baldrick's blog: