When 10-year-old Carolyn decided to shave her head and raise money to help kids with cancer like her sister, her father recognized a sense of maturity and strength far beyond her years.
Our eldest daughter, Carolyn, came into the world with a thick shock of dark brown hair. We joked that she was our little Troll doll. So her head had never been as bare as it was after she shaved it for St. Baldrick's.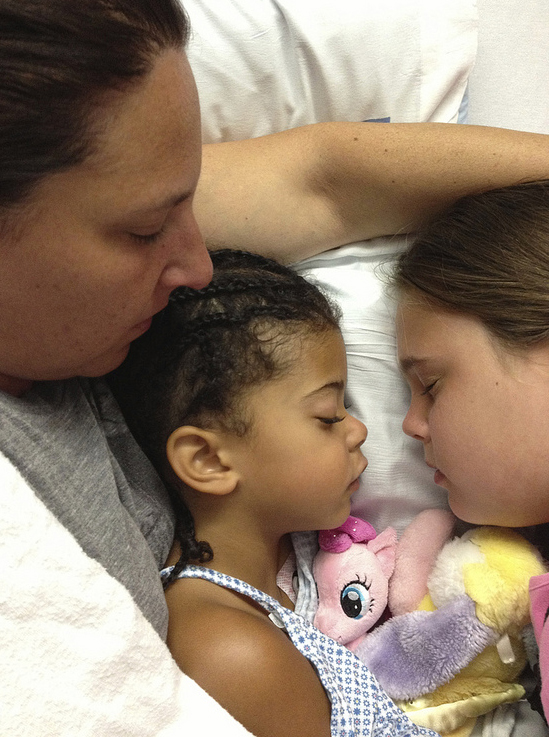 Carolyn, Rebecca, and their mom sleeping in the hospital when Rebecca was diagnosed with childhood cancer.
Carolyn has had to endure a lot in the past year. In August 2013, her 5-year-old sister,
Rebecca
, fell ill on vacation, seized and coded in an emergency room, and was found to have aggressive
brain cancer
. After the tumor was removed, Carolyn had to live apart from her sister and parents for seven weeks while Rebecca received proton radiation and chemotherapy in another city.
Carolyn had to adapt to a strange blend of familiar and different, living in our house with grandparents and her little brother. We had to cancel plans she'd looked forward to for months. We weren't there for her first day at a new school, learning the ropes of a new building and trying to make new friends.
And, of course, all the attention that gets drawn by a child with cancer comes at the expense of attention to the other kids.
All the doctors' appointments for Rebecca after she came home, all the worry over infections and fevers and possible neutropenia, all the changes to routine and long-standing ground rules — those were tough as well.

Carolyn and Rebecca in 2010, before Rebecca was diagnosed with childhood cancer.
Carolyn absolutely understood why these things happened and why they had to happen, but that didn't make them feel any better. Upheaval is always difficult, and feeling like "just the other sister" is even worse.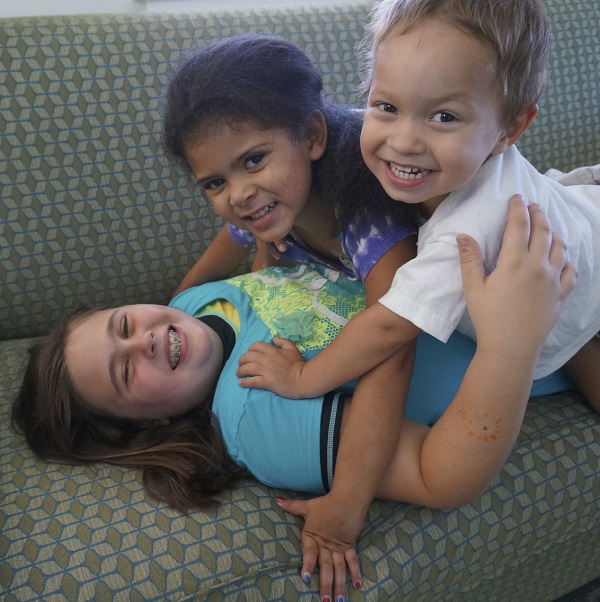 Carolyn and Rebecca with their younger brother, Joshua.
We've had to ask a lot of Carolyn, more than we ever wanted to ask of a 10-year-old, and she's always met our expectations. Sometimes cheerfully, sometimes sulkily, but she's always come through.
We couldn't have been more proud of her — or so we thought.
In January, Carolyn came home from school one day and told us she'd decided to participate in St. Baldrick's in her sister's honor.  We talked it over with her for a while, mostly to find out her aims and expectations.
To an extent, it was a way for her to assert some control over what was happening in her life. More than that, though, it was a way for her to do something positive in the face of so many negatives. As she wrote in her appeal for donations:
Having a sister with cancer sometimes makes me feel like I'm alone in a dark room and no one will come and get me out. Please donate to help raise money so other sisters never have to feel this way.
Carolyn not only signed up as a shavee℠, she organized and captained a team at her new school. She was constantly keeping in touch with the team through the St. Baldrick's website, making sure everyone had flyers to pass out or whatever else they needed, and cheering everyone on in their own fundraising efforts.
She also inspired her three best friends — Katerina, Jessica, and Rachel — to raise money and to shave their heads in solidarity with her.
By Shaving Day, Carolyn had raised almost $9,000, becoming the top fundraiser in the history of the
Cleveland Heights event
, which on that day saw 160 shavees raise over $100,000, largely thanks to the tireless efforts of our dynamite volunteer event organizer (VEO),
Krissy Dietrich Gallagher
.
The look of wide-eyed glee on Rebecca's face as her sister's hair fell away was priceless. She laughed and clapped and cheered for Carolyn louder than anyone else in the very noisy, crowded room.
Later, when we asked Rebecca what her favorite part of the day was, she said:
Watching Carolyn be brave. She was a little scared but so brave. I like watching everyone be brave and so nice to each other and doing it for kids with cancer.
It does take a special bravery for a young girl to shave her head bare, given the expectations of society at large and the possibility of ridicule from her peers, but Carolyn has taken it all in stride. When strangers mistakenly address her as "young man," she politely avoids correcting them and then laughs about it later.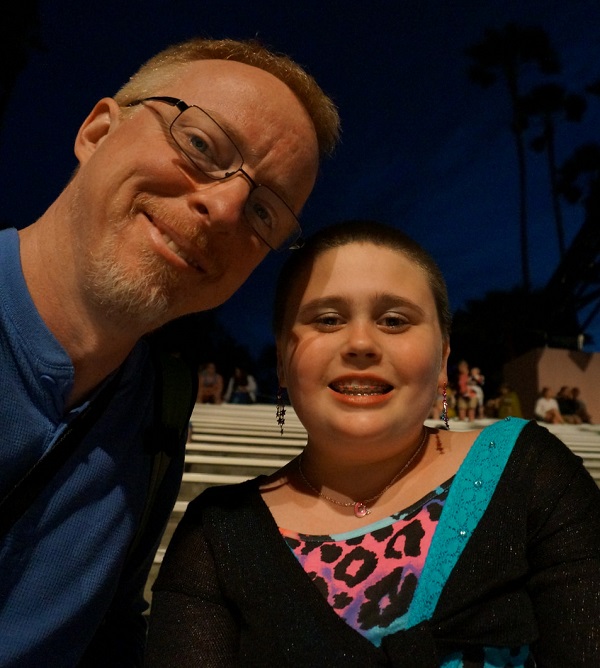 Carolyn and her dad, Eric, after Carolyn shaved her head.
She's been almost as forgiving of friends and relatives asking if they can rub her head for good luck, albeit with some truly epic eye rolls. And she's definitely been appreciating how much easier it is to wash and dry her hair now that it isn't two feet long.
It's been over a month since Carolyn shaved for her little sister, and the hair has grown back just as thick and dark, and just about as long, as the day she was born. She's really looking forward to the summer, when we've promised her she can have it shaved into a Mohawk and dyed blue.
This isn't a journey I would have wished on anyone, let alone my children, and comforts can be hard to come by. But seeing how Carolyn has responded to this crisis, how she's met the uncertainty and heartache with a fierce determination to make a positive difference and help others, and how she's steadfastly done what's right even though it's not what others might do or even accept — all this has been an incredible gift.
There comes a point where pride in your child gives way to humility in the face of their courage and strength. Carolyn has long since carried us past that point.
Rebecca passed away on June 7, just hours after turning 6.
You can honor her memory with a donation to childhood cancer research on her memorial page.
In Memory of Rebecca
Read more from parents of children with cancer: