Today Abby turns 9, and for the second year in a row, she's celebrating her birthday in the hospital. Her mom, Patty, reflects on the past year and all the challenges their family has weathered together, from relapse to transplant to today.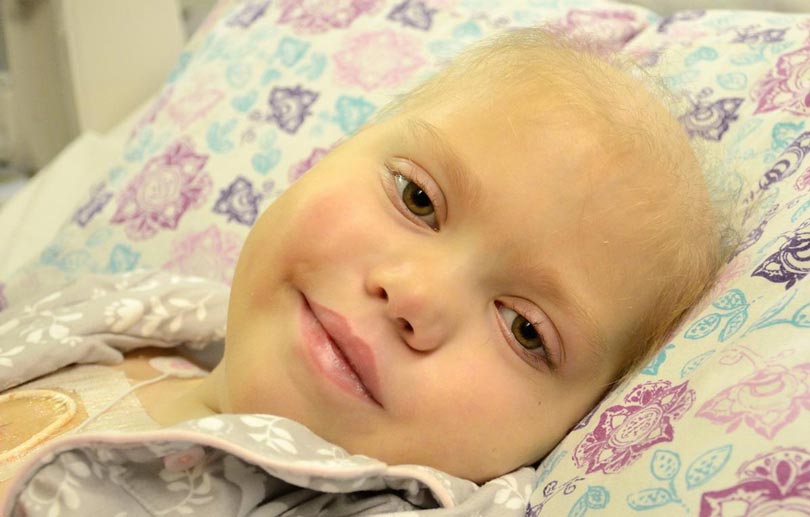 Abby last November, two months after her relapse.
What a year it has been.
Looking back at where we have been, the many states of mind and motions we have experienced … it's enough to make my head spin.
Last September at this time, our family had just settled into a new house. We hit the ground running, all ready for the new school year to begin.
A few weeks into it, our worst nightmare came true. Abby relapsed.
For other cancer families, that fear always looms during and after initial treatment. I wrote about it at length a few years back. Whew. We took a deep breath and knew we were in for a whirlwind.
Abby and her sisters before Abby's relapse.
Abby immediately began chemotherapy at our home hospital, an hour drive from our house. She was inpatient for eight straight weeks. During that time, grandparents came in to help hold the fort down back at our house for our two other kids, while my husband, Joe, and I switched out at the hospital with Abby.
Those weeks got tiring fast, but when your child is fighting for her life, you don't have a choice. You just go. There is no stopping.
Abby's doctors had told us her only shot at a cure would be a bone marrow transplant. Our home hospital did not have a transplant program, so we needed to choose one. We weighed the pros and cons of trying to stay local-ish (the closest choice being 200 miles away) or moving closer to family.
During Abby's first diagnosis of PH+ ALL, we spent some time at Lurie Children's Hospital in Chicago. We knew there was a great transplant program there, doctors knew Abby there, and we had a lot of family close by. All of those factors sealed the deal.
Abby and her sisters celebrated Easter together in the hospital this year.
So in mid-November Abby was transported via air ambulance to Lurie Children's. I flew with Abby in the airplane, and Joe followed a few weeks later with the two other girls. We wanted to make things "seamless" for the other kids, so we waited to move them during their Thanksgiving break.
Abby got away from the hospital to hang out with M on the beach of Lake Michigan.
The move was especially hard on Abby's older sister, "M," who was 10 at the time. Joe is in the Navy, and we had just moved from Washington, D.C., to Virginia due to military job relocation. M had just gotten used to her new school and new friends, and now she had to start over again.
And this time the family wasn't moving all together. We decided M would move in with her grandparents, about 40 minutes from Abby's transplant hospital. We made that decision hoping to keep M's world as consistent as possible. She was able to go to school and participate in activities, all without having to worry which parent would be home and how Abby was feeling.
Yes, it was truly hard to have her apart from us throughout this crucial time where all you want is to hold your children close. But looking back on it, we wouldn't have changed one thing. We talked with M every day. We saw M on weekends and on days off. We knew she was well taken care of. We watched her mature and blossom into a young lady — one whose life didn't revolve around Abby's care, yet whose heart was with Abby every day.
VIDEO: Abby's Childhood Cancer Story >
Throughout those really rough times at transplant, we powered through. We made decisions together, even though we weren't always physically together. It was hard being uprooted from our home, but we had to do what was best for Abby and her care.
Abby's parents took turns staying with Abby at the hospital.
We are now back home in Virginia. We wanted to get the entire family home together under one roof. The Chicago transplant team was ready to "let Abby go" in early August, with the understanding that Abby's transplant care would be transferred to another transplant facility driving distance from home.
St. Baldrick's funds research all over the world to help kids like Abby. Learn more >
Since then there have been more than a few instances where Abby has needed transplant-specific care, and with all the overnight hospital stays this past month, our family has been apart more often than not. Right now, our family is yet again separated, as Abby is inpatient at the hospital.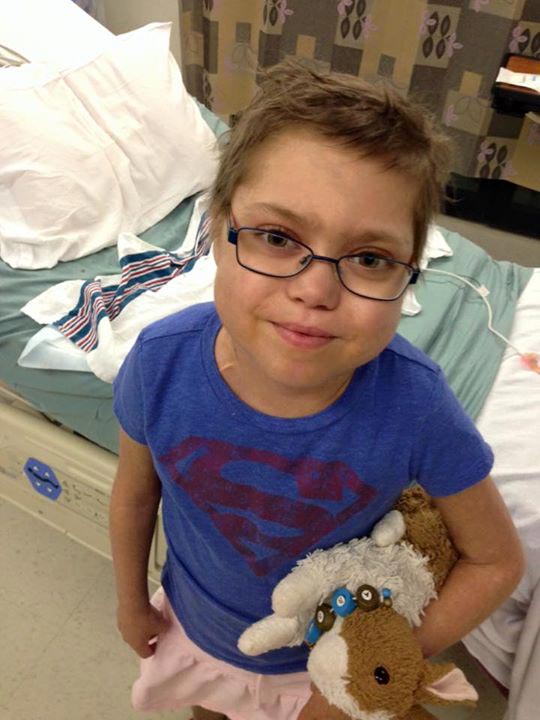 Abby, ever the trooper, smiles for the camera.
But what can we do? We have learned that this is the world of pediatric cancer and transplant. We would do absolutely nothing different, but just continue to power through, use our amazing resources to keep our family going, and get what Abby needs.
Our other daughter, age 4, knows nothing different than this amazing machine of support we have helping take care of us all. But she does remember a time when Abby's first treatment was slowing down. She remembers that Abby. Back in May when looking at a picture of the three of them together, she said in her sweet 4-year-old voice, "Look! That's Abby when she wasn't sick. I really miss her."
Abby's family goofing around when Abby was in remission.
We really do too, sweetheart. And we will get there again.
Our family will keep our eyes on the prize, as this journey is terribly long. But together we stand strong, united, and fight for Abby and our family until that day comes.
Today is Abby's birthday! Show her some birthday love with a donation to the TEAM ABBY Gives Hero Fund.
TEAM ABBY Gives
Read more about Abby: