From the child who donates his piggy bank to help kids with cancer, to the volunteer who matches every gift raised, there are many reasons to be confident that researchers will gain the upper hand against childhood cancer. In honor of Volunteer Week, here's the story of two female volunteers who made an indelible impact on me and showcase why I am constantly amazed, surprised and humbled by St. Baldrick's volunteers…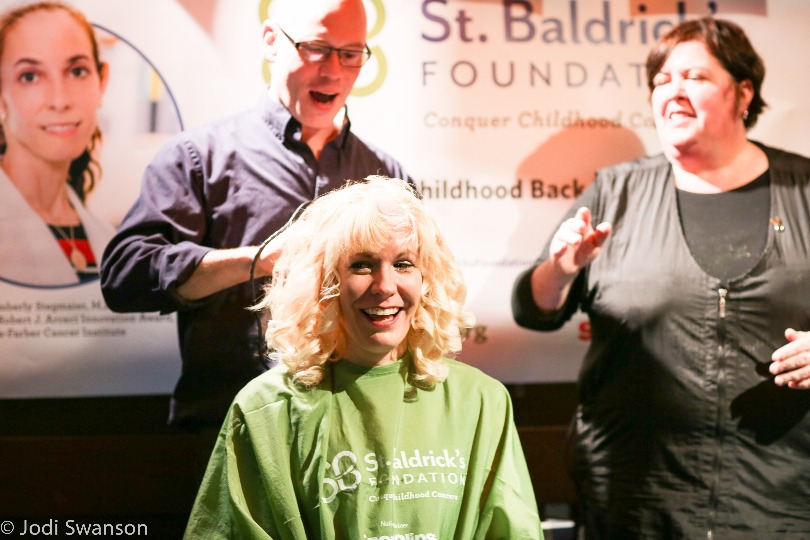 Bride-to-be Corrine goes under the clippers (held by her fiancé) during the Fado head-shaving event in Chicago.
On March 9, 2018 at the Fado Irish Pub head-shaving event in downtown Chicago, I was humbled by two women who defied convention by shaving ahead of one of life's most important events.
On that day, I heard hoots and hollers emanating from the crowd near the stage. My attention piqued, I caught sight of two women being shaved. Women who shave draw a lot of attention, and I knew these beauties would be no exception, they would in effect, become walking billboards for the cause – on top of what they had already raised. I felt so grateful and proud that more women were making the sacrifice.
When I met them minutes later, I was speechless when I learned why they shaved.
Instead of the traditional bridal shower, bride-to-be Corinne shaved her head and invited her would-be shower guests to celebrate her shave instead.  She dedicated this shave to her late mother, Colleen, who passed away two years ago.  Colleen was a pediatric oncology nurse and as Corinne explained, "Nothing was more important to my mom than the health and well-being of her patients. Shaving in her memory is my way of including mom in my wedding."
Corinne and her fiancé, Tim, will be married in May. When I asked him how he felt about Corinne's 'Bridal Shave,' he said, "At first I thought it was a brave thing to do. Now that I see her bald, she's even more beautiful."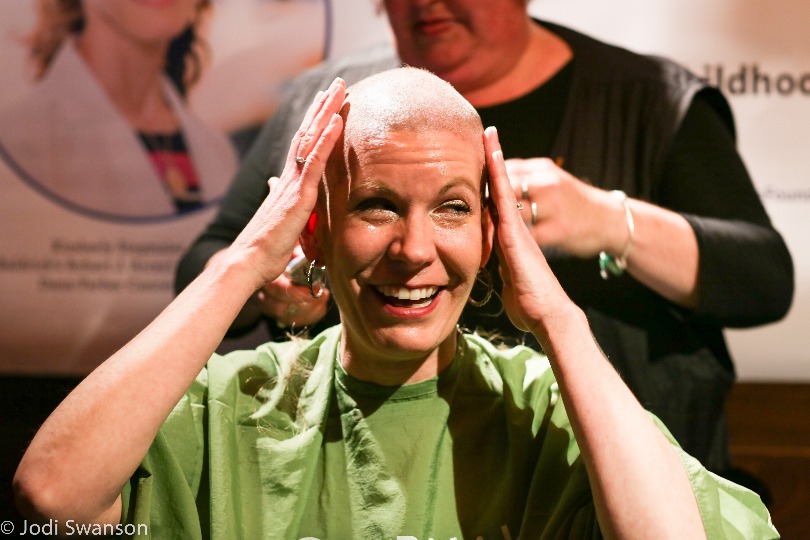 The emotion of the moment takes over as Corrine touches her newly bald head.
Tears flowed as Corinne's circle of friends watched her shave, and the tears flowed again as her close friend Antonnette shaved with her.
Prior to Corinne losing her Mom, Antonnette lost her younger brother to cancer. For Antonnette, besides watching him endure the ravages of chemo,  the hardest part was being unable to escape the visual reminder of his illness – his loss of hair. Later, friends lost their son Vinny to cancer. Vinny is a St. Baldrick's Honored Kid, and the family is a huge supporter of St. Baldrick's.
When Corinne decided to shave, Antonnette realized she could too. She was honored to support the bride-to-be, who had been there for her during challenging times when her twins were born.
"Corinne was there with me, helping me through labor, and being the first to hold my daughter," she said. "I am so grateful she was there for us, and there's no better way to show that than to help provide a healthy future for other kids."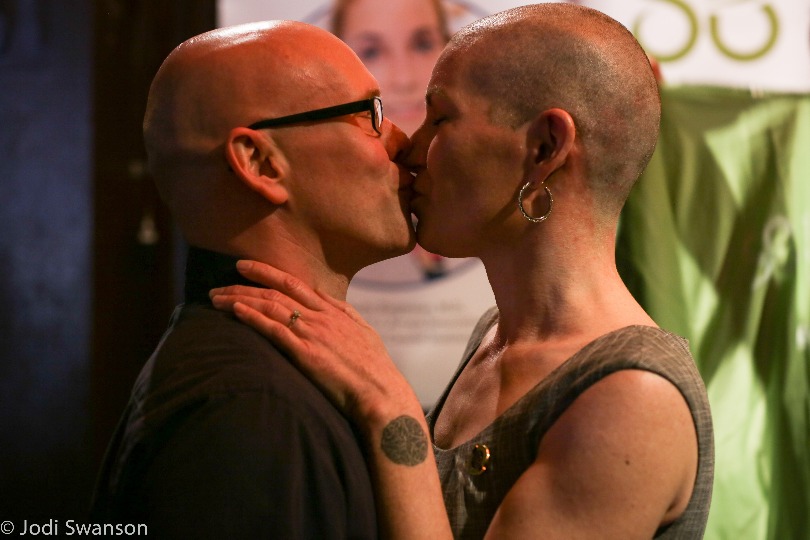 Tim kisses a newly bald Corrine after her shave for kids with cancer.
As Corinne presented me with a screamingly delicious 'Bridal Shave' cupcake, I felt drawn into their circle of love and compassion. Not a single eye was dry, and even interlopers like me were welcomed like an old friend. I wondered if I could ever have such courage to shave before my wedding, and while I'd like to think I would, I don't think the idea would ever have occurred to me. These women are remarkable superwomen, who redefine beauty, confidence, women's liberation and so much more.
Imagine how much could be accomplished in the world, if we all thought as creatively, and acted so bravely. Corinne and Antonnette, we shower you with love, and thanks. Happy Volunteer Week.
Inspired? Get involved and help take childhood back from cancer!
Get Involved
Read more on the St. Baldrick's blog: