When it came time to shave off her dark bob for kids' cancer research, IBM executive Diana Kelley didn't give it a second thought. Neither did her tech company colleagues. In fact, they cheered her on! Read on for more about Diana and why she shaved for childhood cancer research. (And heads up, St. Baldrick's will be introducing a new campaign called Tech Conquers Childhood Cancer — a global initiative that unites tech companies worldwide to raise funds for childhood cancer research. Stay tuned!)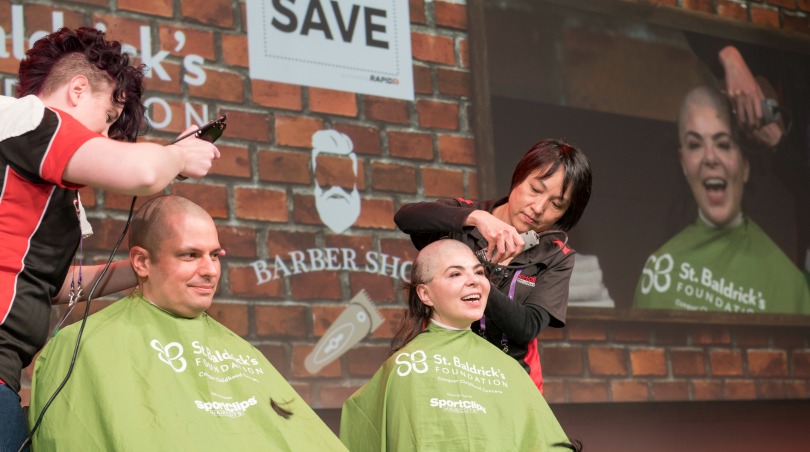 Diana shaves alongside her partner at a global information security conference last month in San Francisco.
As a global security executive at IBM, Diana Kelley is used to making big decisions.
When she learned about St. Baldrick's, the question of whether to shave her head to raise money for childhood cancer research wasn't much of a question at all.
As decisions go, it was a piece of cake.
What happens when two CEOs go head-to-head to raise money for kids' cancer research? Find out here >
"I understand that part of these fundraisers and part of raising awareness is to do something that's a little bit bold — that not every body would do," she said.
Childhood cancer is also a cause that's close to Diana's heart. She has a friend who's the parent of a child fighting a rare cancer and she's passionate about funding research that could save that young life and many others.
"If you can cure a child who gets cancer at 2 years old or 4 years old, that is a huge win. Then they have their whole life to go and live," Diana said.
But when was the perfect time to shave? At a big conference about information security, of course.
In February, at the RSA Conference in San Francisco, Diana went bald for kids' cancer research, alongside her partner and other information security professionals.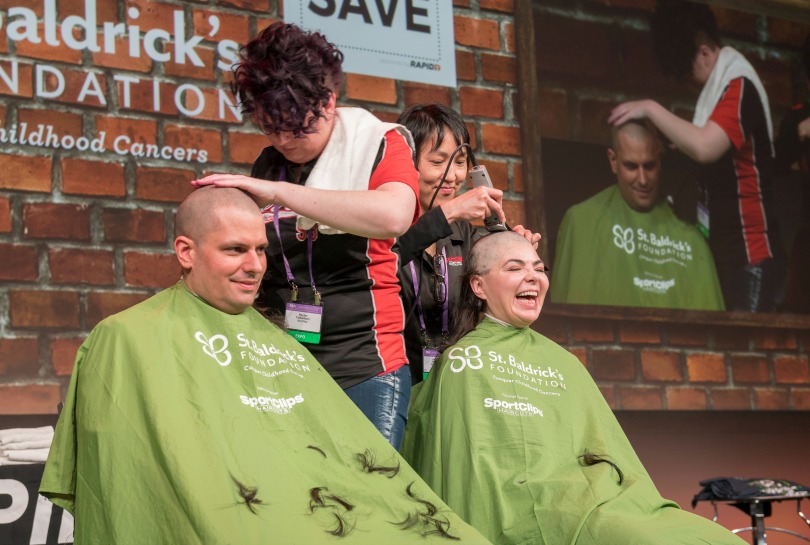 Diana smiles during her shave as her teammates cheer her on.
The atmosphere was festive, and a team of colleagues from IBM cheered her on. There was a little teasing, but all in good fun.
"I wasn't scared. I wasn't worried," she said about sitting in the barber's chair. "It was really fun."
(As Diana says, "Everybody is more than their hair. All of us.")
The head-shaving event at the conference raised almost $25,000 for childhood cancer research, with Diana's team — the Harbor Homebodies — pulling in about $6,000.
How'd they do it? Diana's got some advice.
First, make your request for donations personal.
Second, shaving isn't about getting a haircut — it's about raising crucial funds for kids' cancer research. One tactic Diana suggests is to say you won't shave your head if you don't reach your fundraising goal.
Want to boost your fundraising or giving? Harness the power of your company's matching gifts >
"If you're going into it, understand that it's not just the shaving, that the really important part is getting people to donate," Diana said. "So, try to use that shave to encourage people to give the donation."
Lastly, some of the most generous donations might come from unexpected places or people.
"I was surprised there were people who made very generous donations that I did not expect. You see into some people's hearts as you do it, which is really kind of a neat experience," she said.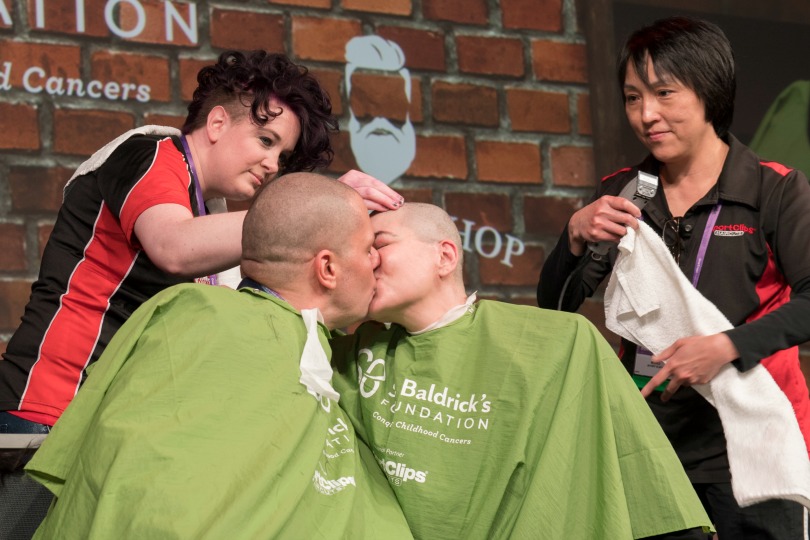 Diana gives her partner a smooch after shaving with St. Baldrick's.
All in all, the shave was a heartwarming experience for the information security executive, and totally worth it.
"We took a team picture and there was just this really good energy in the room — knowing that we were doing something good," Diana said. "That whole thing about it's better to give than to receive, that was really the vibe."
Give back while having fun! Register a St. Baldrick's event and get your company involved today.
Start an Event
Become a Corporate Partner
Read more on the St. Baldrick's blog: