Honored Kid Luke was just 3 years old when an MRI scan revealed a large tumor in his brain. When Luke passed away seven months later, his parents chose to honor Luke by starting a Hero Fund in his name — and they've been working hard to help fund childhood cancer research ever since. This fall, they got to see first-hand how their hard work is paying off. Luke's dad, Scott, tells the story.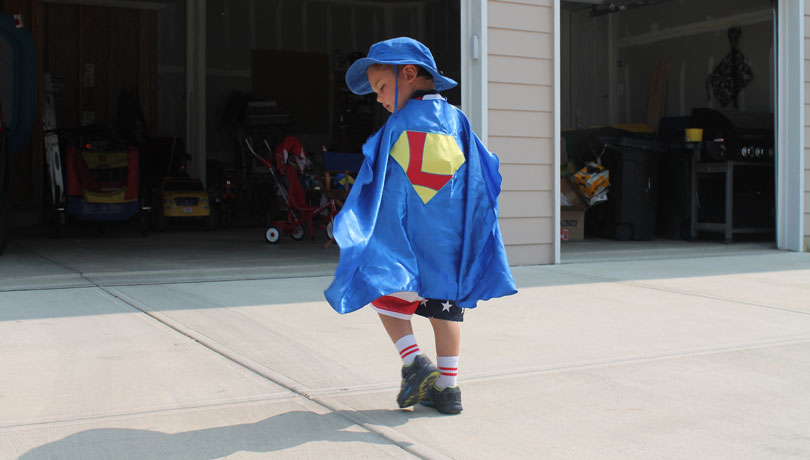 You can learn more about Luke's Army by visiting his Hero Fund.
This is a story about love.
A story about joy and happiness, fear and anger and sadness — about faith and, ultimately, hope.
This story begins with one tiny drop of water in the vast ocean of life.
February 7, 2012 — the best and happiest day of my life. The day that Luke Stephen Ungerer entered the world and made me a Dad.
He captured our hearts from his very first breath. Full of energy, full of passion — our son was so full of life.
His smile was bright and contagious, instantly turning a bad day into a good one. His deep belly laugh was intoxicating, causing you to laugh without effort and without ending. And his full head of hair was beautiful.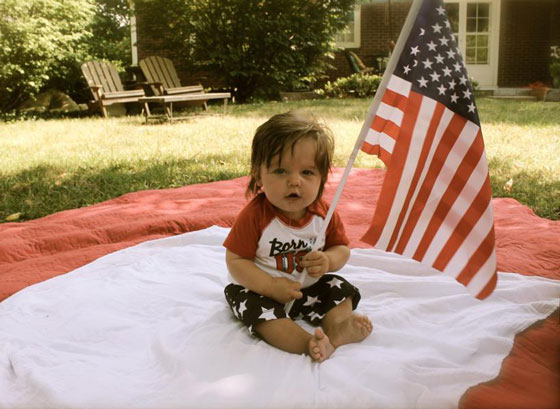 Luke gets festive for the 4th of July.
He was strong, athletic, smart, and funny, and he had a knack for making people around him feel good.
Luke was a constant source of joy and happiness for my wife Sheila and me. He was a great son, an incredible grandson, and an amazing big brother. A parent could not have imagined a better child.
Out of the clear, blue sky arrived the most brutal, unimaginable storm.
Shortly after his third birthday — a fun, exciting day spent at a local fire station — Luke had a seizure.
He had been perfectly healthy until that point in his life, and we were completely caught off guard and left grasping for answers.
A couple months went by. Despite multiple hospitalizations and medications, the seizures would not go away.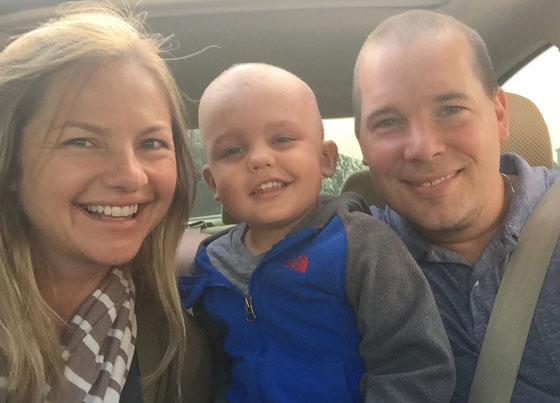 Luke and his parents snap a quick selfie.
On June 4 2015, an MRI revealed a large tumor in Luke's brain that had grown dramatically in two and a half months.
Imagine holding your child in a doctor's office, thinking that you are finally about to hear some potentially good news, and instead hearing the word "tumor" and your child's name in the same sentence. Imagine.
No child should know the word cancer. Make a donation in Luke's memory >
What this meant for Luke was an 11 hour brain surgery one week later, followed by 32 rounds of proton radiation under general anesthesia over 8 weeks, followed by two additional rounds of intense chemotherapy.
His energy? Zapped. His athleticism? Stolen from him. His hair? Gone.
For much of that time, Luke did not feel good — and who would after all that? But he continued to smile. He continued to laugh.
Through it all, every single moment, Luke continued to live.
And he inspired us to keep moving forward with him. After witnessing my brave boy's attitude through all of it, I am unafraid of anything that this life has to throw at me.
I miss my best buddy. I miss my Luke.
Luke passed away in January 2016, just a few weeks shy of his 4th birthday.
Luke smiles wide while washing his hair in the bath.
After several discussions with Luke's physicians and through our own research, we connected with St. Baldrick's to set up a Hero Fund in Luke's memory.
Our goal was two-fold.
First, we wanted to have St. Baldrick's serve as a lasting link to Luke's legacy and spirit.
We also wanted to continue to support the thousands of children and families still fighting the battle, or not knowing of the storm that is approaching.
Learn more about St. Baldrick's and the National Brain Tumor Society >
So many people helped us when Luke was sick, and continue to help us today. There are many more out there who need our help now.
St. Baldrick's helped us spread Luke's story while raising awareness and funds for childhood cancer. Over $200,000 has been raised in Luke's memory in the past year — and $100,000 of that has helped fund a grant for Dr. Adam Green in Denver, Colorado.
I had the privilege of meeting Dr. Green and his team of researchers back in November. To describe them as kind, caring, genuine, committed, and incredibly intelligent people would be a drastic understatement.
They were simply remarkable.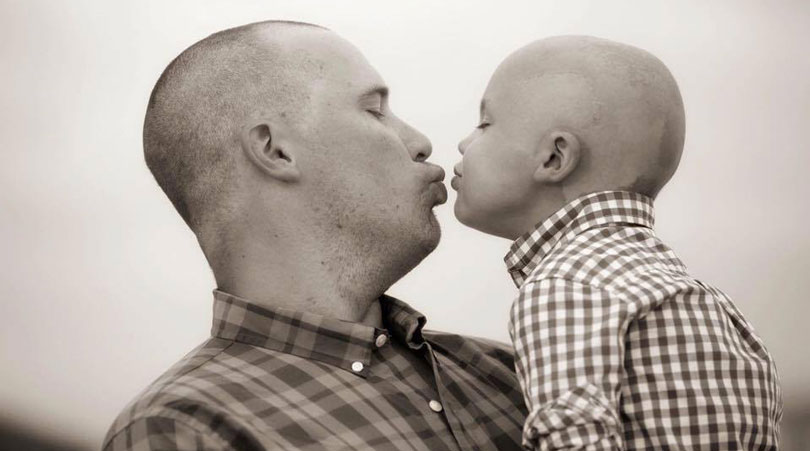 Luke and Scott make kissy-faces for the camera.
While I was at their lab, I got to take a look at some glioblastoma multiforme (GBM) cancer cells under a microscope.
GBM was the main tumor that Luke had. Looking at those cancer cells was brutal and sad yet hopeful all at the same time. Adam spent a couple hours walking me through the progress they have made studying high-grade gliomas, as well as some new projects they are hoping to get started on soon.
Meeting Dr. Green and getting the chance to hear his perspective on all things pediatric cancer was an amazing experience. It truly reinforced that we are funding a great team, and I am confident that they are closer than ever to finding a cure.
Learn more about innovative childhood brain cancer research >
But there was one moment of the tour I'll never forget.
When Adam and I walked into his office, I noticed how clean and organized it was — not many papers or photographs.
In fact, the only photo that he did have next to his computer was of Luke.
Every single day, he sees my son when he walks into his office. Every single day, he is reminded who he is fighting for.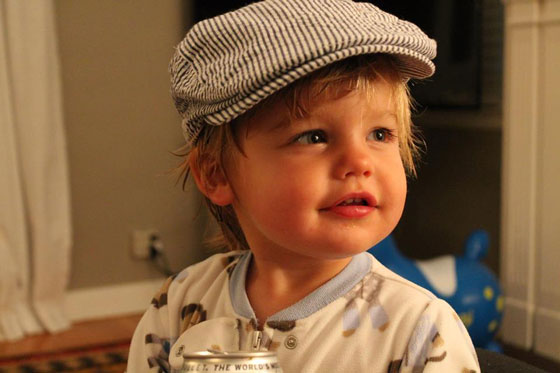 Luke caught in a candid moment on camera.
So, why do I support St. Baldrick's? Because of the countless brilliant minds like Dr. Adam Green who are devoting their lives to stopping this devastating opponent dead in its tracks. They know the end goal.
They all know who they are fighting for.
Join the fight for kids like Luke. Give now to help fund lifesaving childhood cancer research.

Give
Read more on the St. Baldrick's blog: