World Cancer Day is here! But today's story isn't about cancer — it's about a kid named Carter. Today we're celebrating his positivity in the face of childhood cancer, and his desire to conquer it once and for all.
On the outside, you would think Carter was like any other 10-year-old boy.
He is smiley, cheerful and lively. He loves to use his imagination to create new things with Legos and wood working. Writing, math and science come easily to him. Team sports and play practice — he does it all.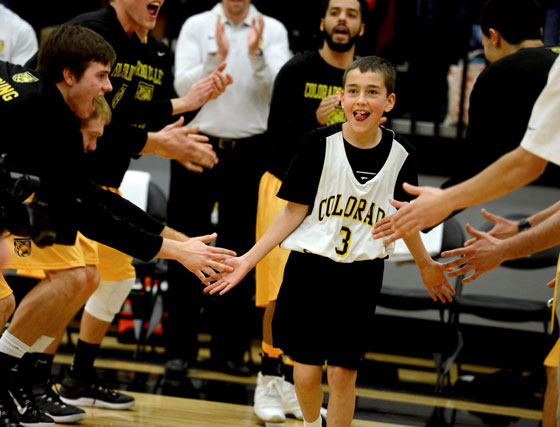 Carter loves spending time with the Colorado College basketball team.
You probably wouldn't guess that Carter has T-cell acute lymphoblastic leukemia (ALL).
He was diagnosed on April 30, 2013. Since then, he's had countless needles, chemotherapy rounds and hospital visits. His treatment has caused chronic pain in his thighs and lower back so bad that sometimes he can't walk.
Yet Carter is still just like any other kid his age: goofy, energetic and passionate.
"He is like a ray of sunshine," Kelly, Carter's mom, said. "He's always smiling, bubbly and fun to be around."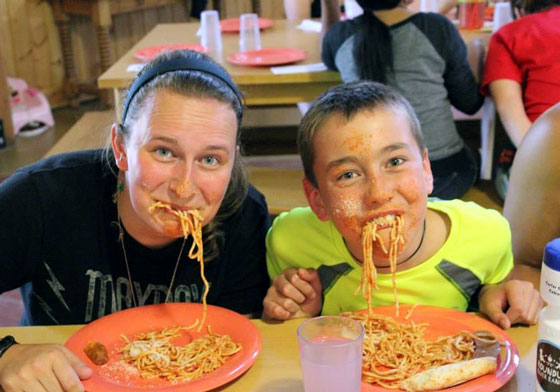 Carter being goofy with his camp counselor, Maria.
He may have cancer, but he still smiles — a smile so contagious, you can't help but smile with him!
"I say that attitude is everything," Carter explained. "Either way I'm going to have [cancer], so I can either make it positive or negative."
For Carter, his cancer is not a reason to let life pass him by. Life definitely has its tough moments, but Carter sees his childhood cancer experience as an opportunity to be a voice and a light — or a glow stick.
After all, that's where the family's St. Baldrick's team name, "Glowstick's Revenge," came from. Carter was dubbed "Glowstick" by a group of camp counselors because of his bright personality and love for neon colors.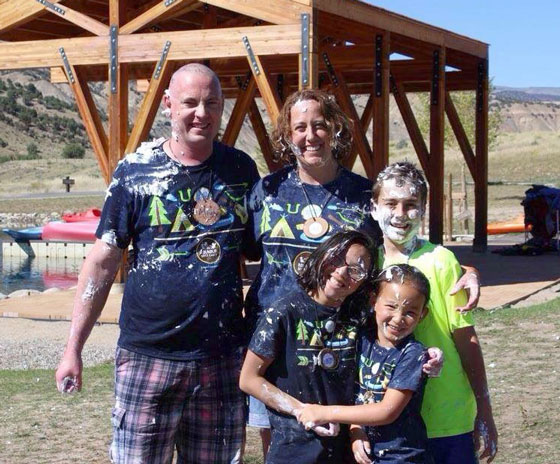 Carter and his family have a paint war while enjoying the outdoors of Colorado.
Raising money for childhood cancer research is one way that Carter is making a difference. But he doesn't plan on stopping there.
"I want to be an oncology nurse when I grow up," he said, "because of my own personal experience."
Learn how St. Baldrick's teams with pediatric oncologists >
But Carter knows he doesn't have to wait until he's a grownup to help other kids with cancer. He does it every day with his glowing personality and encouraging words.
He has one message for anyone battling cancer: "Attitude is everything. You are a warrior and a trooper, and you can get through this."
Carter's treatment for ALL ends in September, and he couldn't be more excited. He plans on throwing a huge barbeque with his friends and making a "cancer creature" piñata to hit — the perfect symbol of conquering his cancer!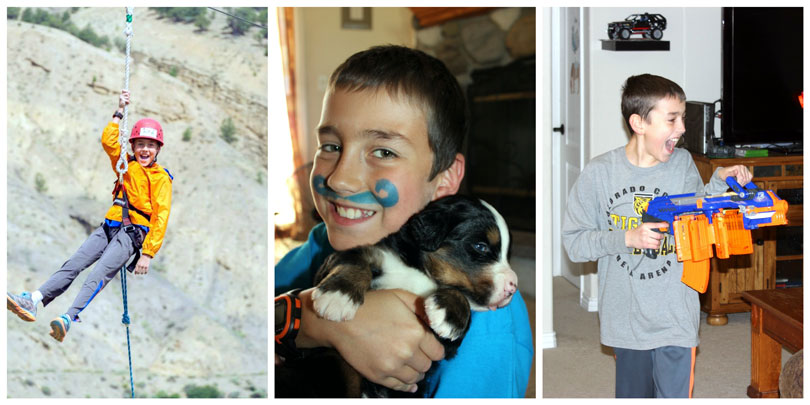 Carter embraces the goofy and wild side of childhood.
Just like Carter, you can speak up and be a voice for kids with cancer. World Cancer Day is just one day. But every day you have the power to impact kids like Carter for the rest of their lives by funding lifesaving research.
Help kids like Carter continue being kids. This World Cancer Day, join our team in conquering childhood cancer once and for all.
Get Involved
Read more on the St. Baldrick's blog: