Kris, a St. Baldrick's Foundation volunteer, shavee℠ and the mother of a childhood cancer survivor, shares memories of Christmases past and present, and a shaving experience she'll never forget.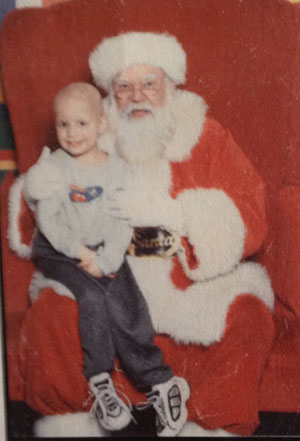 Kris' son Will, who was diagnosed with a rare childhood cancer at the age of 4, sat on Santa's lap during a break from the hospital.
Three weeks ago, I made a return to the city of Boston. I had only been there once before, this past summer when I shaved my head with my fellow 46 Mommas for the very first time.
It had been a quick trip, I hadn't had the opportunity the explore the sights and sounds of the city, so I was so thrilled to have this second opportunity to take a look at Boston.
Even though there were so many historical sights I was anxious to visit, my very first stop was to the Prudential Center, a shopping mall located at the base of the Prudential Tower. My intended destination was a small alcove located directly across from the post office — the exact location where I joined my fellow 2014 46 Mommas Shave for the Brave cancer moms this past July as we shaved our heads to raise funds for the St. Baldrick's Foundation.
I walked briskly through the mall, barely able to contain my excitement. I could not wait to stand in the very same spot I sat just those few months ago and re-live one of the most profound moments of my life.
Only, when I got there, I came face-to-face with a cordoned off area that had been transformed into a veritable winter wonderland — a place that would soon house Santa Claus and the countless children who would flock to him in an effort to make their greatest holiday wishes come to life.
As I stared at the small, empty couch amid the seasonal splendor, I felt a lump form in my throat as bittersweet memories of a Santa's visit 12 years ago flooded my senses, nearly bringing me to my knees.
I could remember arriving at our local mall before it opened, clutching my little boy tightly in my arms. His counts were low, so he was wearing a mask. I dashed through the mall in the hopes of getting to Santa Claus before any other children because we had already traded Thanksgiving to keep him out of the hospital for Christmas.
My son was so excited as we reached Santa. I didn't need to take his mask off to know he was smiling because I could see it in his eyes. He could hardly wait to tell Santa all of his Christmas wishes. And so I carefully removed his mask, sat him in Santa's lap, stepped back, and listened to him recite all the goodies he wanted to find under the tree on Christmas morning.
As I sat there clutching his little mask, it was all I could do to keep from crying because at no point during his highly animated conversation with Santa did my 4-year-old son ask for the chance to survive his cancer.
Because he wasn't even old enough to understand that he could die.
And yet it was a reality I had to face each day since hearing the words "Your child has cancer."
It was more than I could handle, so that moment became forever etched in my brain, carefully placed in a dark corner where I store the things I know I am not strong enough to reconcile on my own.
Yet there it was again, flooding all around me as I stood outside the perimeter of an area I had so recently sought refuge in.
I felt so lost.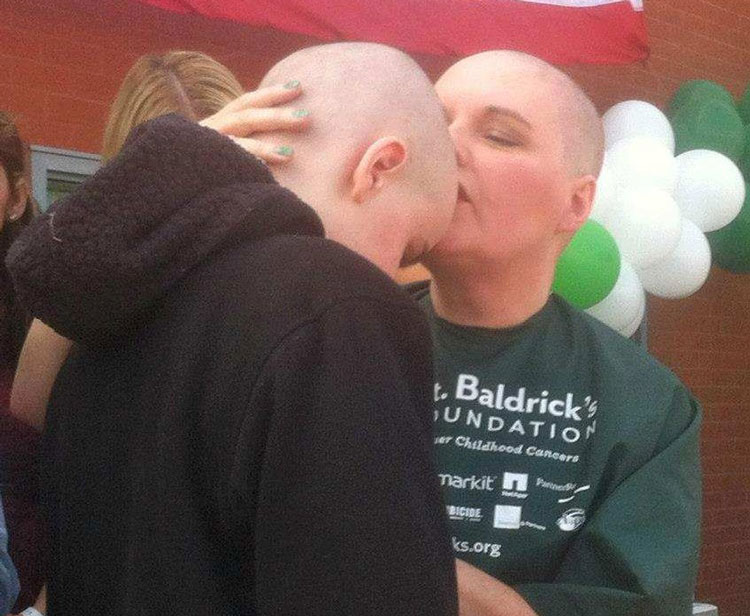 Kris kisses her son Will after she braved the shave.
I wanted so desperately to return to that day in July when I ceased to exist as a broken person and made the transformation into a warrior Momma.
And so I closed my eyes and remembered.
I remembered that even though I walked into that alcove alone, I became to understand, in the amount of time it took to take my place at my stool, that I would never be alone again.
Read more about Kris' experience with the 46 Mommas.
I remembered that although we had all been rendered powerless at the hands of a vicious disease, by the time our hair hit the floor, we weren't powerless anymore.
I remembered how we banded together — standing there, in that alcove, bald and exposed — united in our wish to gift future generations of children with a cancer-free existence.
And then I remembered the strength and courage I came to know on that day, at the hands of some of the most incredible women I had ever met in my life.
Suddenly I realized I didn't need to stand in any one particular spot to remember what it felt like to be whole, because those broken pieces I arrived with in July had already been replaced by the fellowship I gained on that one incredibly amazing day.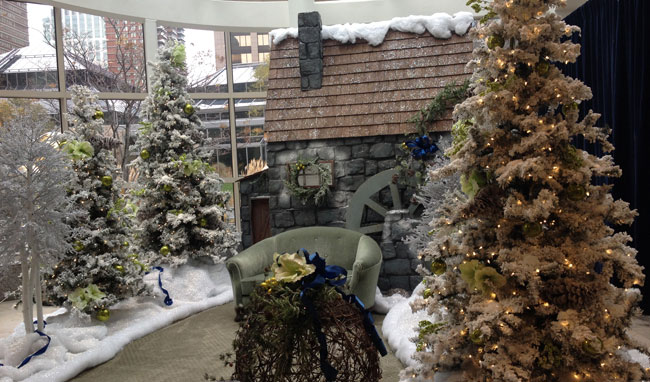 The spot in Boston where Kris had shaved in July had been transformed into a festive wonderland fit for Santa by the time she visited again in the winter.
When I opened my eyes, I took one last look at Santa's empty couch and thought about all the kids that would soon be standing there anxiously awaiting their moment to share all their secret Christmas wishes.
And then, right before I left, I whispered one of my own.
Give the gift that keeps on giving. Invest in lifesaving childhood cancer research.
Give
Read more stories from the St. Baldrick's blog: