In 2013, St. Baldrick's shavee℠ Sherrie Albrecht pushed her fundraising to the next level. For about 18 months, Sherrie stayed bald to raise money for childhood cancer research. Inspired by Sherrie's example? Be a shavee.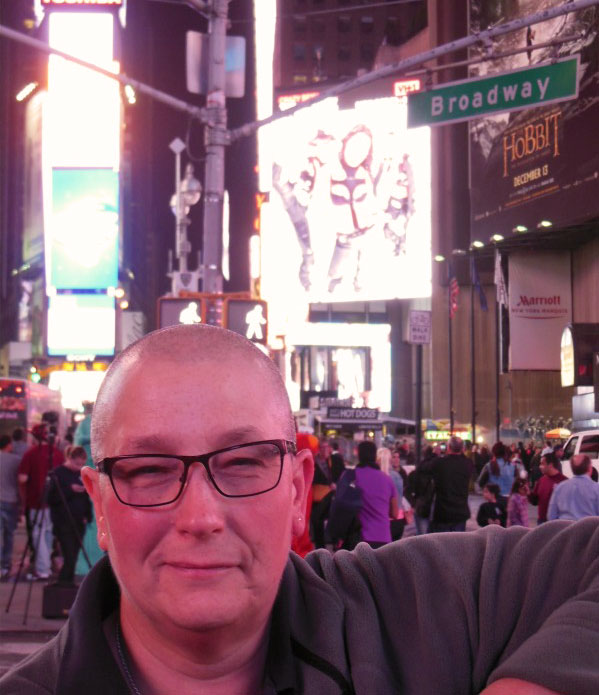 Sherrie in New York.
For nearly a year and a half,
Sherrie Albrecht
and her bald head stood out like a beacon. Whether swathed in a hat pinned with an "Ask Me Why I'm Bald" button, or on full display, her baldness was a conversation starter.
"It certainly gets people's attention and it certainly gave me a platform to talk about St. Baldrick's," she said.
Sherrie has been shaving since March 2010, after being inspired by a news report on a St. Baldrick's event in her town of Madison, Wisconsin. But in 2013, she decided to take it to the next level. Her husband of nearly 40 years dared her to stay bald after she shaved — and she did.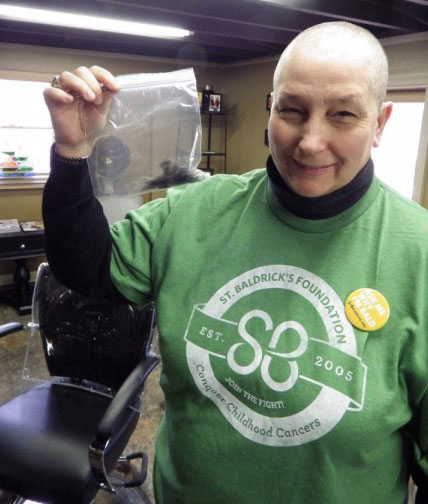 Sherrie first braved the shave at her local salon, then continued shaving and kept her head bald for a year and a half as a St. Baldrick's fundraiser.
During those 18 months without so much as fuzz, Sherrie raised almost $20,000 for childhood cancer research and an equally large amount of awareness. (Plus, she amassed an impressive collection of hats.)
Sherrie is shaving again in March! Donate to her page.
Sherrie is a pastor, so she's accustomed to talking with people about their lives and their troubles. However, something about her being bald made it different.
"…There's something about having no hair that makes a person more vulnerable I think," she said. "And I heard way more from people I didn't know. Total strangers would talk to me. I'm amazed at how many people have children or grandchildren or nieces, nephews, friends, neighbors, classmates who have had some kind of experience with childhood cancer."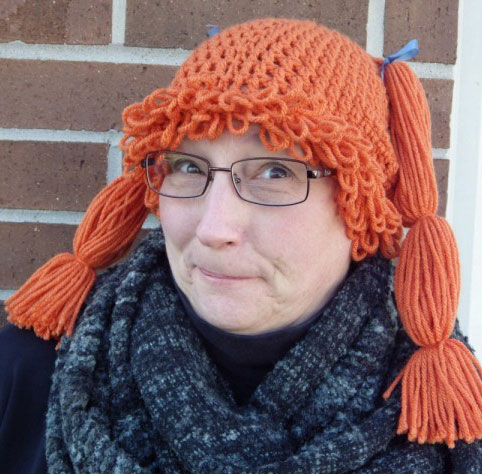 Sherrie sports her custom-made Cabbage Patch Doll hat.
In that time, she traveled extensively. She went on a cruise to Alaska and visited the East Coast to admire the fall colors. She answered questions all the while and passed out informational cards about St. Baldrick's, while wearing her "Ask Me Why I'm Bald" button. The button opened a lot of doors, she said, and led to some funny interactions.
"I had one woman walk up to me and look at the button and say, 'Ask me why I'm bald.' Of course, she had hair and I looked at her and said, 'You're bald too?!'"
Part of what makes the childhood cancer cause so special to Sherrie is her nephew. When she shaved, he was also bald and in treatment for leukemia. He passed away from the disease when he was 53 years old, but in her mind's eye he's still that kid nephew.
"When we conquer children's cancer, we do a lot more than just conquer children's cancer," she said. "It's a doorway to curing all kinds of cancer. Hopefully we get that scourge off the face of the Earth."
Conquer childhood cancer alongside Sherrie. Help her reach her fundraising goal.
Donate
Read more stories from the St. Baldrick's blog: