Find a NetApp employee-led event near you, donate, or get involved!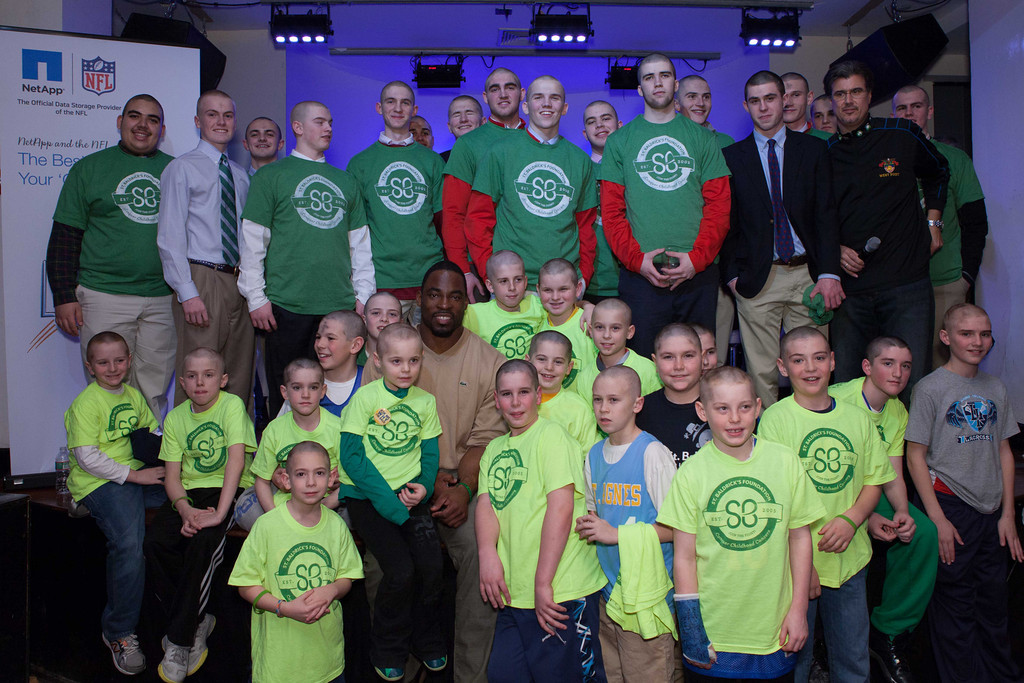 Shavees, including NFL player Justin Tuck, at a NetApp event on March 5.
2014 represents the eighth consecutive year that NetApp employees have embraced the St. Baldrick's mission to
Conquer Childhood Cancers
, raising money and awareness by shaving their heads for
children's cancer research
. Last year was the fourth year that NetApp was the top fundraising
corporate partner
of the Foundation, raising more than $1.4 million in 2013 alone.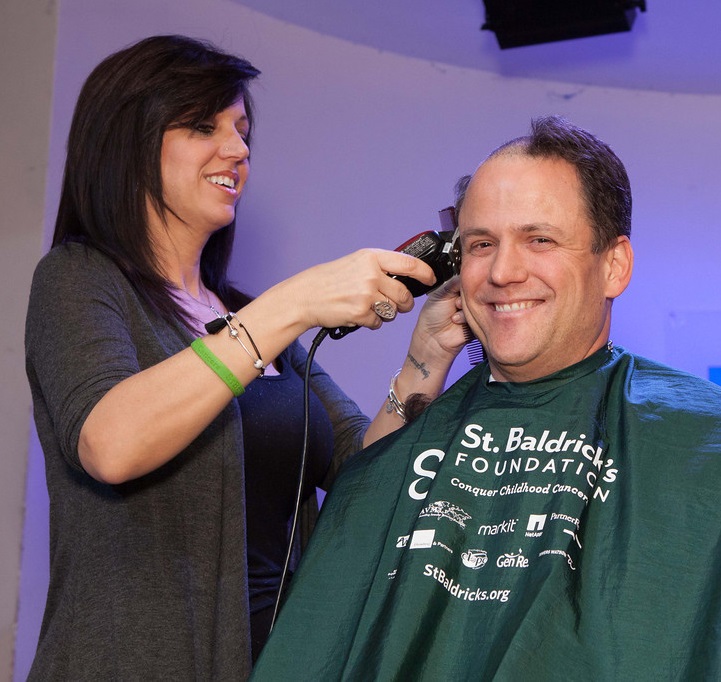 A NetApp employee gets his head shaved to fight kids' cancer.
Since 2007, NetApp employees worldwide have raised over $5 million for St. Baldrick's, and with only two events under their belt in 2014, they have already raised more than half a million dollars!
In 2007, St. Baldrick's cofounder John Bender invited Bill Hogan, NetApp Vice President and General Manager of Americas East, and Joey Santamorena, NetApp Senior Director of Americas Mid-Market and Inside Sales, to participate in a St. Baldrick's head-shaving event. After learning about the mission of the Foundation and the lack of funding for childhood cancer research, they knew they could harness the company's generous volunteer program – which allows employees five volunteer days each year to use to benefit a charity of their choice – to make a difference in the lives of kids with cancer.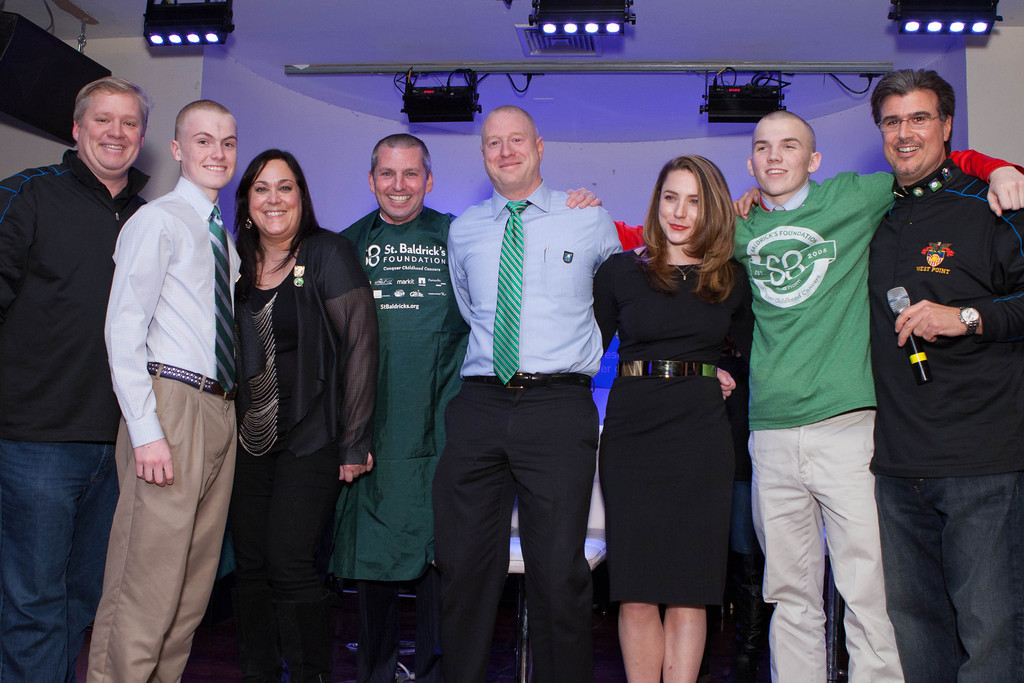 Several NetApp Knights of the Bald Table, including Bill Hogan (far left) and Joey Santamorena (far right).
"The contributions of our individuals worldwide characterize NetApp's culture and collective consciousness. Our involvement with St. Baldrick's represents just one example of employees taking advantage of the volunteer program to produce tangible results and help others in a big way," Bill says.
And so they started "Bill & Joey's Excellent Shaving Adventure," inviting colleagues, business partners, and family members to join their "adventure" to help cure childhood cancer.
Justin Tuck, right, prepares to arm wrestle a Regis High School student at a St. Baldrick's event.
NetApp Chairman Tom Mendoza embraced the mission, inviting fellow Notre Dame alumni Justin Tuck and Ryan Grant to get involved. Both of these Super Bowl champions have participated in St. Baldrick's events as
shavees
and celebrity barbers, generously donating their time and money to the cause.
Since that first event in 2007, NetApp employees around the world have been inspired to start their own St. Baldrick's events, with more than 25 offices worldwide hosting events and shaving more than 2,200 heads!
Employees have even inspired their children's schools to get involved. Bill's son, Liam, led Regis High School to play in the 2014 New York City Basketball Championship with more than half the team bald!
NetApp has taken St. Baldrick's to Times Square and the Nasdaq to ring the stock market opening or closing bells for several years. This year, Bill, Liam, and John Bender had the honor of ringing the closing bell on March 7.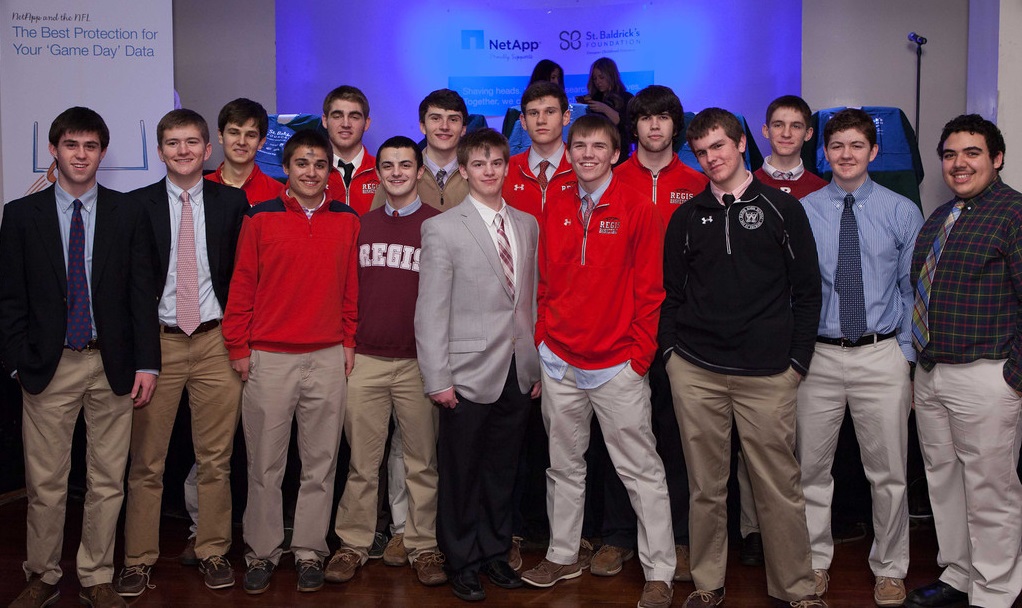 Team Regis Class of '15 before shaving their heads.
"The passion, commitment and enthusiasm that NetApp's employees have brought to the mission is nothing less than inspiring," says Heather Kash, senior director of corporate relations and risk management at St. Baldrick's. "We are fortunate that NetApp's culture of volunteerism has allowed their employees to make such a difference in the lives of kids with cancer!"
Stay tuned to see how far NetApp's efforts reach in 2014!
Visit the NetApp campaign page to find a NetApp employee-led head-shaving event in your area.
NETAPP
Read more stories on the St. Baldrick's blog: