After 14 months of fighting an aggressive pediatric brain cancer called atypical teratoid rhabdoid tumor (ATRT), Chase was in remission. He finished chemo last October and finally had his port removed in June. Then, last month, Chase's family received some unwelcome news. His mom, Ellie, shares this update.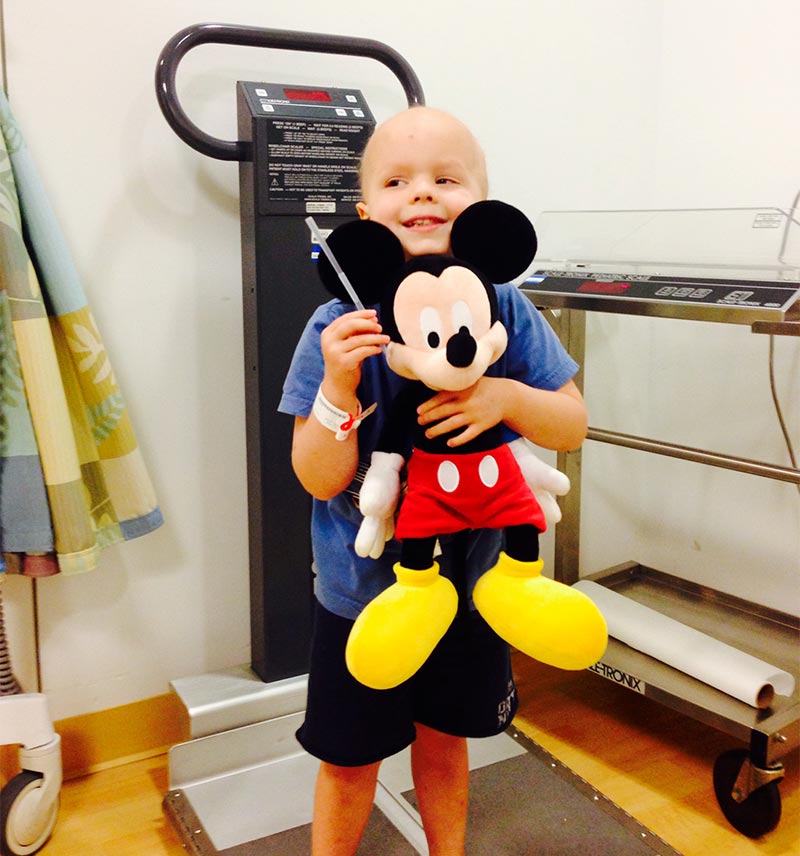 Chase in the clinic.
"His spine looks clear and overall, his brain looks amazing, but …"
But.  How that one little word changes the tone. Chase's attending neuro-oncologist's voice never wavered as he went on to tell us that for the first time since a January Thursday in 2013, Chase's MRI is not clear.
There are several small growths in and around the original tumor site.
They were not there three months ago.
He emphasized that the growths are small, but they've grown in a fairly short time span and there appears to be a cyst-like quality to them.
Chase's initial baseball-sized tumor had a cyst-like quality, too.
We've been told that there is cause for concern, but not necessarily for alarm. Something growing where nothing should grow is not a good thing, but there is a slight chance that these small growths may be delayed side effects from his days in the radiation center.
So after meeting with Chase's doctors to discuss our options and a plan of care for Chase, we decided that we will wait.
After hours of talking, you see, it comes down to this: If these new growths — these surprisingly small growths — are somehow, against-all-odds an effect of radiation, there is nothing they need to do now. Chase seems to be well and unaffected.
However, if the new and tiny growths are cancer cells, there is nothing that can be done right now that will stop them from growing and taking over. There might be clinical trials and research and options that may grant us a little more time, but all that has been known to cure this vicious disease has already been used to help Chase.
With this in mind, we could open his head now. We could request a biopsy or even a full-on brain surgery to know which awful we face, but for now, with heavy yet peaceful hearts, we will not.
You see, each family feels differently and chooses differently, but for my husband and me, we made a promise back in 2012 to do things for Chase and not to him. To open his head now would reintroduce dormant risks to him and would only serve to answer our questions, not save Chase's life.
How desperately we want those answers! The thought of waiting eight whole weeks to know is gut-wrenching.
Chase and his dad in the hospital.
We find ourselves constantly moving back and forth between "How foolish we'll feel when it turns out to be nothing!" and "How could it possibly be anything but this cancer attacking again?" We wait under the shadow of the knowledge that eight weeks from now, we could have to face the unthinkable.
And all of a sudden, I'm thinking of the swing set I wish we had, and the vacation we never took, and a hundred other little, inconsequential things I wish to cram into a time that is suddenly moving way, way too fast.
And yet, it could be nothing. This is our hope, even though we've been told it's an unlikely one.
We were encouraged to invest in Chase's quality of life. To make the most of this time. To do the things we've wanted to do.
And yet, the truth is that we should be doing those things all the time anyway, whether it's doctors' orders or not. We're all terminal and all we have is our today in front of us.
And so, our family waits. Our questions are not yet laid to rest, our answer are not yet known, and the next eight weeks may well be some of the most excruciating to date, but we have today and we have Chase and we will walk through whatever eight weeks and beyond brings to us, moment by moment.
See how you can help while families like Chase's wait to face the unthinkable.
Read more on the St. Baldrick's blog: