Join St. Baldrick's advocacy network, Speak Up for Kids' Cancer.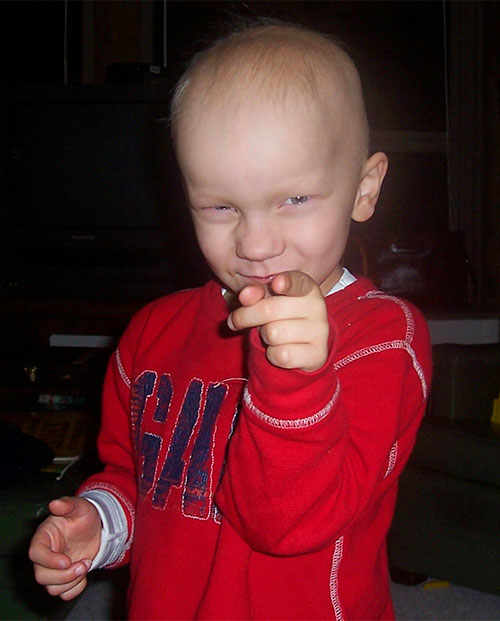 How will you be an advocate for kids with cancer? Danielle draws her inspiration from her son Mason, who died from a pediatric brain tumor at age 5.
Webster's dictionary defines advocacy as "the act or process of supporting a cause or proposal."
For all of us supporting children with cancer and their families, advocacy is personal. Perhaps you became a champion for childhood cancer because it impacted your child or someone in your family. Maybe you became involved because a friend convinced you to shave your head for a great cause.
Whatever the reason, you are, by definition, an advocate.
An advocate is not just someone who writes to Congress, calls their Congressional office, or meets with legislators. An advocate is also someone who organizes an event, or tells their story at a school, or gets their friends involved in raising funds for research. An advocate is a person who tells people why they shaved their head and helps teach the broader community about childhood cancer.
All types of advocates are important to make a difference in the fight against childhood cancer.
September is Childhood Cancer Awareness Month. You may see a lot on your Facebook and Twitter feeds. You may not see enough attention called to the problems children with childhood cancer face, and the crisis in funding for research.
Yes, awareness is great, but how can you as an advocate, a champion for childhood cancer, make a difference today? How can you take action?
I think of my son Mason, who died from a pediatric brain tumor in 2007 at age 5. I try to follow his example when I think about being an advocate.
Be creative.
Mason was an artist. He loved to paint, draw, make a mess, and put things back together.
Much like him, I try to create events that inspire people, sharing my story about why I care about childhood cancer, and using my creativity to engage legislators and people in the conversation about childhood cancer. Getting more funding for childhood cancer research requires creativity from everyone to find solutions.
Be persistent.
Mason was a stubborn soul who never gave up. Up until the last weeks of his life, he was out on the soccer field, determined to play like the little boy he was.
It is hard not to be discouraged by the current political environment and our quest to make change for our kids via the research funding they so desperately need. But like most of the kids that inspire us every day, we must continue to drill home our messages to everyone around us.
We need to keep the momentum of September to continue throughout the year. We need to continue the conversation beyond September and make childhood cancer a national priority every day.
Be a superhero.
Mason loved superheroes — any and all kinds — especially when he was being treated.
Our kids need more superheroes fighting the battle with us to get more research for kids with cancer. Whether building relationships in your community or with your legislators, our kids count on us to be the superheroes fighting the cancer battle alongside them.
So as we navigate these next few weeks of September, think about how you are an amazing advocate by supporting St. Baldrick's and our efforts to create progress in childhood cancer research. How can we continue to be creative, be persistent, and be a superhero for these kids?
We are here to help you find ways for you to help create change for kids with cancer. Thank you for joining in this fight!
Advocate your way this September.
6 ways you can help kids with cancer
Read more on the St. Baldrick's blog: