Lee and her daughter Melinda, a childhood cancer survivor, attended Childhood Cancer Action Days in Washington, D.C., in June. She details her experience advocating for more childhood cancer research funding.
Lee (left) and Melinda (right) with Representative Lois Capps.
The streets of Washington, D.C., were abuzz with early-summer tourists and legislative-looking professionals. As my 20-year-old daughter,
Melinda
, and I weaved swiftly through the crowds, we kept our sights on a woman walking far in front of us. She was wearing a t-shirt with a large childhood cancer awareness ribbon on it.
That gold ribbon meant she was "one of us"! We nearly tackled her in our excitement to meet her.
Melinda and I were in Washington, D.C., as members of the Alliance for Childhood Cancer to attend Childhood Cancer Action Days, which would begin the next day. We discovered that the woman who graciously allowed us to "tackle" her was, indeed, "one of us." We would spend the next day in advocacy training and the following day visiting our Congressional representatives with our newfound friend, Libby Kranz.
Melinda was diagnosed with Hodgkin lymphoma when she was 13 years old, which means we have been personally introduced to the horror of childhood cancer. We know the difficulty of getting an accurate diagnosis, the trauma of treatment, and the life-threatening late effects caused by antiquated chemotherapies. Meeting and connecting with other childhood cancer families and foundations for the purpose of advocating for more funding for research has become our passionate mission.
Learn more about how you can become an advocate for children with cancer.
Melinda (right) with Danielle Leach, St. Baldrick's volunteer and co-chair of the Alliance for Childhood Cancer.
We sat at a long conference table in California Senator Barbara Boxer's office with Libby, Melinda, St. Baldrick's CEO Kathleen Ruddy, and several others during our visit to Capitol Hill. We were each asked to begin the meeting by stating why we were there. There were so many reasons why I was there that I had to scramble for a way to summarize.
"I am here because I know too much."
I know the grim statistics of how childhood cancer is overlooked in research funding. I know the fact that childhood cancer is the number one disease killer of kids in our country. I know the truth that 15,780 children will be diagnosed in the U.S. this year alone.
But I also know personal stories from children and families that I will never be able to turn from.
Each and every child who has ever faced cancer is "my child." Their suffering is my suffering. This fight against childhood cancer belongs to all of us. These are our children.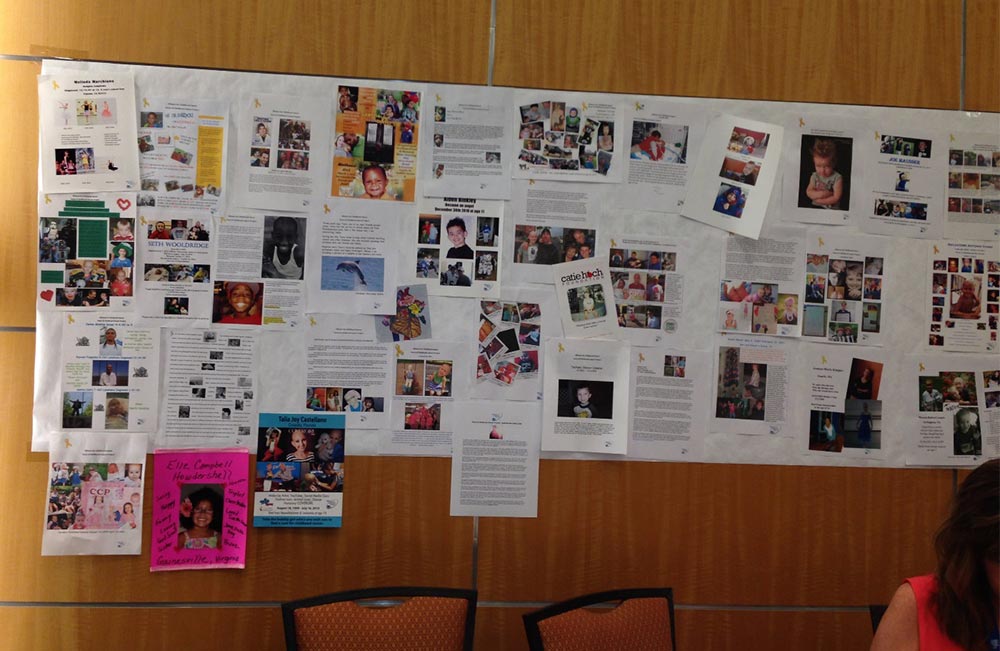 Personal childhood cancer stories were delivered to Capitol Hill during Childhood Cancer Action Days.
Being in the same room with a multitude of others who work tirelessly for childhood cancer advocacy was humbling and thrilling. Foundations, large and small, came together for Childhood Cancer Action Days with a strength of unity that filled me with hope. Having the opportunity to speak with Congressional leaders means more to me than I could ever have imagined.
As Melinda and I prepared to leave for home, I turned for one more look at the Capitol Building. A sadness came over me; I felt I was not done.
I need to speak up. I know too much.
My hope is that each and every person who has ever loved a child will step up to take part in the solution to end childhood cancer. I want each of you to become "one of us." I promise to be gentle when I tackle you.
Be a part of the solution to end childhood cancer. Get involved.
Get Involved
Read more on the St. Baldrick's blog: