Meet 12-year-old Bodie Centore. He's a six-time shavee, a team captain and a fundraising extraordinaire. He's even written and performed an original rap (check out the video!) to help raise funds for children's cancer research. Blown away by Bodie? So are we! Read on for more about this amazing kid, his creative fundraising and why he shaves.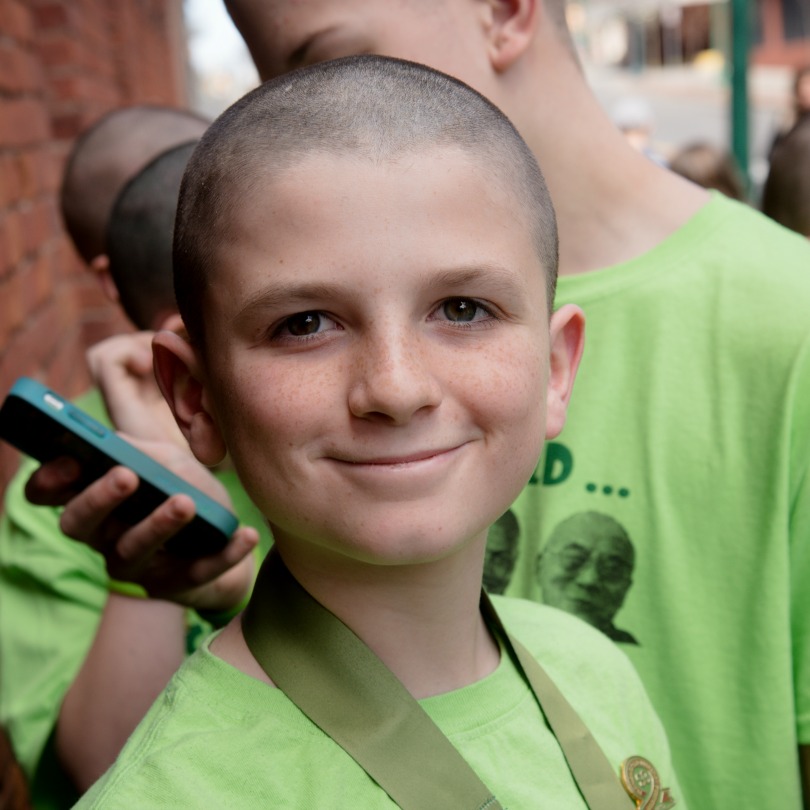 Bodie rocks the bald after this year's St. Baldrick's head-shaving event.
For Bodie Centore, the decision was easy. He saw his cousin, Ian, do it and knew right away that he wanted to shave his head for kids with cancer.
That was in 2012, when Bodie was only 7 years old.
"The shaving part was weird, but I liked the spirit of the event," he said.
It was that "spirit" Bodie felt at the Kitty Hoynes Irish Pub event in Syracuse, NY that inspired him to do it again.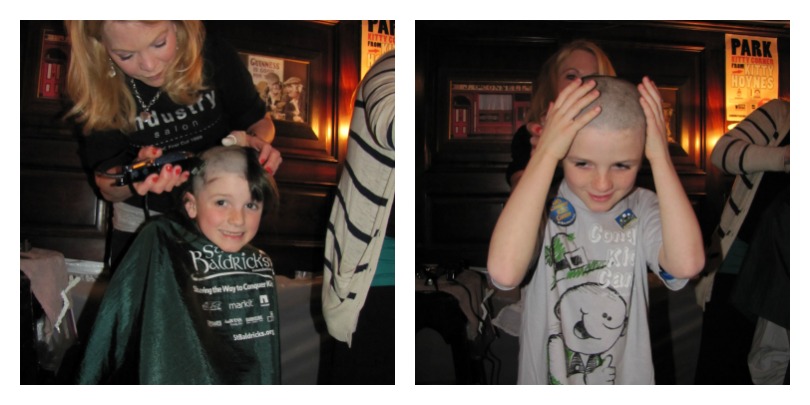 Bodie goes under the clippers for the first time in 2012.
Bodie rallied a team that year and took the helm as captain. His cousin and a friend were one of the seven shavees on Team Bodie and the Baldies. They call themselves "The Originals" and have been shaving together ever since.
The team, since renamed Team Baldacious Baldies, has grown to 24 shavees, mostly classmates and friends. There are even some kids from other districts who Bodie has never met. He encourages kids who want to raise money for St. Baldrick's.
"It's a great thing to raise as much as you can. Every penny counts," he said.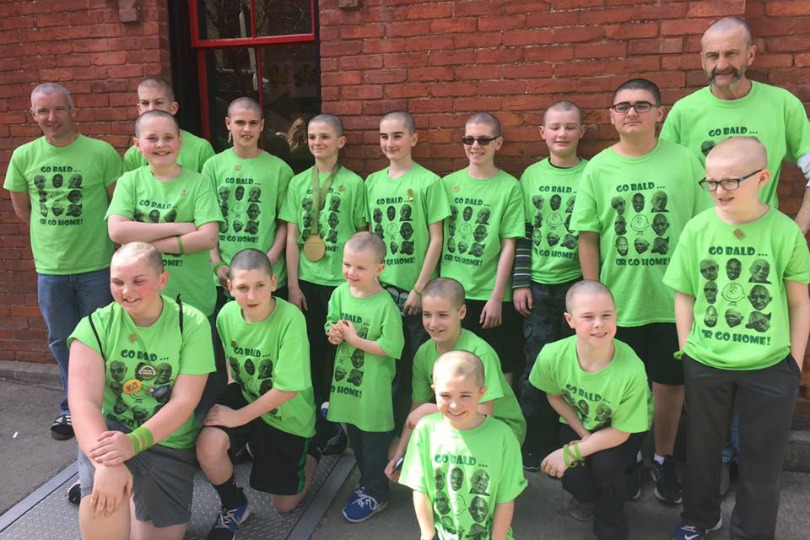 Team Baldacious Buddies after their shave this year.
The fundraising letters he sends out are his secret weapon to get donors to give. Bodie tried something new this year by turning his appeal into a rap song that he created. He's also collected bottles for recycling and placed donation jars at businesses all over town. This year he collected almost $1,000, proving those pennies really do count.
"It's fun to reach a goal and do different things to fundraise," he said. "Then you can be proud of your work."
Make Bodie proud — give on his bald head and fund kids' cancer research today >
His work has paid off. Bodie was the top fundraiser at the Kitty Hoynes event this year, raising over $16,000. He enjoys the challenge and is gearing up for his highest goal yet — $18,000 in 2018 when he will become a Knight of the Bald Table.
But at the heart of Bodie's goal setting and fundraising is a genuine desire to help kids with cancer. He has a special friendship with Honored Kid Archie and also shaved to support his classmate McKenna, who was diagnosed earlier this year.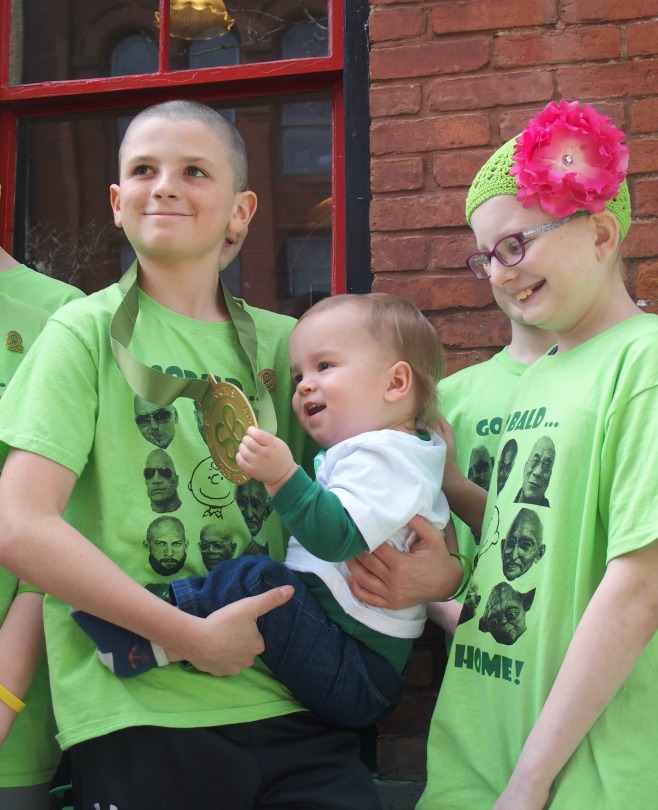 Bodie stands with his classmate and shaving inspiration, McKenna, while holding his other inspiration, 1-year-old Archie, who is now cancer free.
Here is a kid who loves to play soccer and lacrosse, enjoys math and science in school and plays jazz and classical on the piano. He likes to build electric things and wants to be an engineer when he grows up. Typical 12-year-old stuff.
But Bodie is no ordinary kid. He's an advocate for childhood cancer research, a six-time shavee and a kid on a mission to make a difference for kids with cancer.
And he shares these words of advice: "If anyone's on the fence about shaving for St. Baldrick's, you should definitely do it. It's a great cause. Definitely do it!"
What are you waiting for? Join Bodie! Sign up to shave your head and raise crucial funds for kids' cancer research.
Be a Shavee
Read more on the St. Baldrick's blog: