Honored Kid Kylee was a little girl who made a BIG impact. Read on to learn how this 7-year-old with brain cancer inspired her dad to rally hundreds of people to shave their heads and fundraise for children's cancer research over the past 10 years — and counting!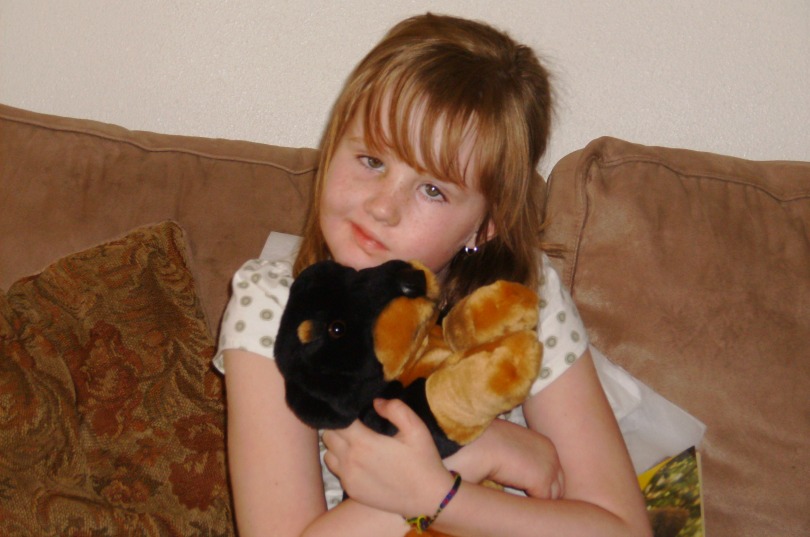 Kylee LeSourd squeezes a stuffed animal tight. She was a big fan of her stuffies and she loved animals.
It started with a little girl's wish, riding on a penny she tossed into a fountain.
It's been said that wishes don't come true if you tell someone, but it was just too big of a wish to keep to herself. So she told her dad that night, "My wish is that no other kid gets cancer."
When she was 7 years old, Kylee LeSourd was diagnosed with a brainstem glioma, which is a type of tumor that starts in a delicate part of the brain which controls everything from breathing to swallowing. That year, she watched her dad and her twin brother, Kasey shave their heads at a St. Baldrick's event. She vowed that she would shave with them the next year.
Kylee passed away the following summer, but not before making sure that her wish would come true.
"I asked her to fight as hard as possible for her life as long as she could," said her dad, Kehl. "She agreed with one stipulation: We do the same. So now we fight."
With that, a father made a promise to his daughter — a promise that he honors each year.
Kehl is the captain of Kylee's Wish, a head-shaving team at Reno, Nevada's largest St. Baldrick's event. Since 2008, he's rallied friends, family and co-workers to participate and raise funds for childhood cancer research to the tune of almost $500,000.
Help Kehl make Kylee's wish come true. Donate to his shave today >
This year is their 10th anniversary and Kehl contacted as many of the 565 people who shaved in the past and asked them to do it again!
The original team was 40 shavees strong, many of whom were Kehl's co-workers at IGT, a global leader in the gaming industry.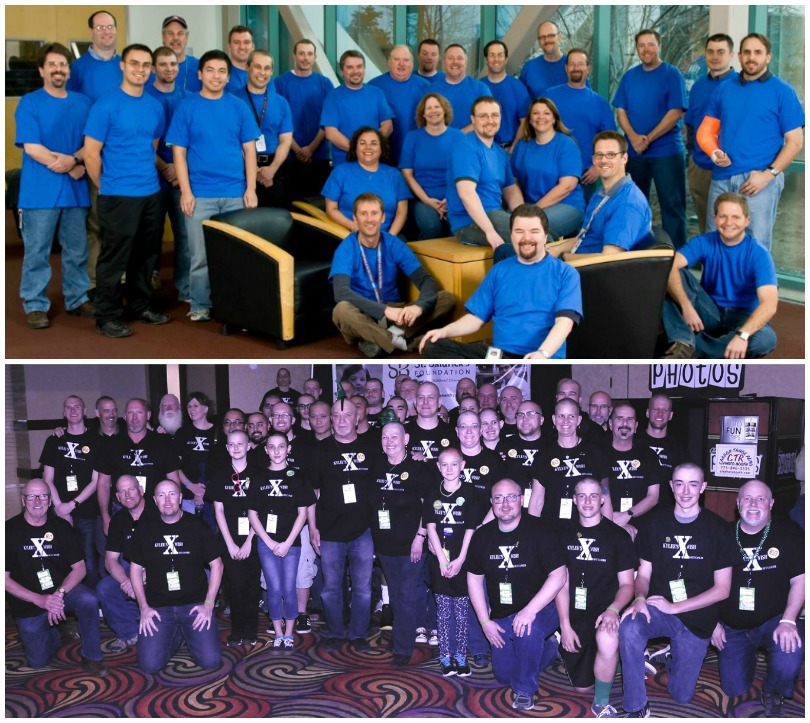 Team Kylee's Wish then in 2008 (top) and now in 2017.
A lot of people on the team have personal connections to loved ones touched by cancer, but there are some who don't.
"I am always inspired by the folks that have never faced anything like this and just know they can help someone else," Kehl said.
Fast-forward 10 years and Team Kylee's Wish has grown to 60 participants — and many of them have been on the team the whole time.
So, how do you keep a head-shaving team motivated for 10 years?
Kehl works hard to rally his crew every year with a raffle, before and after team photos and regular, encouraging emails. He creates a theme and then weaves it into his emails, team t-shirts and fliers. They've had "Cancer Wars," based on Star Wars, "Super Heroes" and Kehl's favorite, "Results," which focused on how far pediatric cancer research has come. And he tries to personally invite every participant back to shave each year.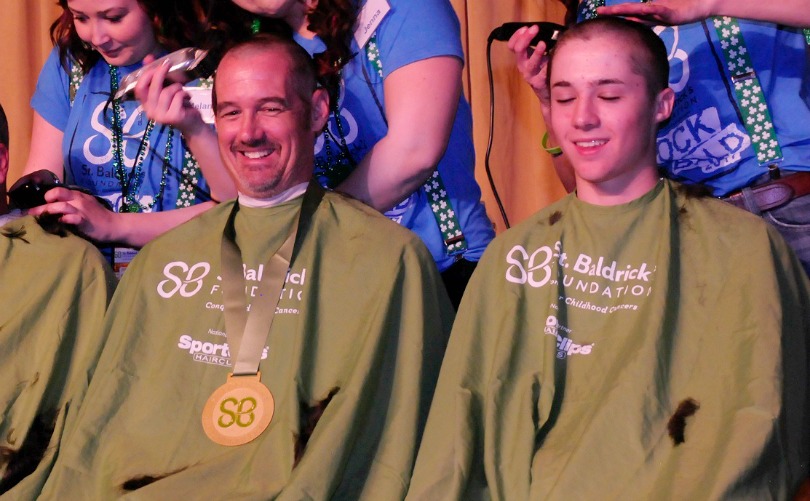 Kylee's dad, Kehl, shaves with St. Baldrick's.
Until that day when cures are found for all childhood cancers, Kehl will be at the helm of his faithful team of shavees, motivating them, encouraging them and rallying them to raise dollars to fund lifesaving research — because he knows he'll see his daughter again one day and he has a promise to keep.
"The first thing she's going to ask me is if I honored our agreement," he said. "And I would like to say, 'Yes, I did my best, my word is good and I didn't let you down.'"
Honor Kylee by helping her dad make her wish come true. Give to Team Kylee's Wish today.
Go Team Kylee!
Read more on the St. Baldrick's blog: