It's National Nurses Week 2017 and we're celebrating by sharing the story of a pediatric oncology nurse who loves to give back! Meet Peggy Schneider, a longtime nurse and the volunteer event organizer (VEO) for the Helen Fitzgerald's Irish Pub and Grill event in St. Louis. Read on to learn more about Peggy and why she's dedicated the past 46 years to caring for kids with cancer.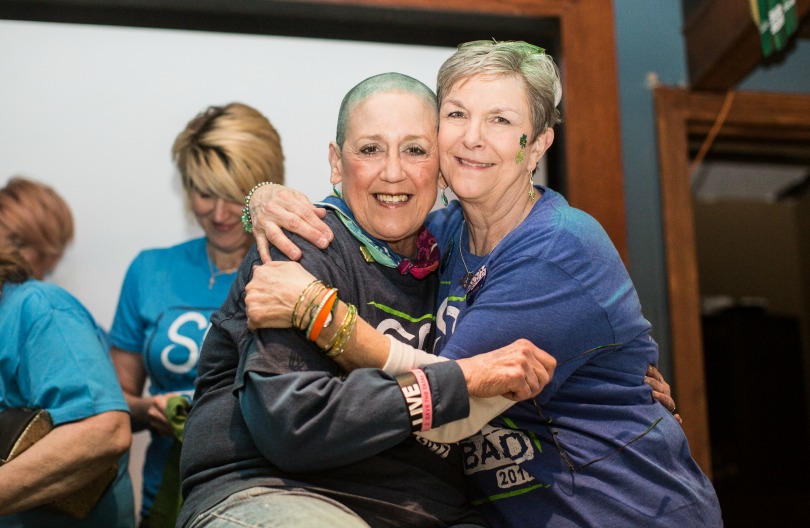 Peggy (right) hugs her best friend and fellow nurse Mona, who had just shaved with St. Baldrick's at Peggy's event.
Longtime pediatric nurse Peggy Schneider considers it a privilege to care for kids with cancer.

"People often ask me, 'What do you like about nursing? What's your favorite thing that you've ever done?' And, it's working with kids with cancer," she said, realizing that might sound bizarre to people, because kids having cancer is such a sad reality. "But I learn something from them every day. They're amazing."
But she does more than just care for kids with cancer as a nurse — she cares for them as a St. Baldrick's volunteer event organizer too.
Peggy is the VEO for the Helen Fitgerald's Irish Pub and Grill head-shaving event in St. Louis, Missouri. Over its 14 years, the event has pulled in nearly $5 million for children's cancer research.
"I say this all the time, when people say, 'Oh, congratulations, you have done a great thing.' It is not me — it is not me," Peggy said. "It is a group of people that come together and I mean this, we may not speak or see each other — we don't, I don't see all the people throughout the year — but when that event opens in September, it's like your family comes home. And it is truly, truly a group of people that are committed to finding cures for childhood cancers."
Celebrate National Nurses Week by helping Peggy reach her fundraising goal >
With a smile, Peggy watches her St. Louis head-shaving event from the audience.
It all started with a simple postcard one of Peggy's colleagues picked up at a conference. The postcard invited people to get involved in St. Baldrick's events and when Peggy saw it, she simply said, 'I'm in.'
"When we started St. Baldrick's, we thought, you know, this will be a good thing to do this year," she said, laughing. "We set our goal for $10,000 and we raised $70,000-plus. That was 14 years ago."
The event is popular, with a packed pub and filled barber's chairs every year. Peggy has already received emails asking about when participants can sign up for the 2018 event.
"You know what's impressive about this event? We don't have corporate sponsorship at all. So, we don't get any big checks. It's all families and friends of families," she said. "I have teams that have been with us for the whole 14 years. People are just committed to saving these kids."
Inspired? Join Peggy and sign up to organize your own St. Baldrick's head-shaving event >
That's what it's all about to Peggy — the kids.
That was true in 1971, when she first started as a nurse fresh out of school. It was true in 2004, when she and a group of fellow nurses started the event.
It was true when Peggy shaved her head for St. Baldrick's and, admittedly, panicked a little.
"When it was my turn I thought, 'What am I doing?' And I had a whole bunch of kids with the clippers around my head," she recalled. "It was honestly the best feeling I have ever had — aside from having my three children. It was just an honor to give up my hair."
And it's still all for the kids. Peggy is inspired by them — every last one of them.
Peggy hugs her former patient, Andy, at the head-shaving event she organizes.
In particular, she remembers one teenager named Trent. He was in high school and was nearing death.
"We were talking one night and he said, 'You know, the reason I had cancer, the reason I was given this is that I was meant to inspire,'" she remembered. "And he said, 'I hope I accomplished that."
That conversation has stayed with her.
"I honestly think that it's made me a better person. The easy answer is, you walk away and you feel grateful that you have healthy, beautiful children and grandchildren, which is true. I am grateful for that every day," she said. "But more than that, I feel privileged to be allowed to be in the lives of those kids — through their whole journey, some good, some not so good."
For Peggy, being a pediatric oncology nurse has never been just a punch-the-clock job to her. The same goes for her work as a VEO. She just loves giving back, whether that's as a pediatric oncology nurse or as a St. Baldrick's volunteer.
"You look at the kids — even the well kids, my grandbabies, all of them — you just feel like you have to do something," she said. "Or at least I do."
Join Peggy and do something great for kids with cancer — fund lifesaving research today.
Give
Read more on the St. Baldrick's blog: