The first 46 Mommas St. Baldrick's event in 2010.
by Tiffany Beamer
Tiffany's daughter, Miranda, in 2007, shortly before she was diagnosed with childhood cancer; Miranda during treatment.
I'm a mom just like any other mom. A mom whose world came to a stop one day in September 2007 when I was told that my 3-year-old daughter,
Miranda
, had
Ewing sarcoma, a type of childhood cancer
that I had never heard of.
As the months of treatment passed, just getting through each day was challenging: Miranda's body didn't process all the antibiotics she got to help fight infection, her kidneys took a serious beating, she stopped eating, didn't tolerate a feeding tube in her nose. I watched as my daughter's little body shrank smaller and smaller as she lost one-third of her weight. I feared that the chemo fighting the cancer was going to kill her instead.
It was hard for to me rejoice when the doctor told me that, after three rounds of chemo, the tumor had shrunk by 75%, because I felt my baby was dying before my eyes.
Butterfly Miranda's last round of chemo.
During surgery, the tumor was removed, and a feeding tube was put directly into her stomach. I credit that tube with saving her life, as she gained back a few of the pounds she had lost. It took almost a year to get her back to what she weighed before she was diagnosed.
The treatment that my daughter went through worked; it killed the cancer, kicked its nasty butt. Her thick, curly hair came back straight and thin, her fertility may be gone, her liver and kidneys were damaged, and she runs the risk of heart damage years from now. She spent 15 months wearing leg braces and going through physical therapy to help with nerve damage.
But we are so lucky, because she is still with us. Most of the friends we made during the nine months of her treatment weren't so lucky.
Sisters Rebecca, Emily, Annabelle, and Miranda in 2008.
I learned so much during that time, when we practically lived in the hospital. I learned how little funding childhood cancer gets, that there are cancers that only kids get, that some of these cancers have NO cure, how some kids die not from cancer but from the treatment.
At that time, only one drug had been approved to treat cancer in kids in the last 20 years. In the past five years, two additional drugs have been approved. In comparison, in the last two years alone, a total of 15 drugs have been approved to treat a variety of cancers in adults. With all this new knowledge, there was a growing desire in me to do something.
After much internal debate and some inspiration from a beauty queen, I had an idea. Tara Wheeler was Miss VA 2008. She had been touched by children with cancer and wanted to help. Tara was raising money for the St. Baldrick's Foundation and would shave her head in solidarity with children fighting cancer. I reached out to her, and Miranda became one of the kids she honored.
I decided that if a beauty queen could shave her head, then so could I.
At that point, I decided that if a beauty queen could shave her head, then so could I. I wanted to do it in a way that would get the attention of the media, something big. I started looking at the statistics of childhood cancer and the number that jumped out was 46. Forty-six kids are diagnosed with cancer each weekday in the United States. I also set the fundraising goal high, very high. Together, the 46 Mommas would raise one million dollars for St. Baldrick's to fund pediatric oncology research.
As word got out and the team began to grow, the donations started to come in. In September 2010, the 46 Mommas gathered in Hollywood to make a statement:
Kids get cancer, too, and they need research, too — and we moms were going to make a difference.
The 46 Mommas' 2011 shave in Washington, D.C. Photo: Julie Stewart
Three days later, the 46 mommas stood on the stage during the SU2C telethon as we shared with millions of people about the plight of kids fighting cancer. As we stepped off the stage and walked past those sitting in the front rows — the researchers — there were tears in their eyes. We had hit the hearts of the very people that could make a difference for our children.
In 2012, St. Baldrick's and SU2C announced a collaborative effort to create a dream team for pediatric cancer*. The same year, the 46 Mommas reached that $1 million fundraising goal.
I dreamed that something big would happen from the effort I started. New moms have stepped up to lead new teams each year since that first shave. My family traveled to Washington, D.C., to watch the 2011 shave. This year, we head to San Antonio for the 2013 shave.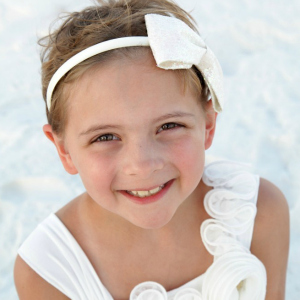 Miranda at 8 years old.
This year, we also celebrated as Miranda turned nine and hit that milestone of being a five-year survivor. We can't wait to see where next year's shave will be.
Like any mom is proud of her baby, I feel proud of what the 46 Mommas have become. I helped us take our first steps and set us on a path, and now I get to watch us grow through the hard work of others who have made this dream come true.
People say it takes a village to raise a child — well, it takes a group of Mommas to help cure childhood cancer.
The 46 Mommas are holding their fourth annual shave on June 30th in San Antonio, Texas. Give a donation today to help them reach their goal!
Donate to the 46 Mommas
*Formerly known as the St. Baldrick's – Stand Up to Cancer Pediatric Cancer Dream Team, this team is now the St. Baldrick's EPICC Team (Empowering Pediatric Immunotherapies for Childhood Cancer).