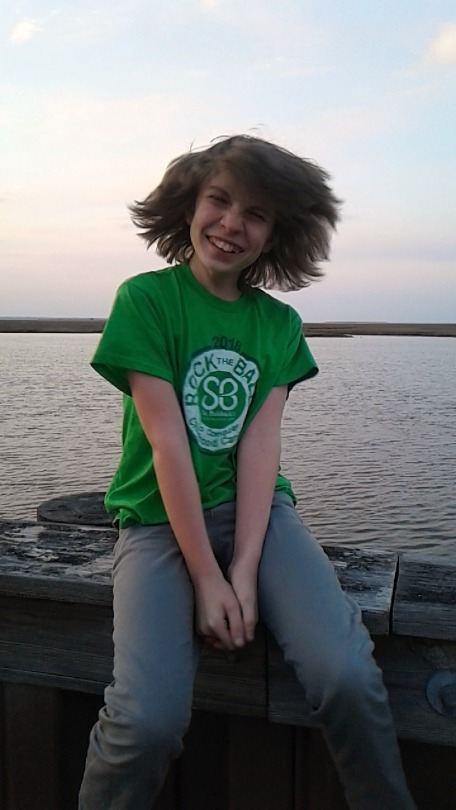 Hunter tosses his long hair before his eighth shave with St. Baldrick's. He's been growing it all year in preparation for the barber's chair.
Hunter first shaved his head with St. Baldrick's in 2011, when he was in Pre-K. He was just 5 years old and already knew what he wanted to do – he wanted to help kids with cancer.
"He had this cute little crew cut and he was rubbing his hair," his mom, Jenn, remembered. "We told him we were all proud of him and after that, he was like, 'Every year I want to do this for the sick kids.'"
And that's exactly what this 12-year-old has been doing.
His shave at Sunday's Blackwood Fire Company event in New Jersey will be his eighth year rocking the bald for childhood cancer research. And until Sunday, he won't let anyone touch his hair. No bang trims from his mom, no nothing. The scissors aren't allowed near him.
Hunter smiles in anticipation of his first shave in 2011, when he was just 5 years old.
That's because when he first started shaving, Hunter was convinced that the more hair he had, the more money he would raise for pediatric cancer research. Those long locks have been working for him so far – he's been a top fundraiser nearly every year in a row.
Hunter is SO close to reaching his fundraising goal! Support him by donating today >
"Now he has this surfer, Patrick Swayze thing going on with his hair," Jenn said, laughing.
On top of that, Hunter even dyed his long hair black and red ahead of the shave. (He chose the colors of his favorite ice hockey team, the Chicago Blackhawks.)
The colorful mane makes Hunter stand out, but the quiet, laidback preteen doesn't seem to mind. He's doing it for a good cause.
Hunter has shaved with St. Baldrick's for seven years, as shown in this collage of before and after photos made by his mom, Jenn.
That's been his attitude since he first met kids with cancer. He was about 3 years old and going into the hospital to get surgery on his ear. Before his procedure, he saw kids who were bald and asked his mom about it. She explained that they had childhood cancer, that they were sick and had lost their hair from treatment. Hunter looked devastated. It wasn't fair that these kids were sick, he told his mom.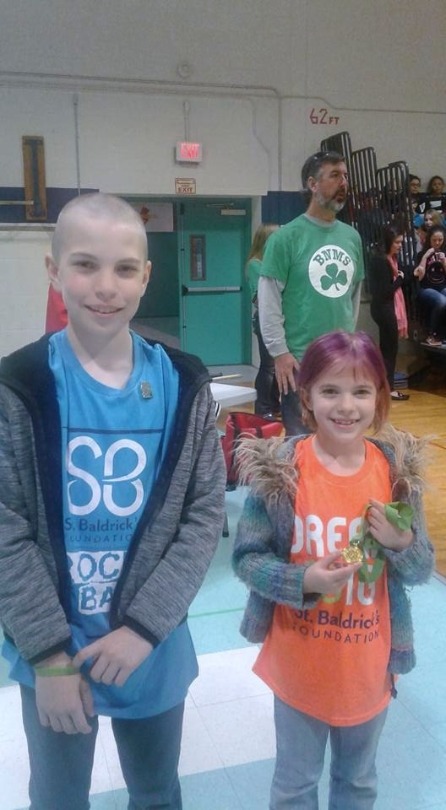 Hunter and his sister teamed up to form Team Zuba during their 2017 St. Baldrick's head-shaving event.
"He just had this look on his face. He was so sad. He was just like, 'Kids aren't supposed to be sick.' That was his first exposure to it," Jenn said.
Since Hunter first heard that he could help these kids by shaving his head, he has been dedicated to the childhood cancer cause.
In fact, from his first shave when he was 5 years old until he was in third grade, there were no younger kids shaving their heads at his school event – Hunter was the only one. And he's still the only one of all his friends to shave his head to fundraise for childhood cancer research. He doesn't mind being different if it means that kids with cancer are going to get the better treatments and cures they need to live.
"Maybe it's the way we raised him or maybe it's the way he's wired, but he really, genuinely cares for people," Jenn said.
This weekend, Hunter will put that big heart of his on display when he sits down in the barber's chair for the eighth time. He's excited to hear the crowd chant his name has the hair comes off – that's one of his favorite things about all the head-shaving events he's done throughout the years, even though sometimes it can be a little embarrassing, he said.
And, of course, he's excited to help kids with cancer, because to Hunter that's what shaving all about.
Inspired? Get involved and help take childhood back from cancer!
Get Involved
Read more on the St. Baldrick's blog: