Wyatt shaved his head and raised over $8,000 for childhood cancer research. Join Wyatt — be a shavee℠!
Wyatt after shaving his head at a St. Baldrick's event.
Ten-year-old
Wyatt Erber
has never been one to shy away from a challenge. In 2012, he set his sights on winning a township-wide scavenger hunt sponsored by a local bank — and he did.
He was motivated by the contest's $1,000 prize, but he didn't want to buy a new toy, video game system, or whatever else a boy of his age might want. He wanted to give it to his neighbors to help with the cost of their then-2-year-old daughter's childhood cancer treatment.
And he did.
So when Wyatt's mom, Noelle, proposed the idea of shaving his head to help kids with cancer like his neighbor Cara, Wyatt was all for it.
He set an initial fundraising goal of $2,500, and a personal goal to get donations from all 50 U.S. states.
"I was worried that his goal was a bit lofty, but he's always been a 'go big or go home' type of kid," Noelle said.
Even Wyatt had some doubts at first. "I didn't think that we were going to be able to do it, but I thought it was a good idea to give me a challenge," he said.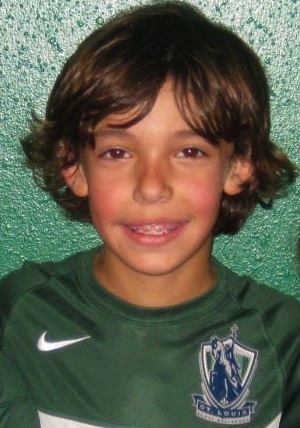 Wyatt before shaving his head.
Wyatt set about asking for donations from family members, soccer teammates, schoolmates, and even his school principal. But it wasn't until he went to social media that his fundraising took off.
"We shared his campaign on Facebook, and that is when it really started to spread," Noelle said.
When people heard about his 50 state goal, they shared his page with people they knew in other states. Then those people shared it with their friends.
"The donations came in from across the country," Noelle said. "Many of the donations were from people we didn't know, and will likely never know."
For the last several states, Wyatt took a more personal approach, writing to government officials, nonprofit organizations, and — his personal favorite — soccer clubs.
Before he knew it, Wyatt had donations from all the states, and even some from outside the country. He blew past his monetary goal and set a new one of $5,555.
As a final fundraising push, Wyatt decided he would dye his hair the week before his shave and let his donors vote on the hair color.
Wyatt dyed his hair pink before shaving it.
Pink was the clear favorite, so Wyatt's hair was fuchsia for the week leading up to his event, turning him into a walking billboard for his fundraiser.
"He was constantly asked about his hair color, so it gave him more opportunities to spread the word about his campaign and just awareness overall," Noelle said.
By the first swipe of the razor, Wyatt had raised over $8,000 for childhood cancer research.
"That was well beyond his goal, so you can just imagine how pumped he was," Noelle said.
By the day of his shave, Wyatt had raised over $8,000.
Noelle was surprised and humbled by the generosity of complete strangers. But for Wyatt, a boy with a big heart to help others, it wasn't so hard to fathom.
So if you're thinking of stepping outside your comfort zone and doing something you never thought you could — like winning a contest, shaving your head, or raising lots of money for childhood cancer research — Wyatt has three words of advice: "Go for it."
Wyatt is still raising money for childhood cancer research. Donate on his page.
Think you're ready to brave the shave? Sign up to be a shavee, or see how else you can get involved in the fight against kids' cancer.
Get more fundraising ideas on the St. Baldrick's blog: