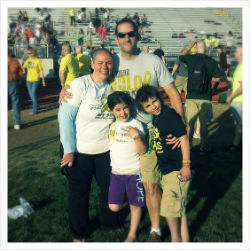 Susan, Tom, and Daisy with David in 2010.
In 2008, our son,
David
, was diagnosed with cancer, and our lives completely changed. As we fought the battle together, our family and community united. We were so alive — hanging on to a phrase David coined: "Embrace LIFE!"
For two years, it was an amazing run — vacations we never would have taken, conversations we never could have had, books shared that opened our minds, concerts attended, and wild kitchen dance parties. Fireworks, disco balls, glitter, and champagne (or root beer) toasts were part of our lives. We were life, and if we kept going, then David would stay with us here on Earth.
Early on, when David's hair was falling out and we were learning about double lumen Broviacs and Neupogen injections, Tom and I offered to shave our heads in solidarity with him. We did not know about the St. Baldrick's Foundation. We did not know how underfunded childhood cancer research is. We were focused on researching where our son could get the best treatment and how we would keep him alive. We were living in the moment, trying to smile through the terror and build memories, because it was possible he would not survive. David did not want his mom to shave her head.
Fast-forward a bit, and we came across a childhood cancer foundation called St. Baldrick's. We signed up David to be an Honored Kid, and then got a call from a local school that wanted me to speak at their event. I checked in with David who immediately said, "NO WAY!" He was worried that I would shave my head. I assured him that I would not shave, and then he said if he could speak we would go.
The event was awesome! Hearing David talk with intelligence and humor about cancer and his fight is one of the proudest parenting moments Tom and I have. David ignited the crowd — they cheered, he showed off his long scar, he shook hands with other families and was interviewed by a variety of television and print media.
When he finished, he looked at me and said, "MOM, you have to shave your head!" Without hesitation, I said yes and sat down in the chair. I was empowered — fearless — helping win the battle against this disease that tried to kill our son. I EMBRACED LIFE! David and his sister Daisy were so excited about my new haircut and so was Tom! We took a stand that day and haven't stopped fighting since.
Shortly after that event, David relapsed. He knew he was dying and gave us some things to do after he left. The most empowering one was telling me to use my mouth and hair (or lack of it) to raise money for cancer research.
David knew that partnering with the most powerful childhood cancer charity was the way to effect change.  He knew it was too late for him, but his altruistic heart wanted our family to keep raising money. In the two years since David was killed by neuroblastoma, David's Warriors have raised over $150,000.
The opportunity to create a fund in honor of David is our family's way of having a named fund for our son without creating our own nonprofit. This is important, because duplication of effort and services simply cuts down on how much money goes to actually fixing the problem.
We want our son's legacy to live on, but adding yet another family charity to the roster — and doing the same things as so many other family-based charities do — did not seem as effective to me as joining forces with St. Baldrick's.
We are proud to follow David's example and embrace HIS life, two years after he died, by starting David's Warriors. This sustaining fund will be available for our friends and family to donate to for David's birthday, special treatment dates, as well as his "glitterversary" which is February 10th, the day he left Earth.
Our family has been hurt by childhood cancer and will never be the same, but together we can make a difference for other families and fund lifesaving research. That gives us great hope, and we know David is proud of us.
David's family created a Hero Fund in his honor. A Hero Fund is a simple way to raise money in memory of a child or a loved one instead of forming a family foundation. You can start a Hero Fund for someone you love.
Start a Hero Fund