Diwas Sherchan has dreadlocks so long that they hang down to his waist. On Saturday, the St. Baldrick's shavee℠ is going to look like a totally different man. In a selfless and brave act of transformation, Diwas is cutting his dreads for kids with cancer.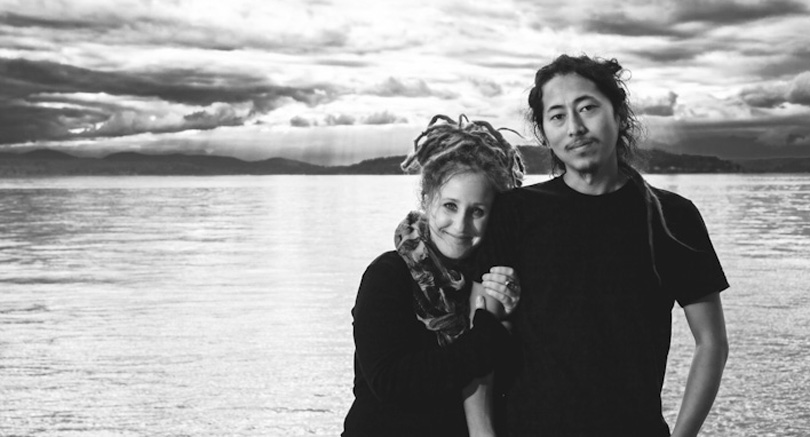 Diwas and his partner, Sadie, will be participating in a St. Baldrick's event in Seattle, where Diwas will be losing his dreads. Photo courtesy of Diwas Photography.
Diwas Sherchan has had dreadlocks for more than a decade. That's about to change.
On Saturday, sitting in a barber's chair at the Love Buzz event in Seattle, those dreads are coming off for childhood cancer research.
"I love kids, I hate cancer, and I want to help support research," he said. "And I can say goodbye to my dreadlocks while feeling really good about what I'm doing."
Plus, if he meets or exceeds his $5,000 fundraising goal, his partner, Sadie, will be sitting in a barber's chair next to him to go bald for childhood cancer research! (He jokingly called the possible joint shave a 'double header'.)
Help Diwas reach his $5,000 goal — if he does, Sadie will go bald too! >
"I think it's a creative and fun way to raise money for a cause," he said of St. Baldrick's head-shaving events. "Energizing, inspiring and we like how collaborative the event is — pulling from many sectors of the community."
Diwas has been growing his dreadlocks for 12 years.
Diwas and his partner are photographers with their own business in Seattle, but Diwas was born in Nepal. That's where he was first inspired to grow his dreadlocks.
"Growing up in Kathmandu, Nepal, I saw dreadlocks on many of the babas or holy men at the temples," he said, adding that Bob Marley was also an inspiration. "I wanted to emulate some of the spirit of people I admire."
His family members weren't big fans of his pick of hairstyles — he said he "broke the norm" in his family of what a guy's hair should look like. He also knows people stereotype him because of his hair.
"I have enjoyed changing many peoples minds about those who choose to grow dreadlocks. I'm not lazy, not a druggie. I'm very clean," he said. "I'm also a husband, a family man, a hard worker and a business owner. I just happen to have grown some really awesome dreadlocks, too."
Getting those dreads cut for childhood cancer research is a big step, but Diwas is excited for the event. He has two words for anyone thinking of shaving for St. Baldrick's: "Do it!"
"Hair grows back and childhood cancer research is so grossly underfunded," he said. "And, given the event organizers, sponsors and venue  — it is going to be a total inspirational blast."
Curly, straight, or dreadlocked — St. Baldrick's shaves it all! Contribute your hair to the fight against kids' cancer.
Brave the Shave
Read more on the St. Baldrick's blog: