What employees would donate their vacation hours to find cures for kids' cancers? What about shave their heads? Or throw a big party to rake in funding for research? Blackhawk Network employees, that's who! Read on for more about the company, its commitment to St. Baldrick's and how they give back in creative ways.

Blackhawk employees shave their heads at the Benioff Children's Hospital event. Photos by Terry Vanderheiden
Blackhawk Network is well known for being the company behind the gift cards we see at the grocery store and the ones we get on our birthdays. But Blackhawk is about more than just helping people both gift and pay easily — the company is also about paying it forward, especially when it comes to kids' cancer research.
"For the past few years, Blackhawk Network has proudly been involved in supporting the St. Baldrick's Foundation," said Chief Marketing Officer Teri Llach. "The organization's mission — finding cures for childhood cancer — is one that is close to our hearts, as many of our employees have a personal connection to the disease in some way."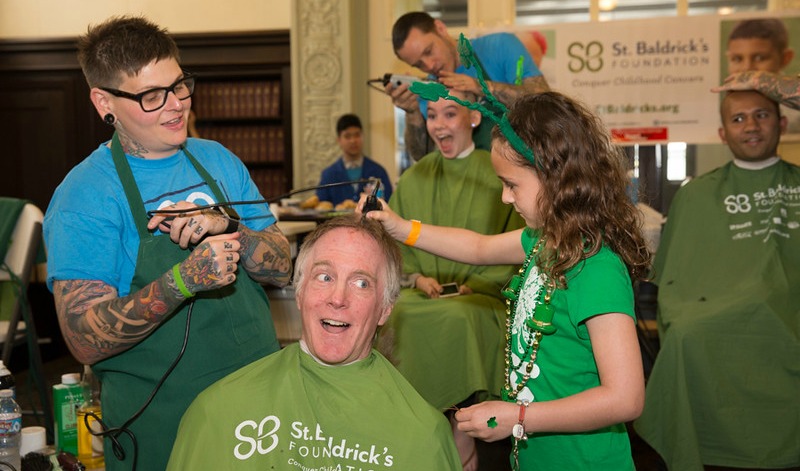 A Blackhawk employee mugs for the camera as he gets his head shaved for kids' cancer research. Photo by Terry Vanderheiden
Through a diverse and creative fundraising campaign, Blackhawk employees have now raised nearly $142,000 for kids' cancer research. And they certainly aren't stopping there.
"This year, our goal was to raise more than we have ever raised before through a variety of ways, so that everyone at Blackhawk had the opportunity to contribute," Llach said.
Some employees shaved their heads at the Benioff Children's event in Oakland, Ca. on March 11, while others donated their vacation hours, their own unused gift cards and points from Blackhawk's employee recognition program.
Last but not least, Blackhawk organized a glittering fundraising gala, where they offered their partner companies and vendors the chance for sponsorships in exchange for contributions.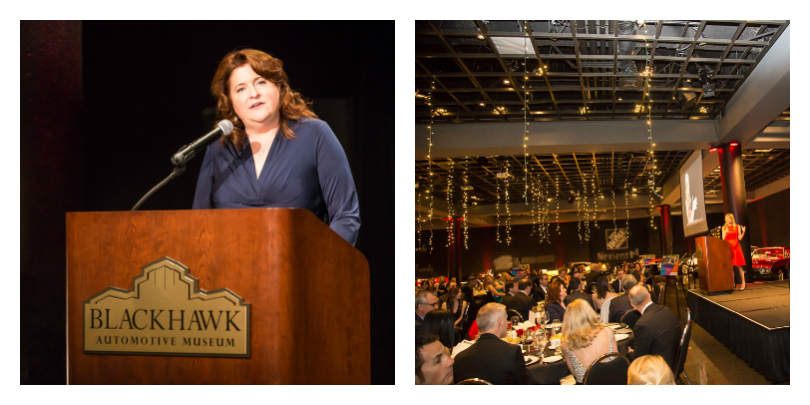 St. Baldrick's CEO Kathleen Ruddy (left) spoke alongside Blackhawk CEO Talbott Roche (right) at the Blackhawk Gala, which raised more than $100,000 for kids' cancer research.
For Blackhawk employees, the kids and researchers who are conquering childhood cancer are an inspiration. And the same could be said of Blackhawk.
From the gala to the barber's chair to the office, Blackhawk employees' passion for philanthropy is just as inspirational.
"This is our chance to make a real difference in the lives of the children and families that cancer impacts, so that no one ever has to go through losing a young loved one to cancer again," Llach said.
Join Blackhawk and make St. Baldrick's part of your company culture. Get your business involved today.
Contact Us
Read more on the St. Baldrick's blog: