Research
---
St. Baldrick's Scholars Dr. Alex Huang and Dr. Agne Petrosiute are studying how switching off a protein could lead to new treatments and cures for kids with brain tumors. Read on for more about their unexpected discovery, its implications for immunotherapy, and why Dr. Huang compares himself to those fuzzy little bears in Star Wars.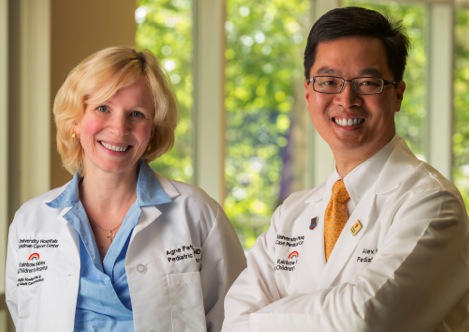 Dr. Agne Petrosiute (left) and Dr. Alex Huang study how the immune system can be harnessed to fight pediatric brain cancer.
Dr. Alex Huang likens himself and his colleague, Dr. Agne Petrosiute, to Ewoks battling the Death Star.
"We are the Ewoks that found the controller on this planet, and all of a sudden the Death Star cannot put up the shield anymore," he said. "And so now, Luke Skywalker can go in there and blow it up."
It may seem like a curious explanation, but it fits.
---
---
---
---
---
---
---
---
---
---
« Newer Posts
Older Posts »